| | |
| --- | --- |
| Alt Names | Atchafalaya Basin, St. Landry Parish |
DESCRIPTION
Located in the worlds largest freshwater swamp, this area offers eight miles of ATV trails that are open to all users and four miles of trails that are open to physically challenged riders who have been issued a mobility impaired card. All trails consist of crushed gravel and off-road mud riding or riding off the trail is strictly prohibited.
This area is primarily used by hunters during the fall, winter and spring months and ATV riding is discouraged during this time, and is not permitted during weekends when specifically scheduled hunts are set aside for youth and physically challenged hunters. ATV riders are advised to contact the Indian Bayou Ranger Station and pick up a pamphlet that shows which trails are open for riding.
Other locations that are better suited for ATV riding are Plaquemines Offroad Park, Bonnet Carre Spillway, Claiborne Multi-Use Trails, Enduro Trails, Juderman's ATV Park and Camp Livingston.
Trail Map...
Directions...
Nearby Trails...
LOCATION
Nearest City

Lafayette, LA

From: Lafayette, LA
1) Take I-10 east to exit 121
2) Turn left (north) off the exit ramp onto Atchafalaya River Hwy, continue 6 miles
3) Trailhead is located behind the Ranger Station.
| | |
| --- | --- |
| Land | Army Corps of Engineers |
QUALITY
Rating
Good

Recommended Stay
Half Day

REGULATIONS
Permit Required
No
Dates Open
call for riding schedule
Spark Arrestor
Yes
Noise Limit
Yes (96 dB)
Whip Flags
Not Required
Maximum Vehicle Width
Motorcycles
Certain Times
Four Wheelers
Certain Times
UTVs / SXS
Prohibited
SUVs / Jeeps (registered)
Prohibited
Dune Buggy/Sand Rail
4x4 (unregistered)
Prohibited
Two Strokes /
2 Cycle Engines
Certain Times
Bicycles
No Restriction
Hiking
No Restriction
Horseback
No Restriction
Camping
Prohibited
Campfires
Prohibited
Night Riding
No
Cross Country
Prohibited
Alcohol
Prohibited
Emergency / Law Enforcement
Insurance
Comment
Tires with lug length in excess of 1" are prohibited.
FEES
Parking
($0.00)

Entry
No ($0.00)

Riding
No ($0.00)

Camping
No ($0.00)

CONTACTS
Contact Info
Barton D. Rogers (Park Manager)
U.S. Army Corps of Engineers - Atchafalaya Basin Floodway System
112 Speck Lane
Port Barre, LA 70577
(337) 585-0853
(504) 453-9633

Indian Bayou Area Trail Photo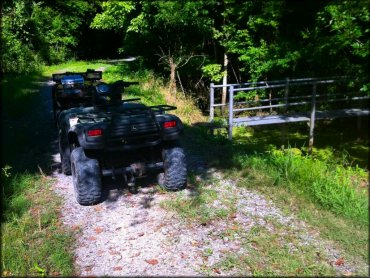 TERRAIN
Square Miles
45
Miles Of Trail
8
Climate Type
Swamp
Elevation
20 to 30 ft.
Trail Maintenance
Marked, Not Rated, Lightly Maintained
Loose Dirt
None
Hard Pack
None
Sand
None
Mud
None
Dust
None
Rocks
None
Trees
All
Steep Hills
None
Water Crossings
None
Small Jumps
None
Large Jumps
None
Berms
None
Sand/Gravel Pits
None
Single Track
None
Hazards
Few
Novice
Mostly
Amateur
Little
Expert
None
Comment
ATV trails are strictly graveled with no loose dirt, mud, or water crossings.
KEY SERVICES
First Aid
5-20 Miles (SW)
Gasoline
5-20 Miles (SW)
Diesel
5-20 Miles (SW)
Water
1-5 Miles (S)
RV Hookup
1-5 Miles (S)
RV Disposal
1-5 Miles (S)
Campground
1-5 Miles (S)
Conv Store
5-20 Miles (SW)
Swim Area
Lafayette, LA
Water Body
On Site
Boat Ramp
1-5 Miles (N)