| | |
| --- | --- |
| Alt Names | Texas Motorized Trails Coalition, Rocky Branch Creek |
DESCRIPTION
This 1800 acre recreation area offers numerous 4x4 and ATV trails that are marked and rated for difficulty. The park features both primitive and RV hookups, cabin rentals and hot showers.
The property is open to both Texas Motorized Trails Coalition members and the general public however members get a discount on admission fees. Hours of operation are from 8am Friday through dusk on Sunday (weather permitting). See website for current schedules and visitor information.
Trail Map...
Directions...
Nearby Trails...
LOCATION
Nearest City

Gilmer, TX

Address
6284 State Highway 155 N, Gilmer, TX 75645
From: Gilmer, TX
1) Take Hwy 155 north about 5 miles (look for a green sign on the left side of the highway that will be pointing to the right; sign will read "Barnwell Mountain Recreation Area")
2) When you see the green sign turn right
3) Proceed toward the recreation area.
| | |
| --- | --- |
| Land | Privately Owned / Commercial |
QUALITY
Rating


Recommended Stay
Full Day

REGULATIONS
Permit Required
Yes
Dates Open
Friday - Sunday
Spark Arrestor
Yes
Noise Limit
Yes
Whip Flags
Not Required
Maximum Vehicle Width
Motorcycles
Permitted
ATVs
Permitted
UTVs / SXS
Permitted
SUVs / Jeeps (registered)
Permitted
Dune Buggy/Sand Rail
4x4 (unregistered)
Permitted
Two Strokes /
2 Cycle Engines
No Restriction
Helmets Required
Yes
Bicycles
Prohibited
Hiking
Prohibited
Horseback
Prohibited
Camping
No Restriction
Campfires
Night Riding
No
Alcohol
Prohibited
Emergency / Law Enforcement
Some
Insurance
FEES
Parking
($0.00)

Entry
Yes ($5.00 per person)
General Public Admission (per vehicle)
Riding
Yes ($15.00 per OHV)
Non-Members - $30
Camping
Yes
Tent: $10.00
RV: $25.00
Addtl. Vehicle: $0.00
Electric Sites - $25

Comment
Annual Membership - $60
CONTACTS
Contact Info
Texas Motorized Trails Coalition - Barnwell Mountain
6284 State Highway 155 N
Gilmer, TX 75645
(903) 797-4066
office@barnwellmountainra.com
bmra@etex.net
www.barnwellmountainra.com

Comment
Park Hotline
Contact Info
Texas Motorized Trails Coalition - Barnwell Mountain
(903) 738-0002

Comment
Alternante Phone Number
Barnwell Mountain Recreation Area Trail Photo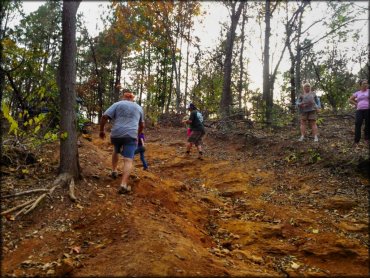 Barnwell Mountain Recreation Area Trail Photo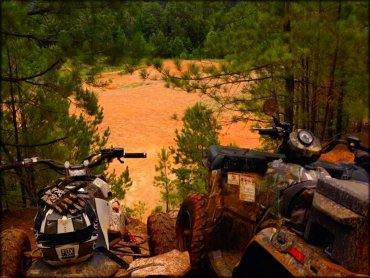 Barnwell Mountain Recreation Area Trail Photo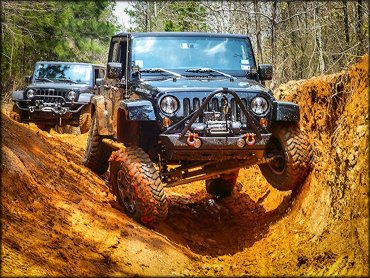 TERRAIN
Square Miles
3
Miles Of Trail
50
Climate Type
Forest
Elevation
350 to 600 ft.
Trail Maintenance
Marked, Rated, Heavily Maintained
Single Track
Few
Hazards
Few
Novice
Some
Amateur
Mostly
Expert
Some
KEY SERVICES
First Aid
5-20 Miles (SW)
Gasoline
5-20 Miles (NW)
Diesel
5-20 Miles (NW)
Water
On Site
RV Hookup
On Site
RV Disposal
On Site
Campground
On Site
Conv Store
5-20 Miles (NW)
Swim Area
5-20 Miles (NE)
Water Body
On Site
Boat Ramp
5-20 Miles (NE)