| | |
| --- | --- |
| Alt Names | Cedarville, Modoc Motorsports Association, MMA |
DESCRIPTION
Maintained by the Modoc Motorsports Association, this track is mainly open for practice during scheduled race events. Membership is not mandatory however perks include discounts on gate and racing fees. Camping is permitted and RV hookups are available (first come first serve). Shower and restroom facilities are available as well as a bike spray wash area.
Track Map...
Directions...
Nearby Tracks...
LOCATION
Nearest City

Cedarville, CA

From: Alturas, CA
1) Take 395 north 5 miles
2) Turn right (east) on SR-299, continue 16.6 miles.
3) Turn right (south) on Center Street, continue .4 miles.
4) Fairground entrance is on the right (west).
QUALITY
Rating
Good

Recommended Stay
Full Day

MX TRACK
Features
Public
Max Engine Size
No Maximum
Min Engine Size
No Minimum
REGULATIONS
Permit Required
No
Dates Open
open during select dates
Spark Arrestor
No
Noise Limit
No
Whip Flags
Not Required
Maximum Vehicle Width
Motorcycles
Permitted
ATVs
Permitted
UTVs / SXS
Prohibited
SUVs / Jeeps (registered)
Prohibited
Dune Buggy/Sand Rail
4x4 (unregistered)
Prohibited
Two Strokes /
2 Cycle Engines
No Restriction
Helmets Required
Yes
Bicycles
Hiking
Horseback
Camping
No Restriction
Campfires
Night Riding
Unknown
Cross Country
Prohibited
Emergency / Law Enforcement
Insurance
FEES
Parking
($0.00)

Entry
Yes ($10.00 per person)
Members $5
Riding
Yes ($30.00 per rider)
Members $25
Camping
Yes
Tent: $15.00
RV: $20.00
Addtl. Vehicle: $0.00

CONTACTS
Contact Info
Modoc Motorsports Association, Inc
P.O. Box 475
Alturas, CA 96101
(530) 708-0723
modocmotorsports@gmail.com
www.modocmotorsports.com

Contact Info
Modoc District Fairgrounds
P.O. Box 26
Cedarville, CA 96104
(530) 279-2315
mdocfair@hdo.net
www.modocfair.com

Modoc County Fairgrounds Track Photo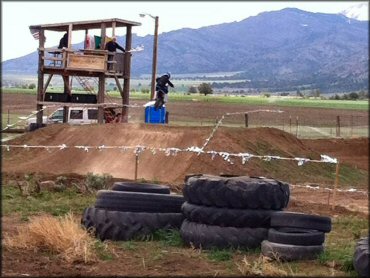 Modoc County Fairgrounds Track Photo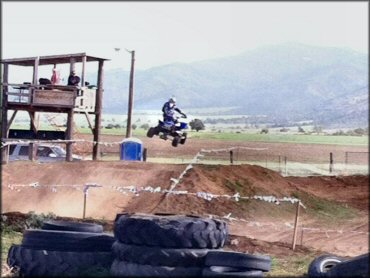 TERRAIN
Climate Type
Urban/Man-Made
Elevation
4650 to 4700 ft.
Hazards
Few
Novice
Some
Amateur
Mostly
Expert
Little
KEY SERVICES
First Aid
1-5 Miles (NE)
Gasoline
1-5 Miles (NE)
Diesel
1-5 Miles (NE)
Water
On Site
RV Hookup
On Site
RV Disposal
On Site
Campground
On Site
Conv Store
Cedarville, CA
Swim Area
Cedarville, CA
Water Body
Cedarville, CA
Boat Ramp
30+ Miles (S)