| | |
| --- | --- |
| Alt Names | Idaho City Ranger District, Grayback Gulch Campground, Hungarian Ridge, Barber Flat, Short Creek, Haga Creek, Bear Summit, Rabbit Creek, Sunset Mountain, Eagle Creek Trailhead, Black Warrior Creek Trailhead, Boise National Forest |
DESCRIPTION
Home of the Annual Idaho City 100 and located about one hour north of the state capitol, this part of the Boise National Forest offers over 400,000 acres of premier woods riding with hundreds of miles of designated single track trails. There are multiple trailheads and several designated campgrounds to choose from.
Trudy's Kitchen is located in the center of the trail system and offers both cabin rentals and RV hookups however reservations are recommended which can be made by calling (208) 392-4151. This place is huge and may require staying several days to explore.
Trail Map...
Directions...
Nearby Trails...
LOCATION
Nearest City

Idaho City, ID

From: Boise, ID
1) Take I-84 to Exit 57
2) Turn east onto E. Gowen Road/SR-21, continue about 30 miles
3) Grayback Gulch Campground is on the right (east).

For Trudy's Kitchen:
4) Continue past Grayback Gulch Campground about .5 miles
5) Restaurant will be on the left (north).
QUALITY
Rating
Excellent

Recommended Stay
3-5 Days

REGULATIONS
Permit Required
Yes
Dates Open
Year-Round
Spark Arrestor
Yes
Noise Limit
Yes (96 dB)
Whip Flags
Not Required
Maximum Vehicle Width
Motorcycles
Permitted
ATVs
Some Areas
UTVs / SXS
Some Areas
4x4s / Jeeps (registered)
Prohibited
Dune Buggy/Sand Rail
4x4 (unregistered)
Prohibited
Two Strokes /
2 Cycle Engines
No Restriction
Helmets Required
Youth Only
Bicycles
No Restriction
Hiking
No Restriction
Horseback
No Restriction
Camping
Some Areas
Campfires
Night Riding
Unknown
Cross Country
Prohibited
Fireworks
Prohibited
Emergency / Law Enforcement
Insurance
FEES
Parking
($0.00)

Entry
No ($0.00)

Riding
No ($0.00)

Camping

Tent: $0.00
RV: $0.00
Addtl. Vehicle: $0.00

CONTACTS
Contact Info
Boise National Forest - Idaho City Ranger District
Highway 21, PO Box 129
Idaho City, ID 83631
(208) 392-6681

Contact Info
Trudy's Kitchen
3876 Hwy 21
Idaho City, ID 83631
(208) 392-4151
idahotrudy@msn.com
www.facebook.com

Contact Info
National Recreation Reservation Service
(877) 444-6777
www.recreation.gov

Comment
Campground Reservations
Contact Info
Idaho OHV Sticker Info
(208) 334-4197
reghelpline@idpr.idaho.gov
idpr.idaho.gov

Idaho City Trail Photo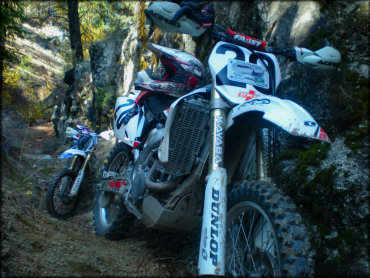 TERRAIN
Square Miles
625
Miles Of Trail
500
Climate Type
Forest
Elevation
3200 to 8800 ft.
Trail Maintenance
Marked, Not Rated, Lightly Maintained
Loose Dirt
Mostly
Hard Pack
Little
Sand
None
Mud
Little
Dust
Little
Rocks
Some
Trees
All
Steep Hills
Many
Water Crossings
Some
Small Jumps
Some
Large Jumps
None
Berms
Many
Sand/Gravel Pits
None
Single Track
Many
Roads
None
Intersections
Some
Rider Traffic
Some
Shade
Many
Hazards
Few
Novice
Little
Amateur
Mostly
Expert
Some
KEY SERVICES
First Aid
30+ Miles (SW)
Gasoline
On Site
Diesel
On Site
Water
On Site
RV Hookup
On Site
RV Disposal
On Site
Campground
On Site
Conv Store
On Site
Swim Area
On Site
Water Body
On Site
Boat Ramp
Idaho City, ID