| | |
| --- | --- |
| Alt Names | Headgate Campground, Weir Park, Loup River, Genoa, Weir Campground |
Last Known Status

Closed For Season

(closed for spring dredging season)
DESCRIPTION
This large open area offers about 600 acres of sandy woods trails, hill climbs and play areas to explore. During the summer months free camping is permitted which includes electric hookups, potable water and restroom facilities. Additional amenities include hiking trails, picnic areas with BBQ grills and swimming. The park is generally open year-round but may close temporarily when water levels reach around 9 feet as this causes the trails to become flooded.
PLEASE NOTE: The Nebraska Off Highway Vehicle Association has managed the Headworks OHV Park since 1990 in cooperation with the Loup Public Power District and the Nance County Sheriff's Department. They fund the riding area by asking for voluntary membership fees and by holding two large fund raiser jamborees every year. Since Nebraska has no state OHV registration or trail sticker fee, your voluntary support is crucial to keeping this area open. If you are going to ride here, don't be a saddlebag. Do the right thing and pick up a $30 annual membership here, which comes with detailed trail information.
For current status and conditions check the park website or call (402) 564-3171.
Trail Map...
Directions...
Nearby Trails...
LOCATION
Nearest City

Genoa, NE

From: Genoa, NE
1) Take SR-22 west about 4 miles
2) Look for Headgate Campground/Weir Park entrance on the left (south), enter and stage at the campground.
| | |
| --- | --- |
| Land | Privately Owned / Commercial |
| Comment | Owned by Loup Power District |
QUALITY
Rating
Very Good

Recommended Stay
1-2 Days

TERRAIN
Square Miles
1
Elevation
1575 to 1585 ft.
Trail Maintenance
Unknown
Loose Dirt
None
Hard Pack
None
Sand
All
Mud
None
Dust
None
Rocks
None
Trees
Some
Steep Hills
None
Water Crossings
Some
Small Jumps
Some
Large Jumps
None
Berms
Few
Sand/Gravel Pits
Some
Single Track
None
Roads
None
Rider Traffic
Some
Ranges/Gunfire
None
Hazards
Few
Novice
Mostly
Amateur
Some
Expert
Little
REGULATIONS
Permit Required
No
Dates Open
Daily except during high water levels and during dredging season.
Spark Arrestor
Yes
Noise Limit
No
Whip Flags
Not Required
Maximum Vehicle Width
Yes (64 inches)
Motorcycles
Permitted
ATVs
Permitted
UTVs / SXS
Permitted
SUVs / Jeeps (registered)
Prohibited
Dune Buggy/Sand Rail
4x4 (unregistered)
Prohibited
Two Strokes /
2 Cycle Engines
No Restriction
Bicycles
No Restriction
Hiking
No Restriction
Horseback
No Restriction
Camping
Some Areas
Campfires
Some Areas
Night Riding
Yes
Alcohol
Prohibited
Fireworks
Prohibited
Firearms
Prohibited
Emergency / Law Enforcement
Insurance
Comment
The park may close temporarily when river level reaches 9.0'-9.5' as this causes the ATV area to flood.
FEES
Parking
($0.00)

Entry
No ($0.00)

Riding
No ($0.00)

Camping
No ($0.00)

KEY SERVICES
First Aid
1-5 Miles (NE)
Gasoline
1-5 Miles (NE)
Diesel
1-5 Miles (NE)
Water
On Site
RV Hookup
On Site
RV Disposal
20-30 Miles (E)
Campground
On Site
Conv Store
1-5 Miles (NE)
Swim Area
On Site
Water Body
On Site
Boat Ramp
30+ Miles (W)
CONTACTS
Contact Info
Loup Power District
2404 15th Street, PO Box 988
Columbus, NE 68602-0988
(402) 564-3171
www.loup.com

Contact Info
Nebraska OHV Association
2231 W. 10th Street
Grand Island, NE 68803
(308) 381-2143
danno@nohva.com
www.headworksgenoa.com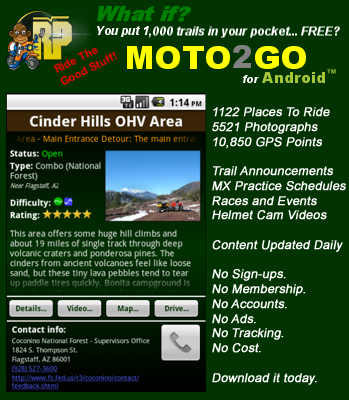 Headworks OHV Park Trail Photo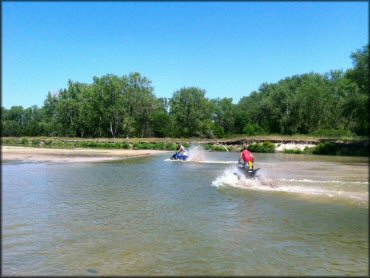 Headworks OHV Park Trail Photo
Headworks OHV Park Trail Photo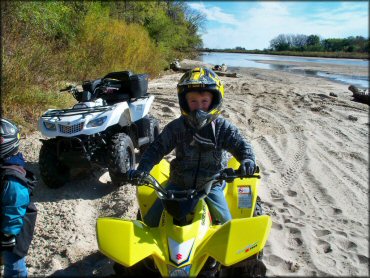 Headworks OHV Park Trail Photo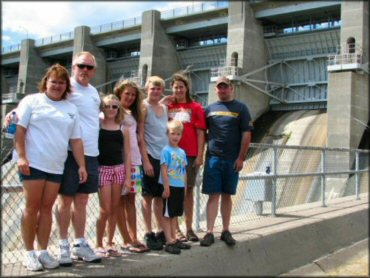 Headworks OHV Park Trail Photo