Thin Air Offroad Park Debuts with AZOP Winslow GP
Round 5 of AZOP Championship Series Races in Winslow, Arizona
Written and Photographed By Jonathan Barrett (May 2018)
Dateline: 2018 AZOP Series, Round 5, Winslow Grand Prix, May 5-6, 2018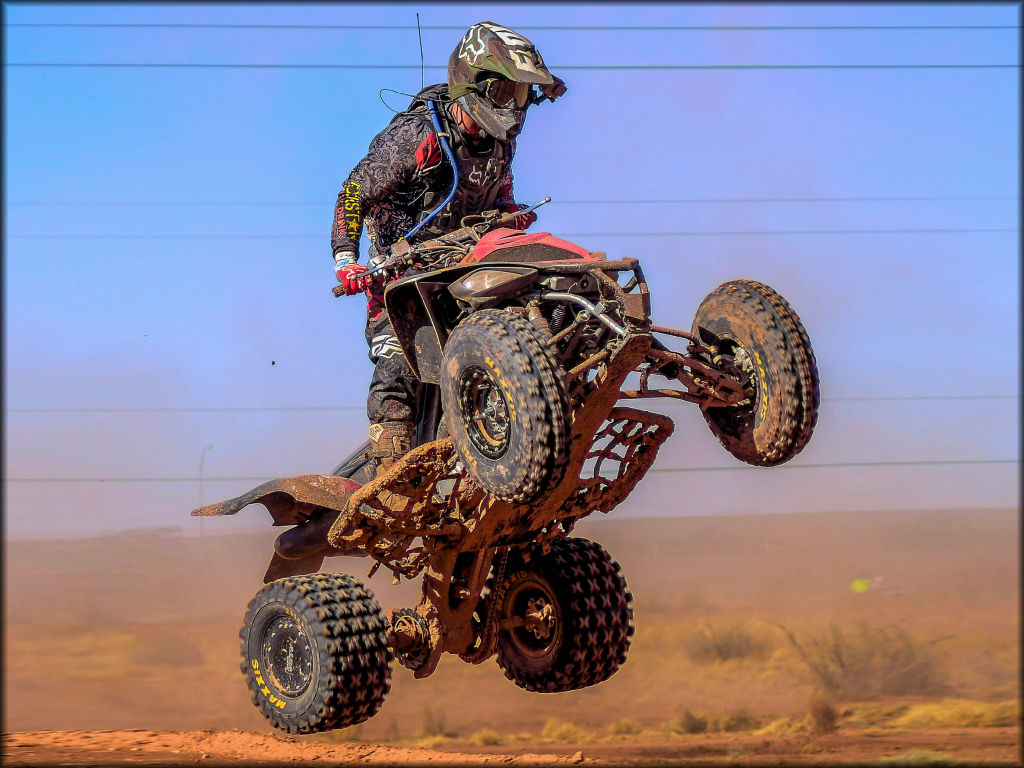 Thin Air Offroad Park in Winslow, Arizona made its grand debut hosting the AZOP Winslow Grand Prix. The event, sponsored by the Winslow Chamber of Commerce and the City of Winslow, was held on the brand new track built by the staff and volunteers of Arizona Offroad Promotions. The 100 acre property is a perfect mix of motocross, desert and enduro sections. At 4.2 miles in length, a full lap runs approximately 8 minutes. The track also features a mini and peewee track for the up and coming youth to get the full racing experience on a shorter course. The desert sections are fast and very silty, while the hard packed motocross sections have plenty of large tabletops and berms to shred into. Thin Air, owned and operated by Katie and Craig Johnson as well as Scott and Bobbie Acklin, marks the first large MX park in northern Arizona, located 60 miles east of Flagstaff. The track will officially open to the public in July, hosting weekend practices. Johnson stated she has high hopes for the track, looking forward to bringing in different race organizations to utilize the track. The property was a great place for AZOP to bring their series to the round 5 stop, with bikes, quads and UTV's all competing for the top spot on the podium.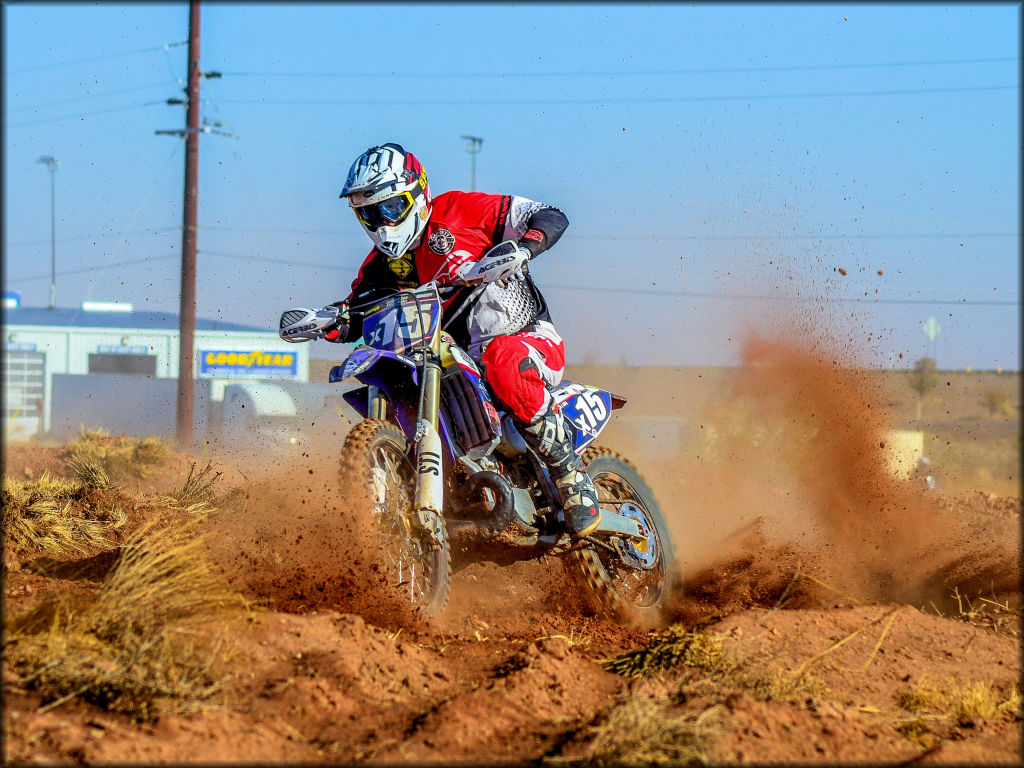 The Pro Bike race had the trio of Luis Kortright, Wyatt Perry and Jeremy Newton competing for the top spot in a hard fought race. The KTM 350 of Kortright grabbed the holeshot and took off with Perry and Newton hot in tow. Kortright spent half the race putting in solid laps as Newton pushed his Scootin' Newton Racing Yamaha 250 as hard as he could, gaining on Kortright lap by lap, with Perry getting comfortable with the track and pushing his Blud Lubricants/ZR1 Suspension Honda 450 into the lead Newton put on him. With only a few laps to go, disaster struck Kortright when he lost all compression in his engine and couldn't start up again. Newton capitalized on his misfortune and took the lead, with Perry taking over second and pushing toward the finish. Newton took the win and Perry took second. On day two, Kortright brought in his backup Yamaha 250 while Newton had to bring in his backup Yamaha 125 after sand and silt got past his air filter and deep into the engine. On a freshly watered track, Kortright and Perry were one and two going into the first two corners as Newton ended up sliding out. Later in the lap, the boys found the slickness of fresh water as Kortright went over the bars coming out of a turn, followed by Perry going down in the next corner and Newton High siding at top speed in the same corner Kortright went down in. As all three got back to racing at nearly the same time, Kortright got sent off track into the trees as Perry and Newton pulled away. Only two laps later Perry maintained his lead and was pulling away from Newton when Newton's throttle cable broke and sent him off track with a pinned throttle. After gathering himself back up, Newton jumped back in and pushed towards closing the lead Perry had put on the rest of the field. Finishing day two would be Perry on top with Kortright taking second with a badly injured shoulder and Newton limping in to save points, taking third. In the stacked Open C class, Jarren Atwater found himself a healthy lead and never looked back, pushing his Suzuki to the top of the podium. Gage Ross ran a good race as well, finishing second in front of Weston Atwater in third. Another notable finish in Open C was Adriana Mcneme, finishing mid pack in 6th on her Northland Motorsports Honda. Top 10 in the Big Bike race on Saturday was Jeremy Newton(Pro), Wyatt Perry(Pro), Austin Alexander(125-250 A), Dominic Dugi (Open A), Brian Perry Jr.(Open A), David Richards(Open A), Kyle Craighill (125-250 B), Kenneth Preston (Master 50+ A), Jon Froust (Open B), and Tim Dana (Open B).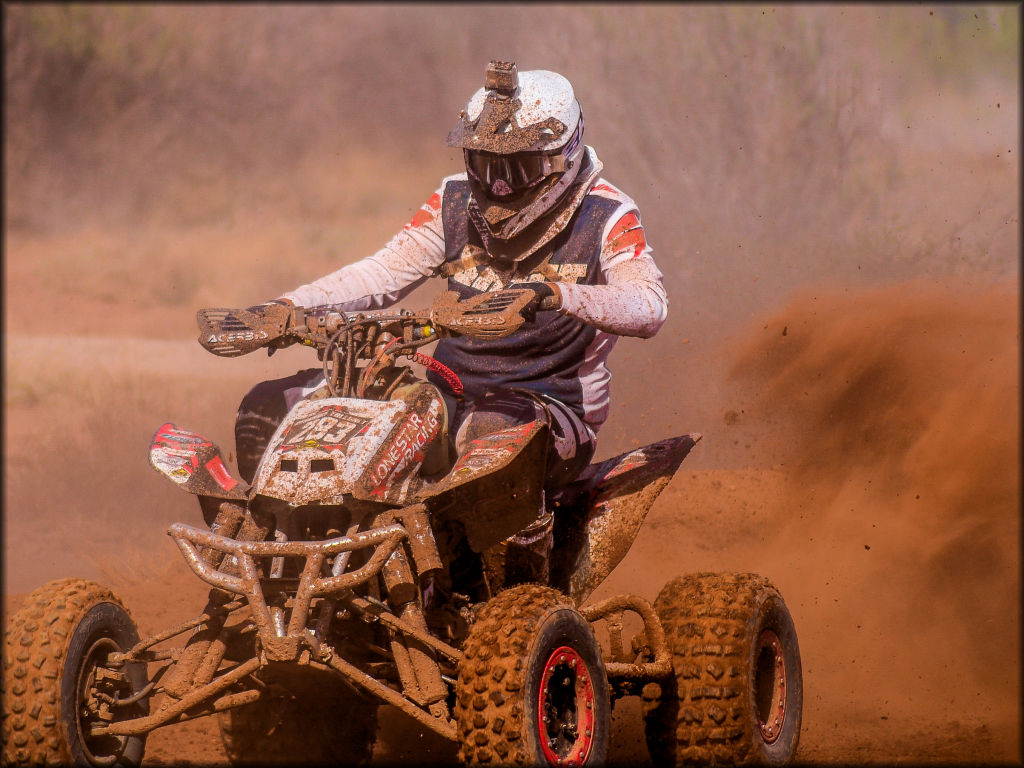 The quads made quick work of dominating the new track with the stacked Expert class racing out onto the course, with Eliminator Racing's Todd Ellsworth grabbing the hole shot and rocketing through the course. Ellsworth would represent Eliminator well with his smooth cornering and great form throughout the race and taking the win. Noah Harris made the trip from Colorado to show what he's made of, holding a strong second throughout the race and taking the second step of the podium after seven laps. Dirt Tribe Racing's Deshawn Tallsalt also had a solid day, riding safely and keeping his bike running while the silt beat the other racer's bikes up. After a few air filter swaps, Tallsalt would finish third. In the Sportsman class, Nick Helton ran a solid race, flying through the track and scoring a first place win. Francisco Lizarraga ran close behind him and took second. Kayla Dickinson represented both the youth and the female ATV riders by racing with the big boys and finishing third, despite breaking her wrist only two months ago. In the Pro class, Dylan Sloan was untouchable, taking first overall and winning his class. Overall Top 10 results are as follows: Dylan Sloan (Pro), Todd Ellsworth (Expert), Nick Helton (Sportsman), Noah Harris (Expert), Francisco Lizarraga (Sportsman), Deshawn Tallsalt (Expert), Kayla Dickinson (Sportsman), Mike Nieves (Expert), Koby Dodson (Expert) and Brandon Siewiyumptewa (Expert). In addition to Kayla, Carly Senter of Caliber Racing also did a fantastic job of representing girls in racing by dominating the 250-400cc class and taking second overall in a field of all boys. In the Peewee Quad race, the track owner's sons placed first in both their class and Landen taking first overall.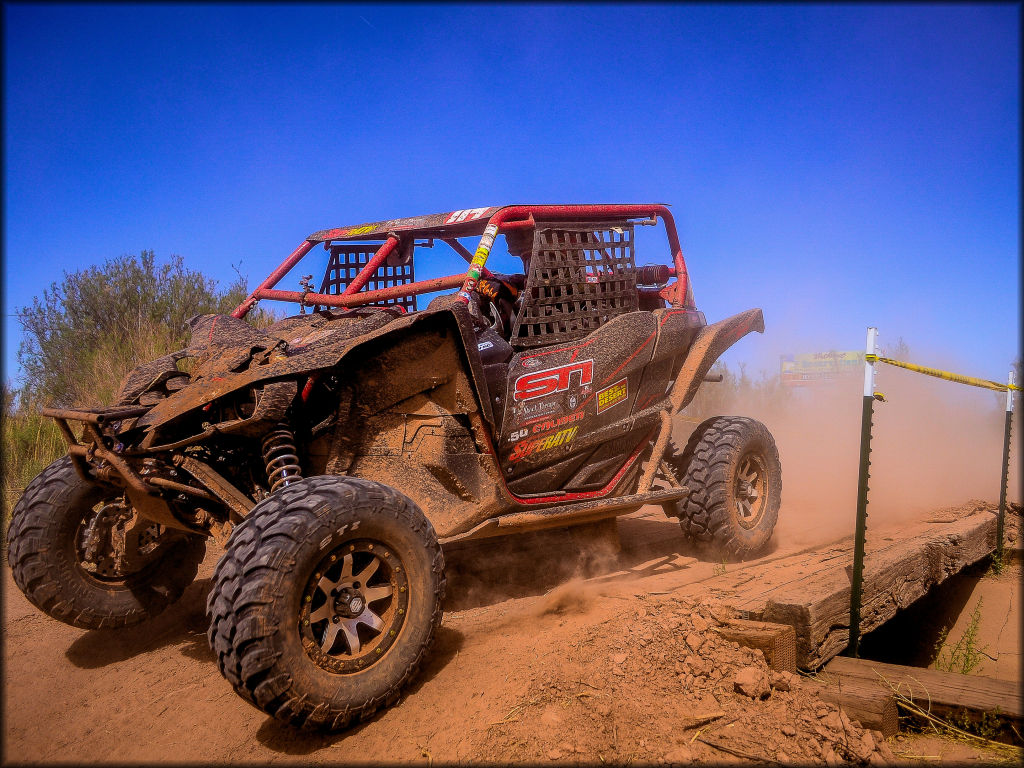 The Pro UTV's came out and showed Winslow how AZOP races short desert tracks, with Shawn Aksamit and James Moore battling all race for the top spot. Tom Wilson and Calvin Matthews also had their battles closely behind the leaders. Moore would push all race towards Aksamit, but ultimately could not make magic happen and took a strong second, while Aksamit flew through the course, clearing any doubles and tabletops in his way. In the 1000cc Non-Turbo class, it was the STI Offroad Yamaha YXZ1000 of Robert Olander and the YXZ of Justin Everett battling all race. With only seconds between them all race, it was a flat tire that kept Olander from making the pass and taking second, and Everrett keeping first place for himself after a smooth, solid performance. Kody Winiecki of Winiecki Motorsports/Blud Lubricants would take third in a new car purchased on the way to the race. Shane Till dominated the 1000cc Turbo class, keeping Kali Kinsman behind him as he pushed his Polaris RZR 1000 Turbo through the clear course ahead of him and into the finish. Day two would bring Shane and Jax Redline in their Polaris RZR RS1's hot off of a second and first place (respectively) in the Lucas Oil Offroad race in Chandler the night before. This father and son team would take advantage of the RS1's light weight and superior handling and take two great positions in the front of the pack through half the race. Olander's STI YXZ 1000 caught Jax and the two began to battle for position. After multiple attempts at pushing the YXZ faster through the turns, Olander finally got a good line on the RS1 and made the pass as Jax ended up on his side after pushing too hard. Olander would then take off toward the lead before a broken drive shaft ended those hopes as he limped into the finish on front wheel drive only, salvaging a fourth place finish. Shane Redline would take the class win and a solid third overall. Top 10 results for UTV are Shawn Aksamit, James Moore, Shane Till, Justin Everett, Robert Olander, Kali Kinsman, Kody Winiecki, Eric Harrison, Trevor Yoell, and Shannon Hein. The 170cc UTV's had a blast racing earlier in the day, with Jaxen Gibson taking the top spot on the podium, followed by Ashton Stowell and Vincent Riccitelli. Sunday the UTV 570's came out and put on a show. Riley Hein pushed his car across the finish line in first, followed by Kasyn Matthews and Grace Vinagro.
Thin Air Offroad Park held up well against all the abuse the weekend threw at it. Keep an eye out for the best offroad racing experience in northern Arizona, opening in early July.