Blythe Grand Prix 2022
Hosted By AZOP Racing!
Photos and article by LeeAnn Nix and Jim Smith of Drone:30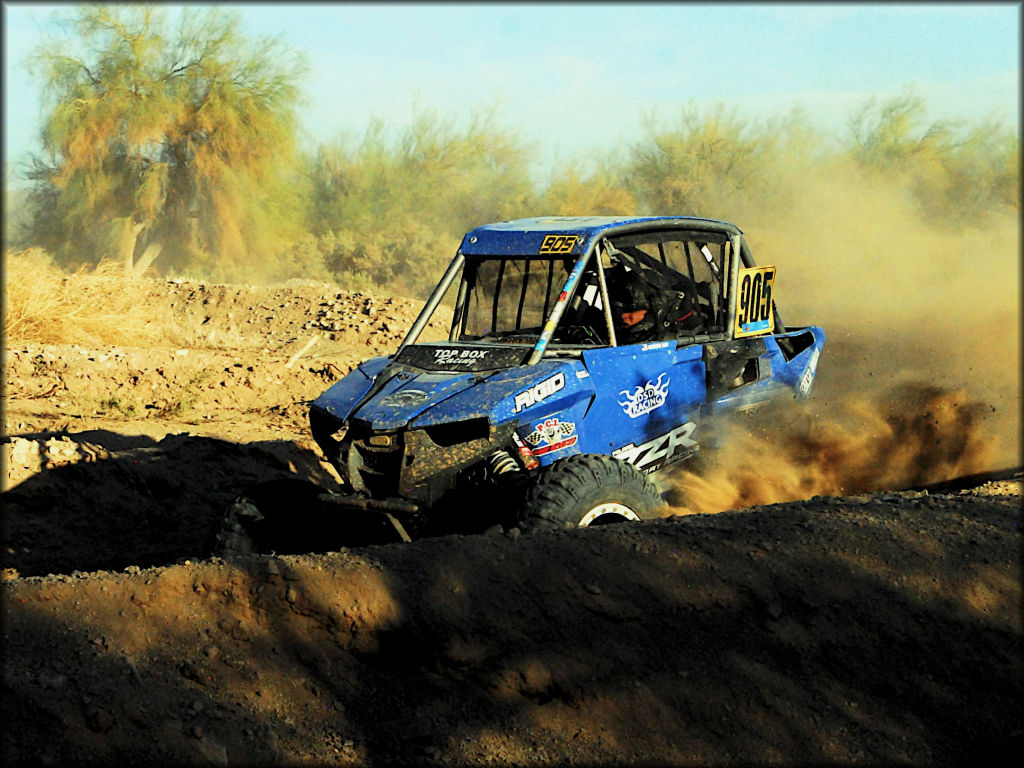 Arizona Offroad Promotions kicked off Round 3 of their series on March 26-27, 2022 with a hot and muggy weekend at Shorty's Sports Park in Blythe, CA. With temperatures rising on and off the track, the battles continued for all race classes. The Blythe Grand Prix is always a fan favorite track, with plenty of up close action for many to witness from fence lines surrounding jumps and turns galore. The large tabletop is the best seat in the house to watch all of the full sends happening for fans and racers alike. A few crazy crashes and amazing passes made for a thrilling up close experience for all to watch, who needs TV when you have a track this amazing!
This race was brought to you by the awesome Motocity Powersports and HSD Industries, we all thank you for supporting the action and fun this race brings to everyone. Be sure to visit AZmotocity.com and HSDindustries.com to fulfill many of your racing needs. These guys will help you get set up with a new ride or parts and accessories you need to succeed. MRT had their full rig set up onsite and remained busy as ever assisting many with their tire needs, good to have you there as well, thank you.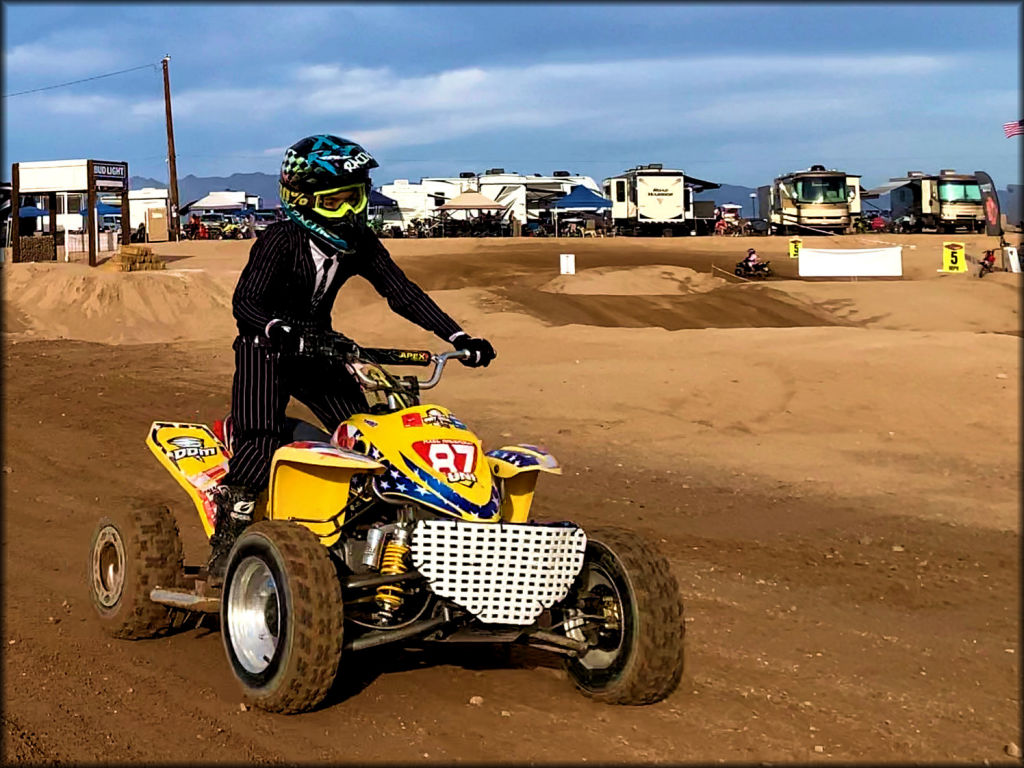 Let's talk a little bit about those Saturday and Sunday winners out there! To kick off the morning the for the cooler weather we had Peewee Quads hit the track and Axel Anderson #87 stole the show winning the overall with his little sister Khloie hot on his heels. This kid is one to watch out for and also took the overall on Sunday. Great job Axel!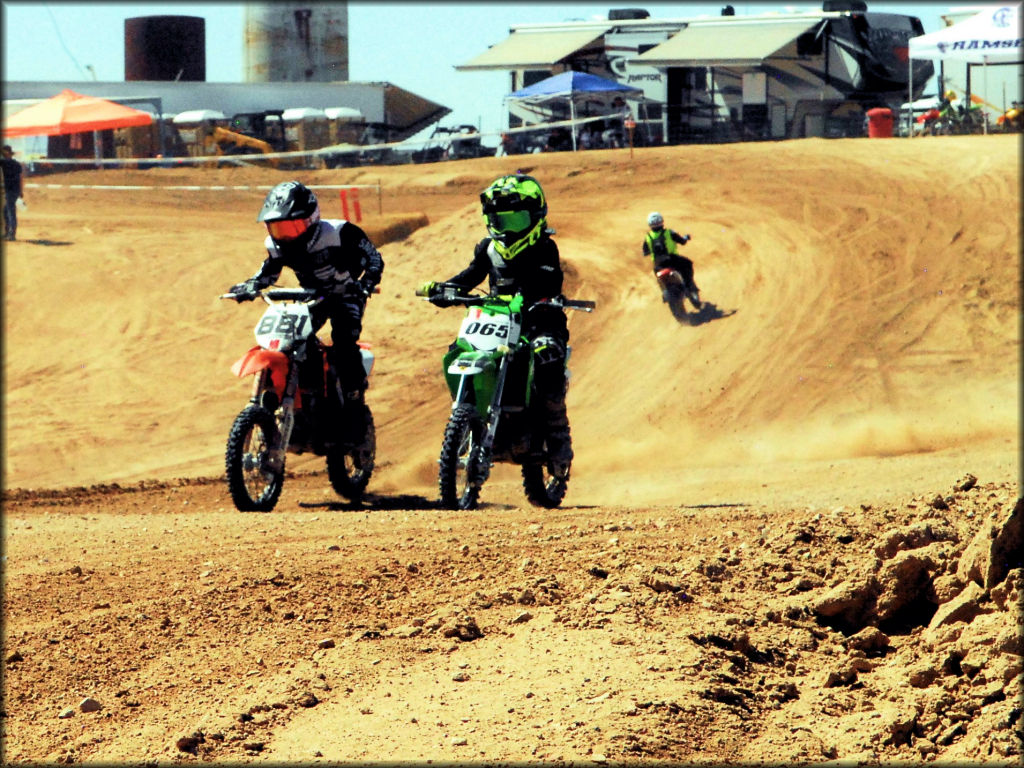 Peewee bikes were next with Jake Pennington #881 showing speed and smooth riding to take the win both days. Looking good out there Jake, we see great things to come from you.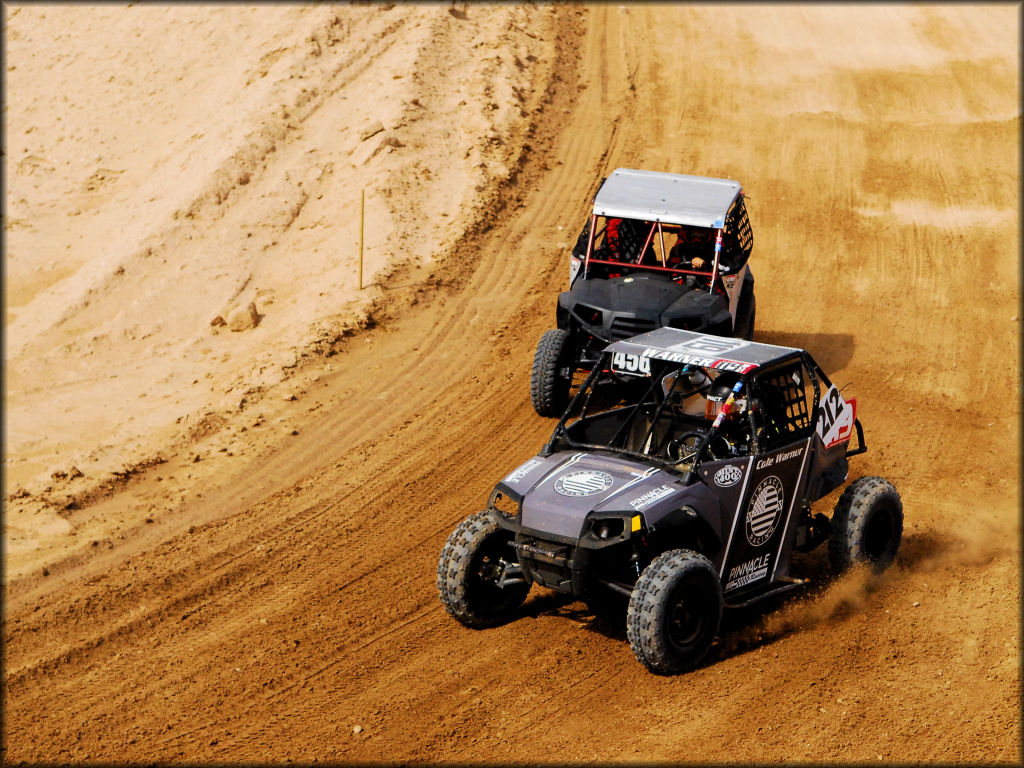 The 170 UTV classes are always a favorite to watch with Ella Warner #212 rightly claiming both days for the beginner class with Cash Harper #121 coming in for a close second. Dexter Warren #145 taking his overall win on Saturday in the Intermediate and Advanced class and Allison Furnell #186 taking it all back on Sunday. These littles sure can drive!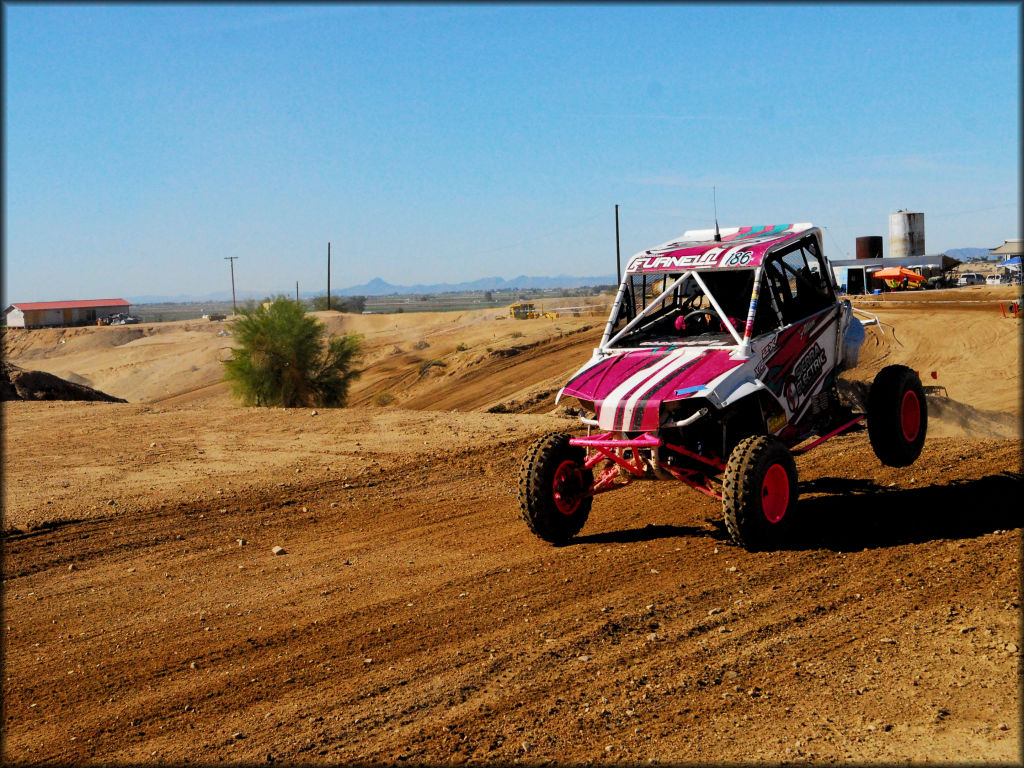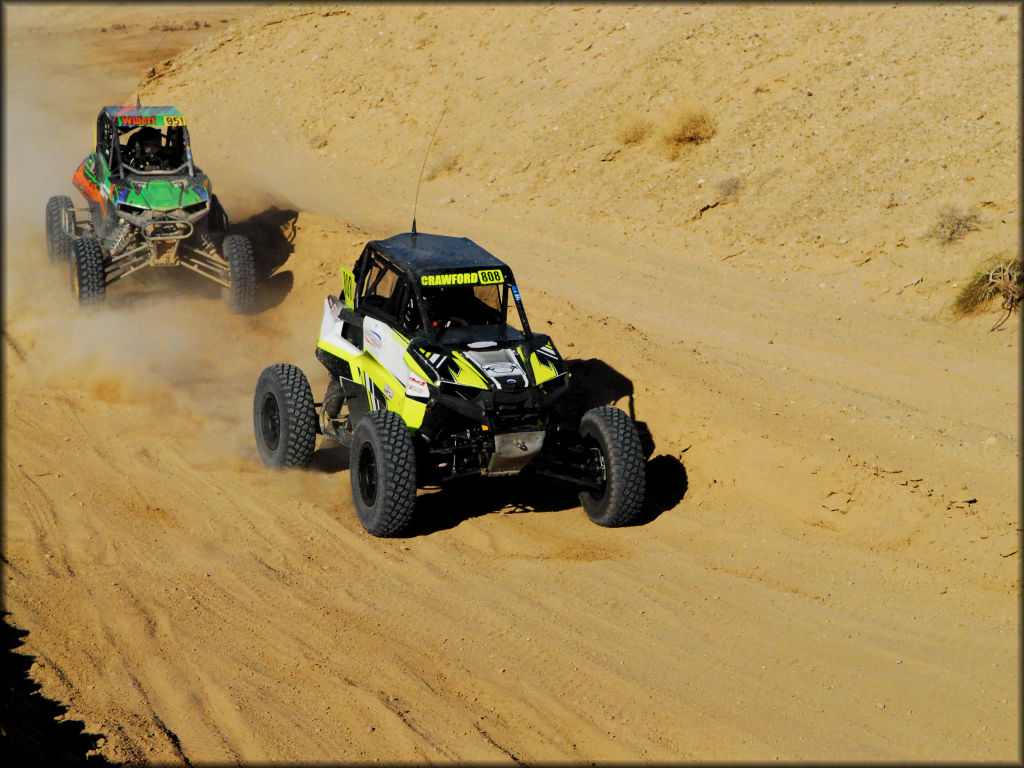 The battles continue in the 570 UTV class stealing the overall show out there with some awesome competition from Chance Crawford #808 and Brian Willett #951. An aerial capture from Drone: 30 with a spectacular over under pass from Brian Willett increased the competition in full send fashion and the video clip went viral Saturday night. Great racing out there to you both but the win went to Chance Crawford #808, next time Brian, next time. With Brian out on Sunday due to a fantastic end over end crash, yes he was okay, car not so much, a new winner for Sunday appeared. Jessie Owens #97 claimed this one with authority. Thank you all for bringing serious action to this class.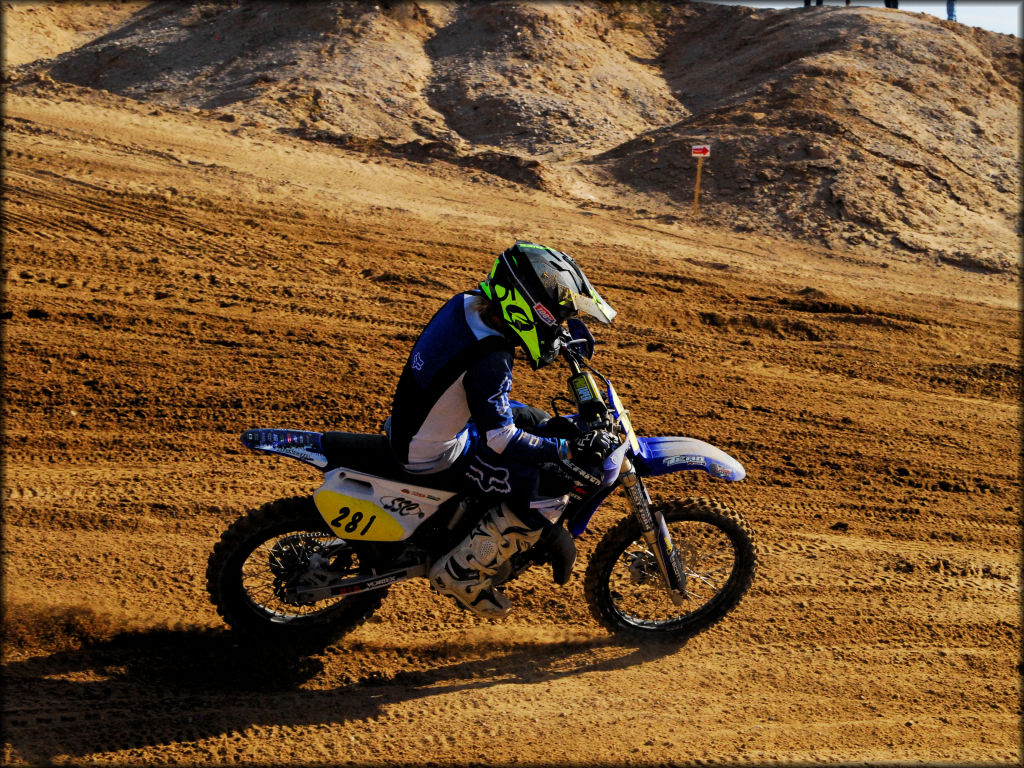 Big Bikes are always plentiful on Saturday and all were flying high on the tabletop and working hard to claim their winning spots. Tate Van Voorst #415 won Saturday and is bringing some serious competition in the Open A class. This guy is one to watch out for and is advancing by leaps and bounds. Sunday was rightfully taken by Mason Decunzo #007 and also put on an amazing show. The heat was on during this race as it was mid day and wow the scorching went on from there. A lesson in hydration got the best of most of us for sure.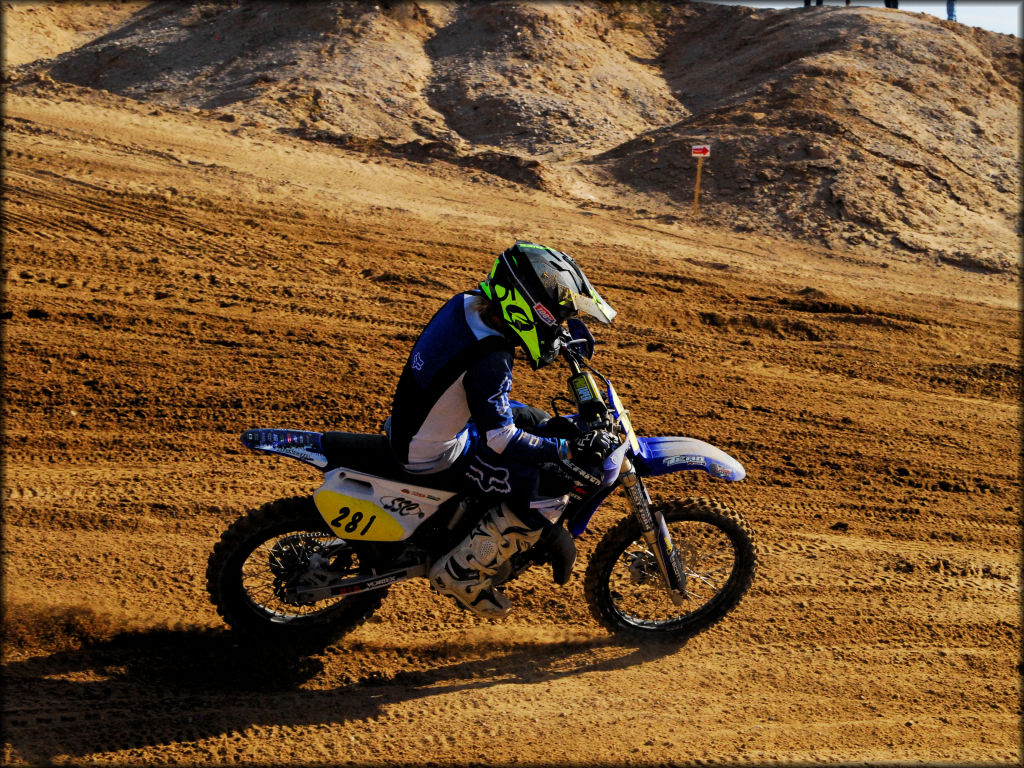 The Mini Bike class is heating up with Tristan Andrade #057 showing up from Lake Havasu to steal Saturday and from neighboring city Parker, AZ. Lane Makrdichian #281 taking over on Sunday. These two are fast out there and always amazing to watch.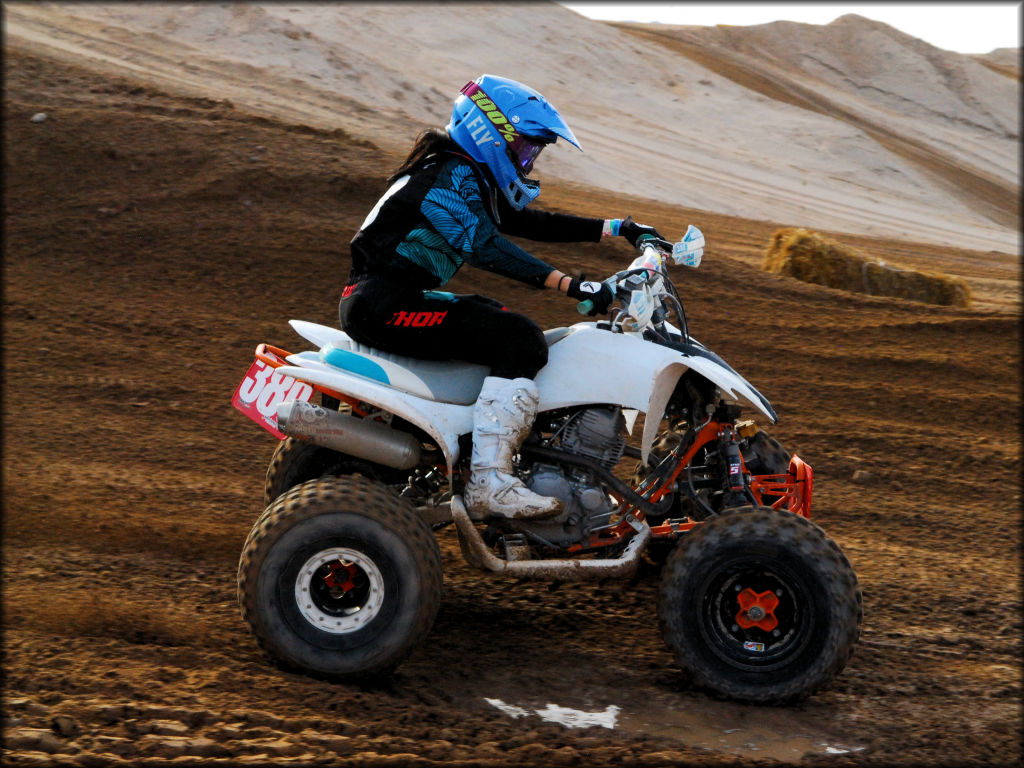 Mini Quad class Julyssa Pesquiera #380 is a tough competitor and is a smooth clean rider to keep an eye on. Stealing the winning spot for both days and smiling all the way to the podium. We have our eyes on you Julyssa, keep up the good work.
A personal favorite to watch is the Big Quad class. With Ian Kubik #65 Expert out of Chandler, AZ. taking his spot for #1 on Saturday and Travis Tama #505 taking it all back on Sunday. These competitors are spectacular to watch as they whizz past with ease and always throw some awesome dirt in the corners. And H2O at this time of day is a serious necessity, great job to you both in this heat.
To almost end the day with little energy left for most of us and still not fully hydrated, the Big UTV class takes to the track with crazy action and a whole lot of passing going on. Chase Dsd #905 battling for that #1 spot on Saturday and Jayden Gerber #15 of Gerber Racing and HSD Industries showed up for his team to win Sunday. Awesome driving from all of you!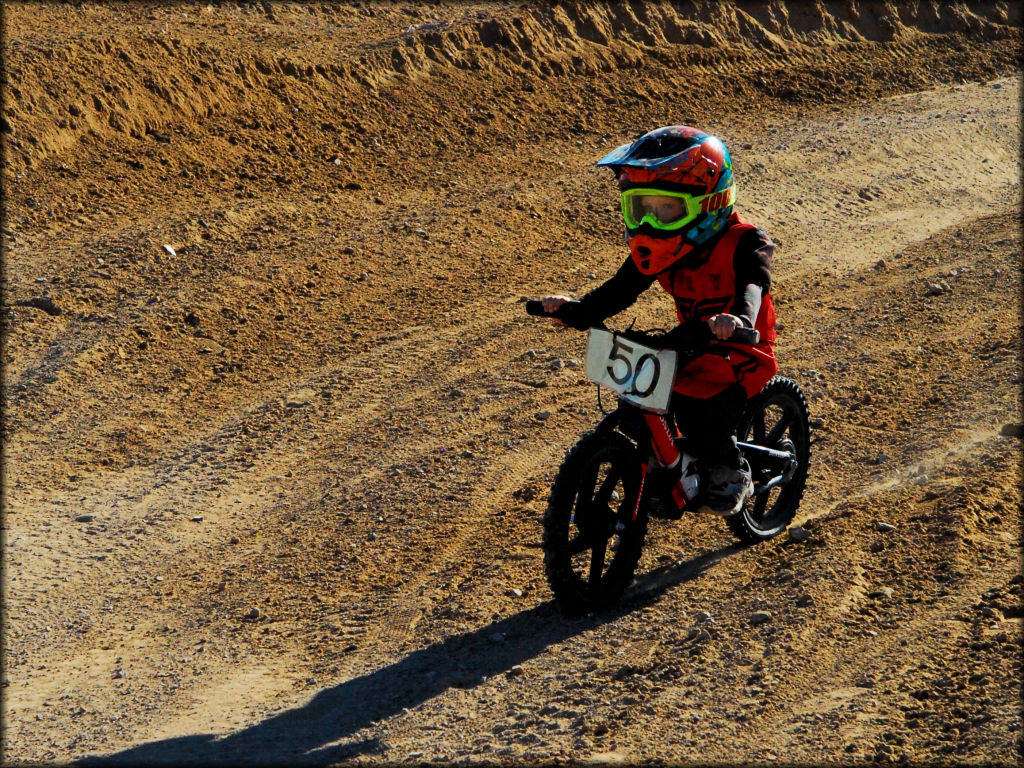 The newest added class is the Stacyc Bikes with Brawley Ojeda #50 in the 2-3 year old class taking the overall on Saturday and Sunday. I know these little guys love this class and it gives the parents a great workout at the end of the day. Fun new class to watch grow in the upcoming months.
For upcoming schedules, events and rules please visit azopracing.com and join in on all the fun! Become a sponsor today or visit the website to see a list of all the great sponsors out there to fill all of your racing needs. Join us for Round 4 at the Chino Valley Grand Prix Easter weekend for Easter Egg hunts and fun at a new track. We cannot wait to see who takes over this weekend!