4th Annual Fire in the Sky
A Thrilling Adventure Through the Mogollon Rim!
Written by Kim Krause, Photographed by Kyle Krause (October 2023)
The 4th annual Fire in the Sky UTV event, held from October 13th to 15th, 2023, in Heber, Arizona, provided an exhilarating weekend of UTV Offroad Adventures. Hosted at AJ's RV Getaway, the event brought together a community of UTV enthusiasts for a memorable experience. The RV park was at full capacity due to the UTV group's enthusiasm, and some participants camped in the surrounding forest or stayed in nearby hotels.
Heber-Overgaard's diverse landscapes, including lush pine forests, clear lakes, and mountainous terrain, set the perfect stage for these adventures.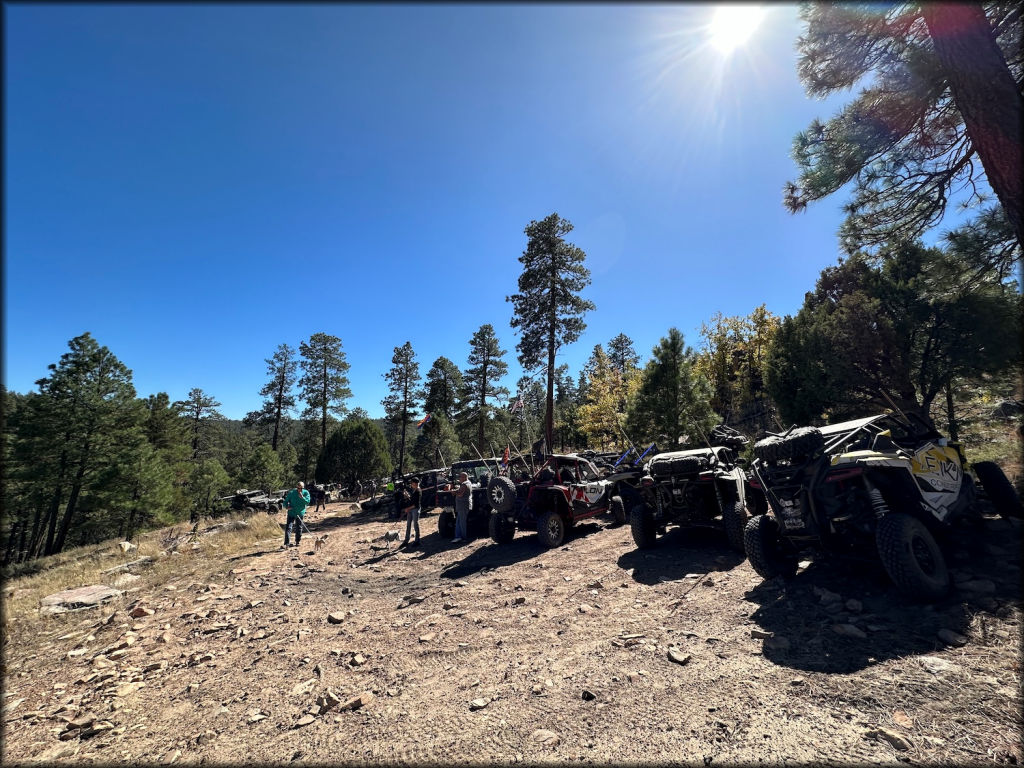 The festivities commenced on Friday night with check-in and an exciting night ride. The UTV Offroad Adventures team provided a comprehensive safety briefing, ensuring the well-being of all participants. The night ride, spanning approximately 20+ miles, was illuminated by lighted whips, creating a mesmerizing atmosphere. During a break, a friendly giant green alien unexpectedly joined the group, leading to a unique and memorable photo opportunity.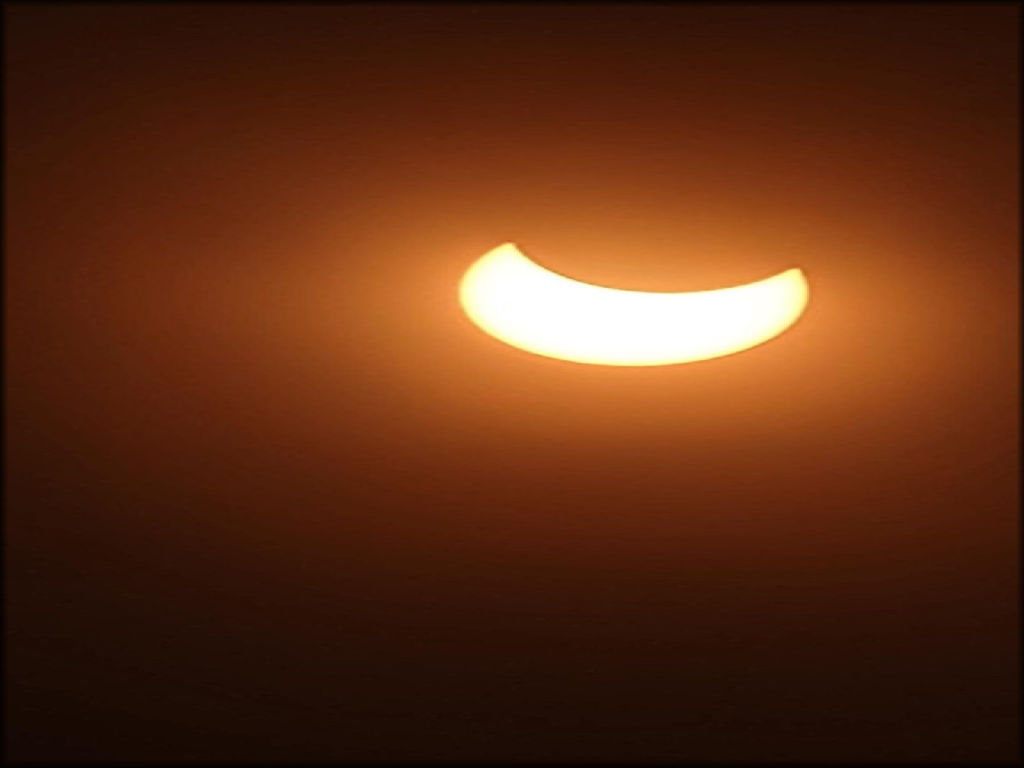 On Saturday, after a delicious breakfast courtesy of Groovy Gringa, participants split evenly into two groups for a day of exploration. There were more than 70 SXS ready to hit the trails. One group embarked on a 50-mile ride, while the other tackled a 70-mile journey. Both routes offered stunning landscapes, wildlife sightings, points of interest, and more. The journey to Chevelon Lake, surrounded by tall ponderosa pine trees and set within Chevelon Canyon, provided a serene and picturesque backdrop. The trails teemed with wildlife, including turkeys, deer, squirrels, and wild horses, offering an immersive natural experience.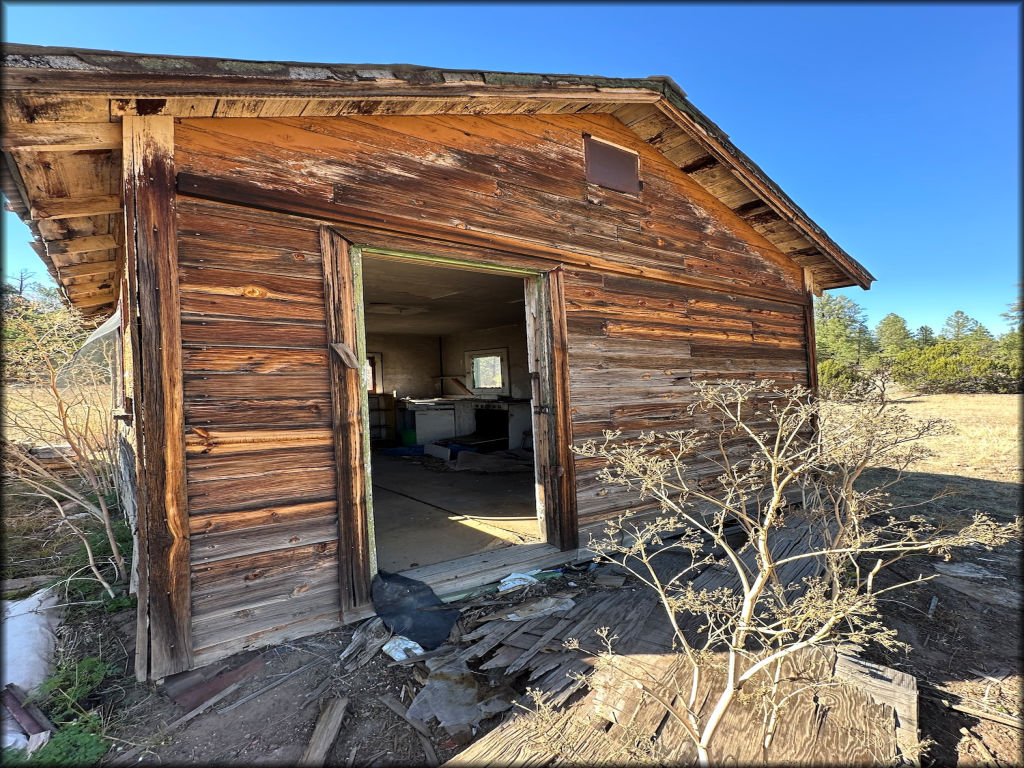 The other ride led UTV enthusiasts to captivating spots along the scenic Mogollon Rim, with its sheer cliffs and lush pine forests. The two rides ventured in opposite directions, one north and the other south of HWY 260, providing a mix of smooth and rocky roads, flat and hilly terrain, and plenty of twists and turns. The beautiful Apache-Sitgreaves National Forests provided a stunning backdrop for these rides.
At 10:30 am on Saturday, both groups had the unique opportunity to witness a Solar Eclipse, equipped with special eclipse glasses for safe viewing. Little aliens were playfully hidden along the trails, adding an element of fun to the adventure.
After the day's adventures, it was time for evening festivities. Participants submitted their poker hands, gathered around a campfire, and enjoyed a performance by the band Paul Bourgeois. To make the evening even more memorable, Travis Walton, famous for his alleged 1970s abduction and depicted in the movie "Fire in the Sky," made a surprise appearance.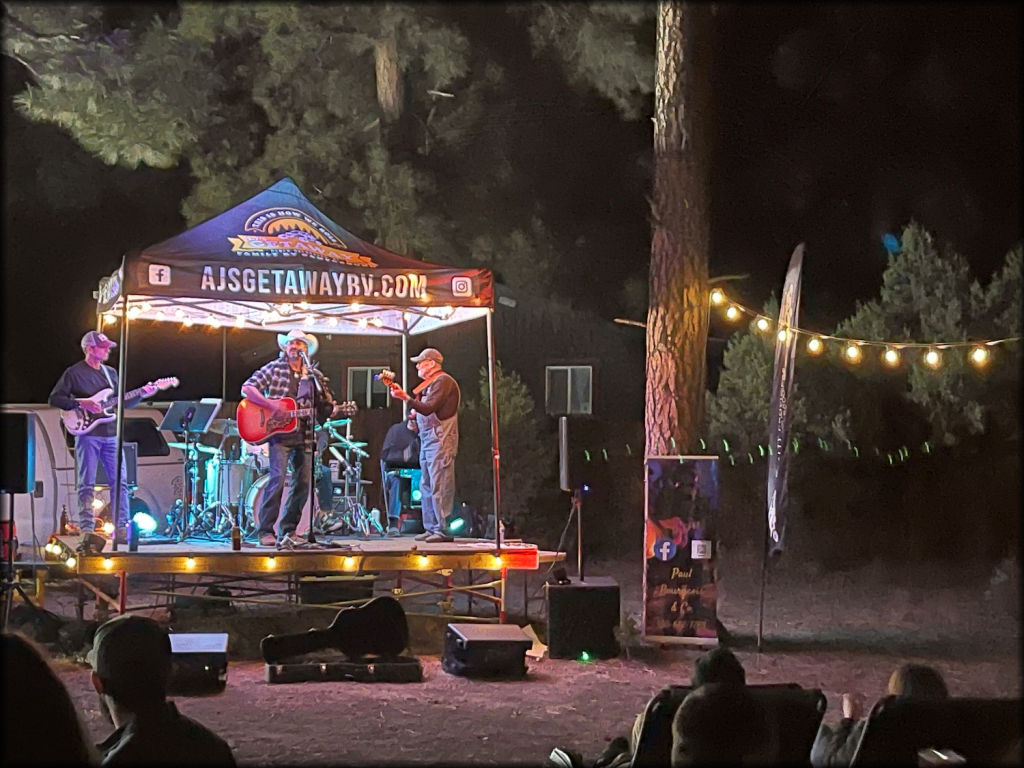 Dinner, catered by Groovy Gringa, received rave reviews, and numerous raffles and prizes added to the excitement. As the night concluded, the group eagerly looked forward to another fantastic day on the trails.
Following a hearty Sunday breakfast, the group divided evenly once more, embarking on two different rides. In total, the weekend featured three distinct rides, including the memorable Friday night adventure.
The weekend brought together aliens, UTVs, offroad adventures, great company, and unforgettable memories. Save the date for September 2024 when the 5th annual Fire in the Sky event promises to deliver another incredible experience.
Sponsors Who Made It Possible
The North Rim UTV Fun Run owes its triumph to the unwavering support of our sponsors. A heartfelt thank you to Nash Powersports, Realty Providers, Rugged Radios, Shock Therapy, DRT Motorsports, Dirt Warriors Accessories, Kemi Moto, MRT Tires, McDermit Designs, Campfire Sports, Bob Moses Ceramic Coating, Gorilla Whips, Gorilla Offroad, Aftermarket Assassins, Rowley White RV, Memphis Audio, Factory UTV, Arizona Color Wraps, AJE Powersports, Macs Tie downs, and a special nod to Shred 3D for being an event sponsor.
The Future of Adventure Awaits
Calling all adventure enthusiasts! Clear your calendars and bookmark UTVOFFROADADVENTURES.com. Get ready to embark on off-road escapades that will leave you breathless, with thrilling events happening every month. Click your way to utvoffroadadvnetures.com for all the details about upcoming adventures, or simply drop an email to kyle@utvoffroadadventures.com.