Canyon Christmas Grand Prix And Team Race 2020
AZOP Closes 2020 Season at Canyon Motorsports Park!
Photos and Story by KarakurtMP / Nikola Pavlovski (January 2021)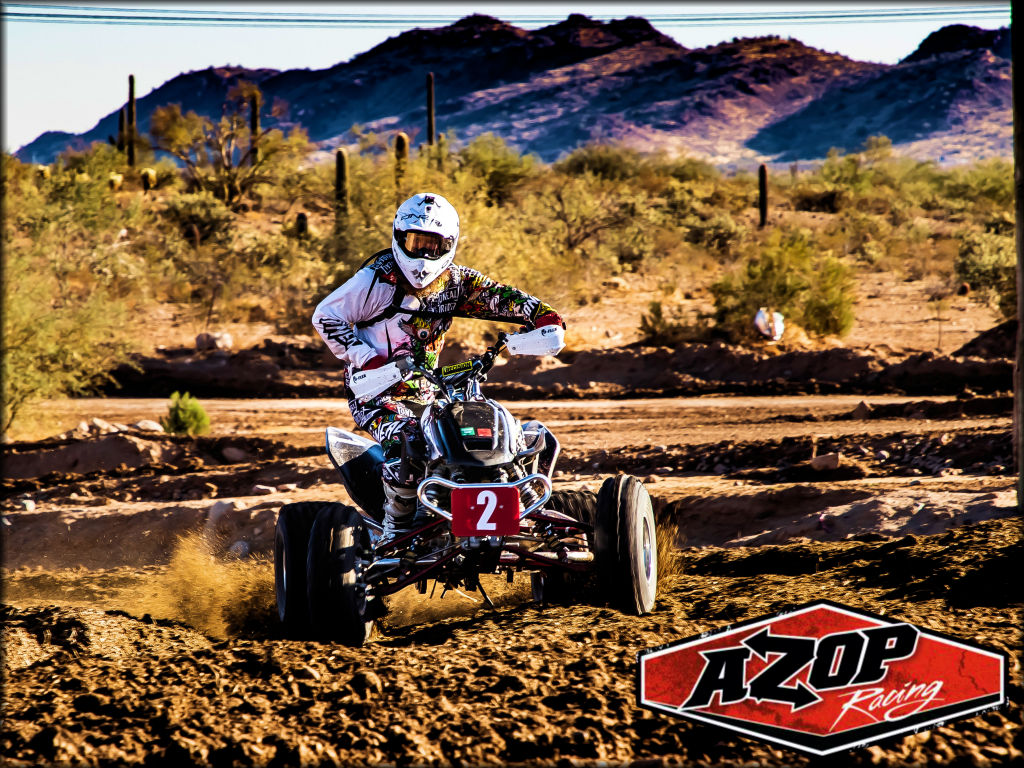 The 2020 Arizona Offroad Promotions Rowley White RV Series held the annual Christmas Grand Prix and Team Race at Canyon Motocross in Peoria, AZ.
Sponsored by RideNow Motorsports and Roadhouse, the course had no shortcomings of high speeds and big air tabletops in the motocross section, and physically demanding deep desert wash soil. Race day began as a sunny, chilly, and dry day at Canyon Motocross with racers from all over coming together for their chance at the podium. Saturday was packed full of nine total races, with the main event being the 2-hour long Team Race.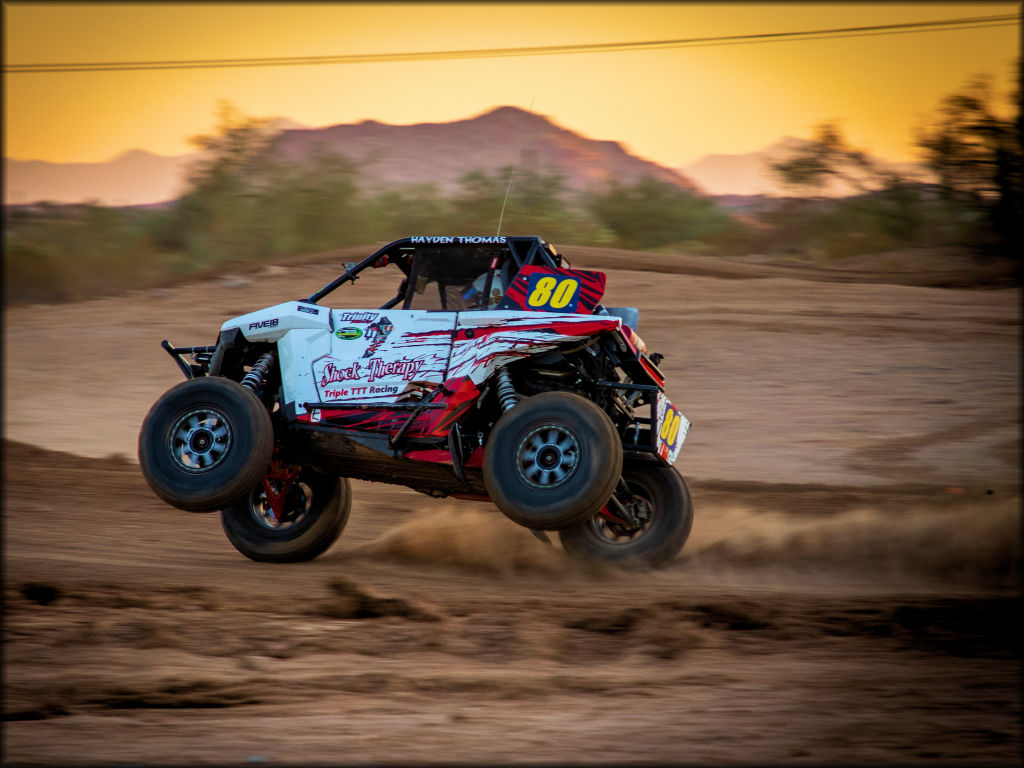 With 75 teams competing for the pole during the highly anticipated Team Race, the starting line for the Team Race was nothing short of epic. Of the 75 teams competing were 14 racers who braved the course alone. The Pee Wee classes had great turnouts with their chance to gain experience for their racing futures. After the bikes and ATVs had their go, the UTVs had their own chance at the motocross track and deep desert washes.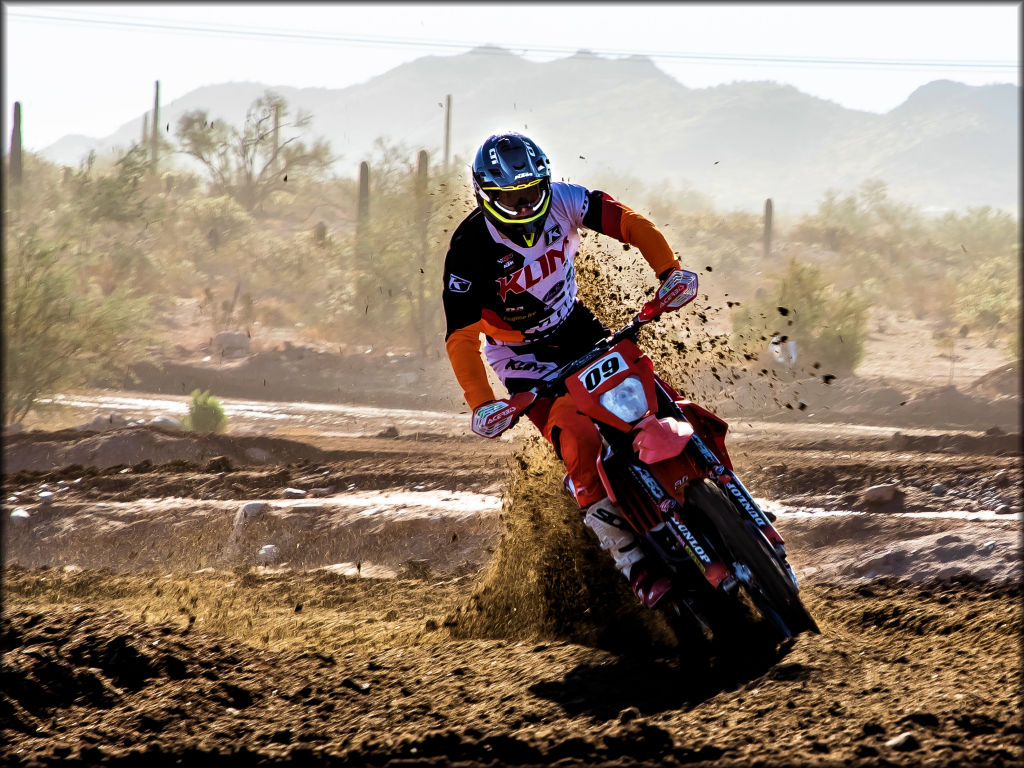 Podium results for the Team Race were all Team Expert class all having completed 11 laps. Team Da8 #09 out of Peoria won 1st with 02:06:06 on the clock. Team Stooges #05 out of Scottsdale placed 2nd at 02:06:16. Lastly, placing 3rd at 02:10:59 was Team Washed Up #013 also out of Peoria. Ironman team top three were 1st place Team Gallian #047 from Cavecreek, 2nd place Ant Samora #019 from Tempe, and 3rd place Team Ouellette.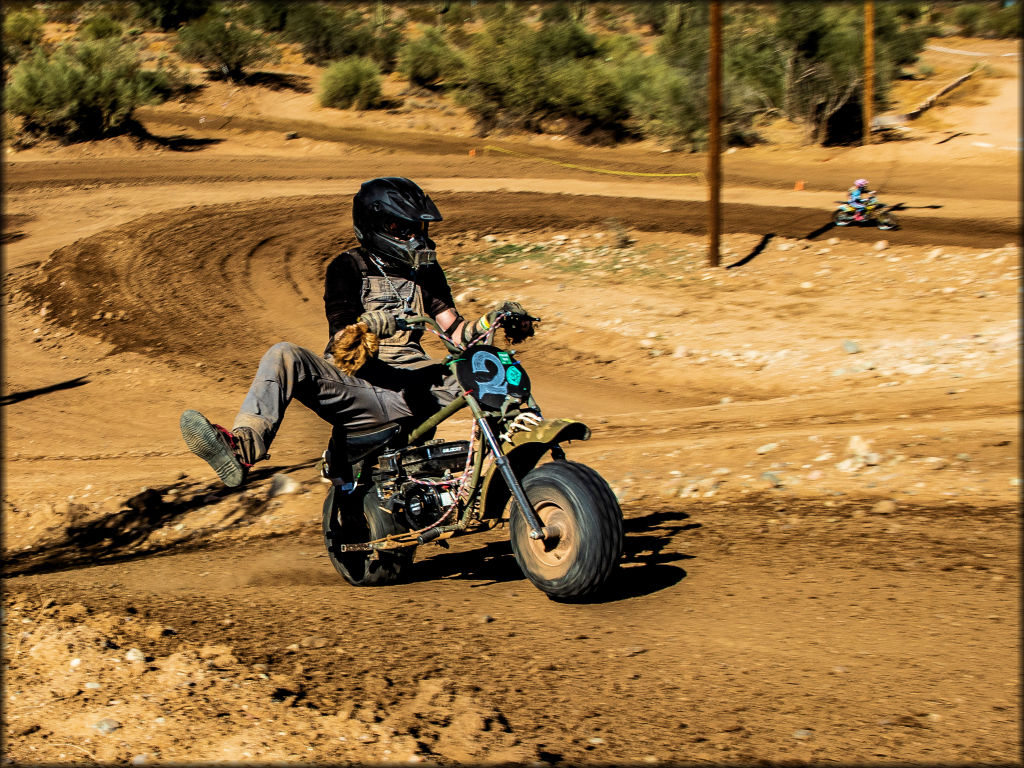 The Big Bike race was a fast blow out between first place and second and third. Zach Myers #16, pro class, riding his KTM blew everyone off the track with a 4 minute 35 second lead over second place Dustin Queen #974, Open A. Coming in third was Ruffin Dodson #211. Santa Claus and his reindeer even made an appearance to warm up for their trip around the globe to deliver joy to all! Santa did not disappoint by showing off his flying skills on the motocross section. It is no wonder how he does it. AZOP Racing keeps Santa and his reindeer in shape all year long.
2020 Christmas Grand Prix and Team Race Results
Big Bikes - Team Expert:
Team Da8 (09)
Team Stooges (05)
Team Washed Up (013)
Team Sportsman:
Moto Bros (004)
Team Kc Racing (14)
Team Fried (038)
Team Vet:
Those Guys (049)
Team Mark (025)
Jurrasic Dudes (046)
Team Ironman:
Team Gallian (047)
Ant Samora (019)
Team Ouellette (122)
Team Family:
Slow Guys (058)
Team Staser (056)
Shake & Bake (034)
Open A:
Dustin Queen (974)
Open B:
Juke Kelly (025)
Chris Otero (202)
Zak Haroldson (74)
Open C:
Juan Lopez (465)
Walker Yost (51)
Tanner Lindley (174)
125-250cc B:
Ruffin Dodson (211)
Clayton Hixon (130)
Hunter Beltran (170
125-250cc C:
Juan Lopez (465)
Dawson Lee (26)
Joshua Lee (307)
Vet 30+ B:
Angel Perez (519)
Chris Kieffner (009)
Vet 30+ C:
Kevin Rennaker (420)
Jonny Gates (668)
Zach Zito (149)
Senior 40+ B:
Brian Amideo (426)
Master 50+ A:
Greg Fry (911)
Gary Peterson (59)
Richard Heyer (311)
Master 50+ B:
Chris Bouchard (613)
Super Senior 60+
Daniel Heim (12)
Pee Wee Bikes:
Pee Wee 50cc 4-6 Years:
Tucker Adams (314)
Parker Miller (441)
Mateo Panuco (433)
Pee Wee 50cc 7-8 Years:
Joshua Cameron (716)
Owen Morris (70)
Radley Kronkright (203)
Pee Wee 65cc C:
Shay Anderson (45)
Bryson Miller (414)
Rush Wermes (105)
Mini Bikes:
Mini 80-150cc B:
John Smallhouse (188)
Danny Carter (71)
Tiernan Finnegan (41)
Mini 80-150cc C:
Logan Skaggs (696)
Seth Johnson (61)
Mini 65cc B:
Braydon Dodge (187)
Tyler Mclane (3)
Ty Gillman (329)
Women's C:
Coyle Gillian (008)
91-300cc 10-15 yrs:
Jose Llamas (187Q)
Brayden Earlewine (17)
Pull Starts:
Jeff Lewis (24)
Jonathan Bennett (55)
Nicholas Berry (2)
AZOP would like to thank all the sponsors, staff, volunteers, racers, and spectators for making this another great race day. For complete race results and upcoming events visit www.azopracing.com