Hidden Gems of Southern Idaho
Offroad Vacation the Way It Should Be!
RP Staff (February 2020)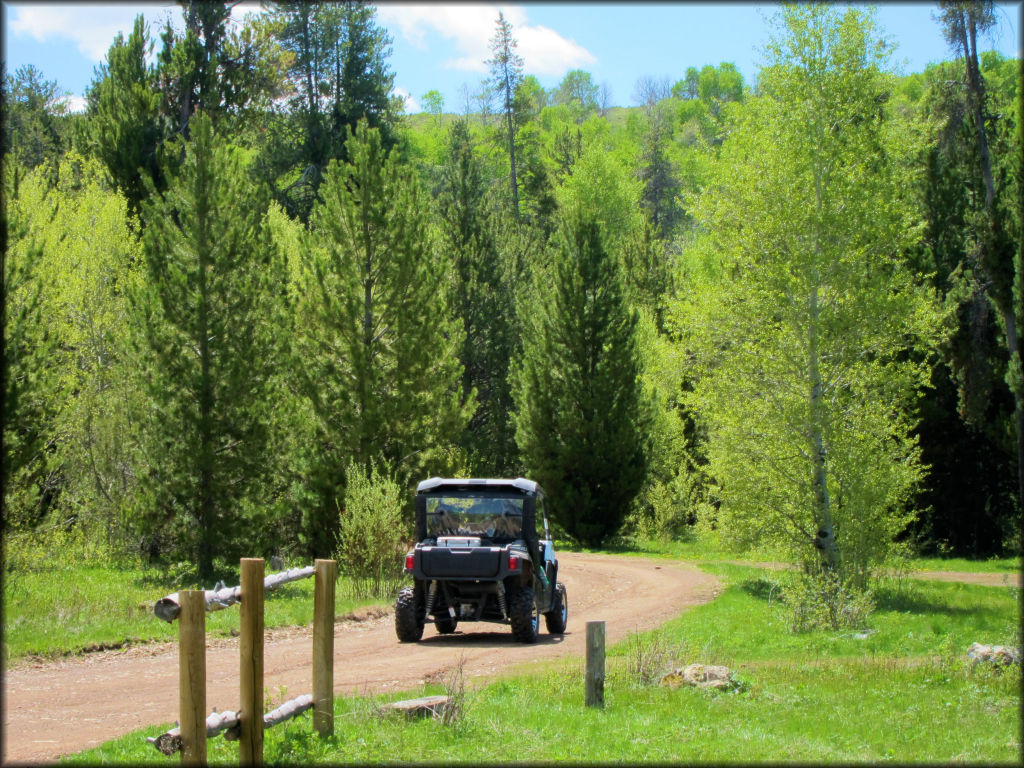 When it comes to offroad riding, perhaps Southern Idaho doesn't get the credit it deserves. California often draws the most riding tourists because it offers a little of everything. The Pacific Northwest draws many to explore the unique coastal dunes and woods single track. The Rocky Mountains attract many to Colorado to test their mettle on the steepest of mountain trails and forest roads. And of course Utah is the mecca for rock crawlers and those seeking 1,000+ mile ATV loops.
But as beautiful as those places are, they can get pretty busy during the peak season. In many places you may need a reservation or be forced to pay inflated prices for camping. You may also have difficulty just finding a good campsite (especially during holiday weekends). If you want top notch scenery, pristine trails and nice campgrounds without the high cost and crowds, Southern Idaho is a very good option.
South Hills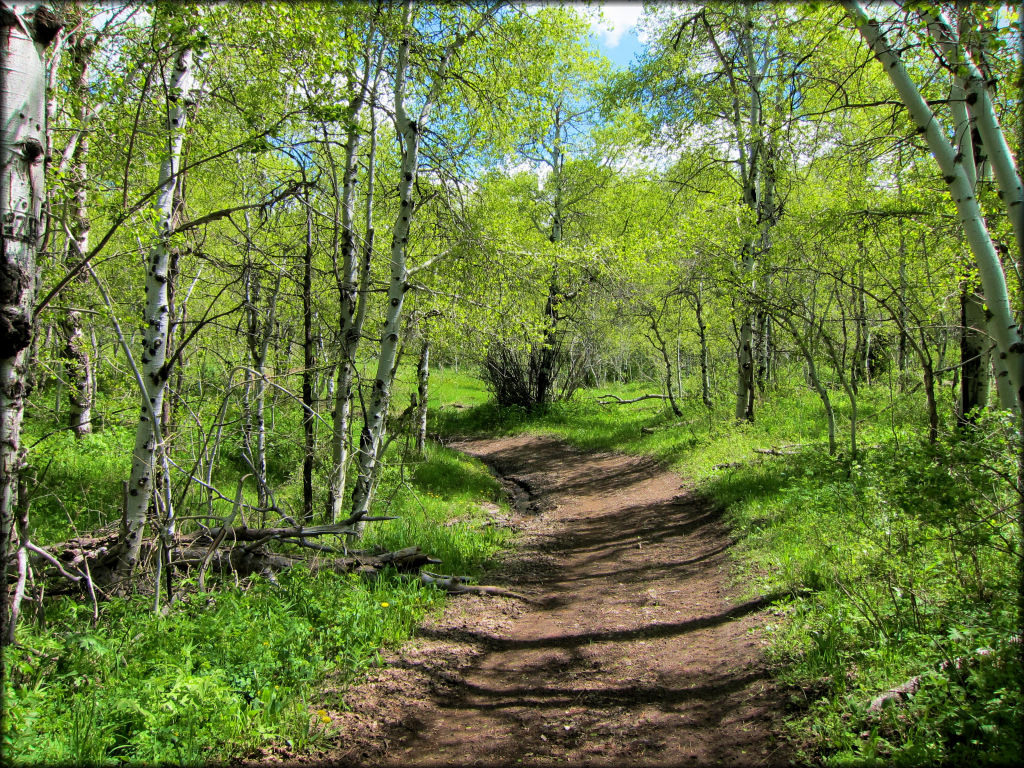 Less than an hour south of Twin Falls lies South Hills, a hidden gem surrounded by a stunning alpine forest. What makes this place unique is the scenery gradually changes from high desert sage and scrub brush to a beautiful mix of aspen and pine trees, rolling hills, grassy meadows and shallow, winding creeks.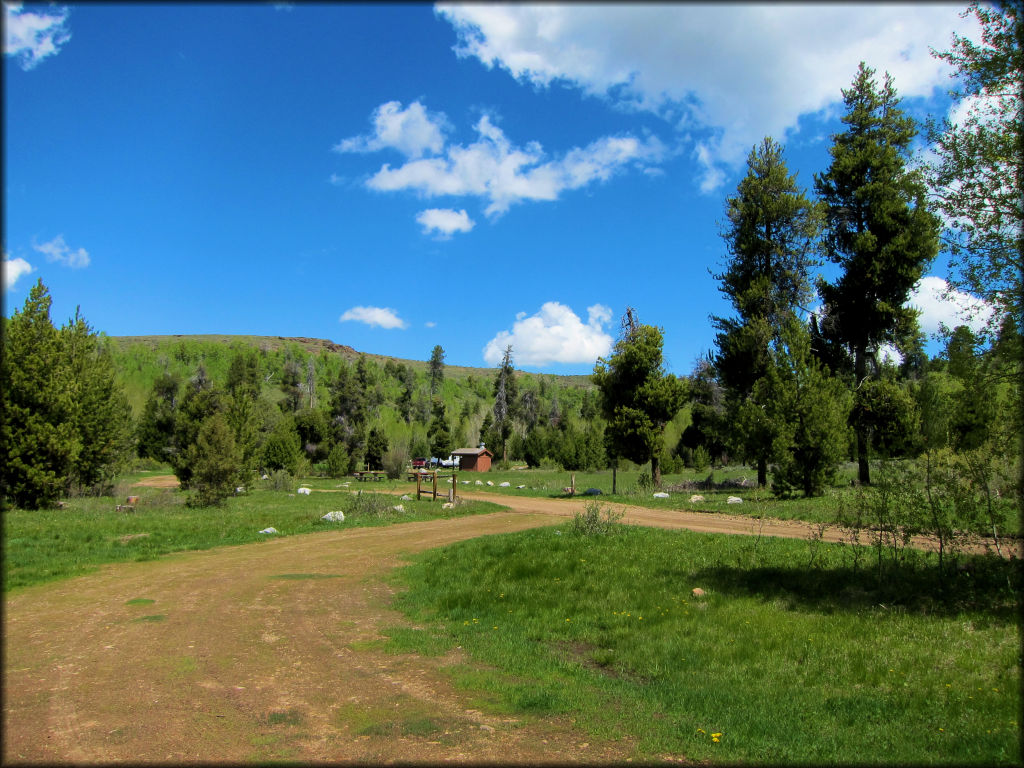 If you are coming from the west off Hwy 93, Bear Gulch will be the first campground you come across. It has eight sites and a nice oval loop, making it easy to get in and out with your trailer. Each site is surrounded by green grass and comes with a picnic table and fire ring. This campground offers direct access to some twisty and narrow ATV trails with moderate elevation changes.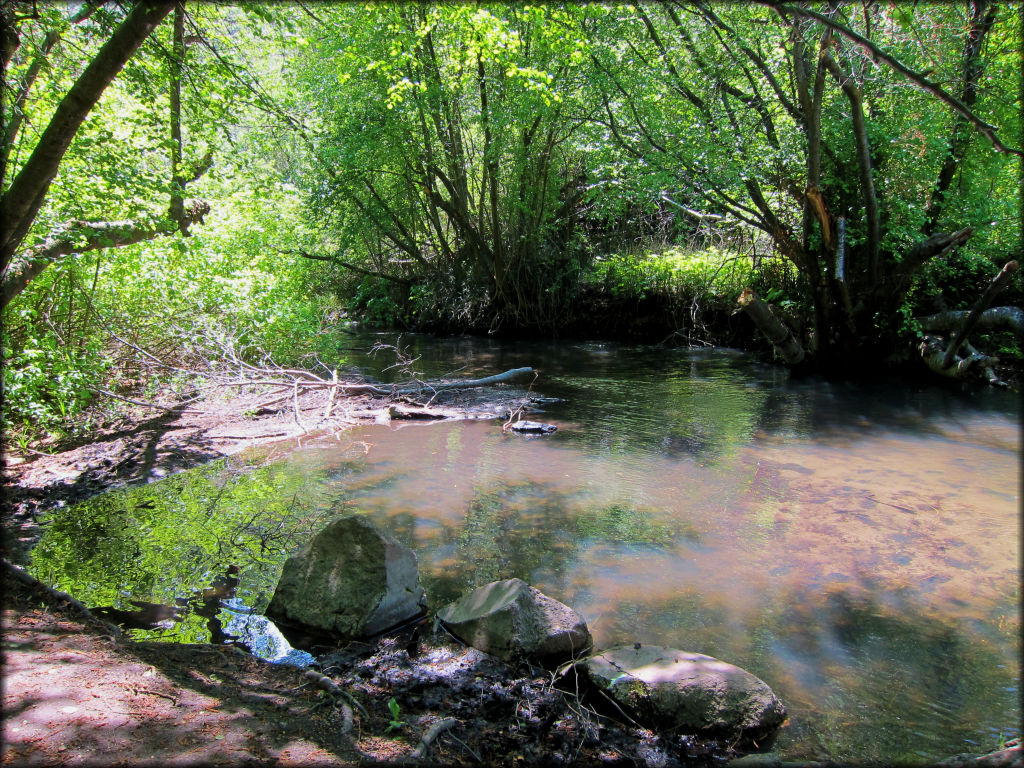 More campgrounds can be found if you keep heading east past Bear Gulch Campground, and many of them have direct trail access. If you have a smaller rig, check out the campgrounds along Rock Creek Road (eastern part of the forest). These campsites are right along the main road but are surrounded by dense woods and bordered by a shallow creek.
South Hills is also close to the town of Jackpot, which sits just past the Southern Idaho border. Jackpot has an RV park with reasonable rates, a gas station with diesel and propane, a general store stocked with fresh produce, meat and dry goods plus 24/7 casinos with restaurants and bars. The town also boasts a 5-acre "National Forest" (tongue in cheek) with mature pine trees, picnic tables and a grassy field.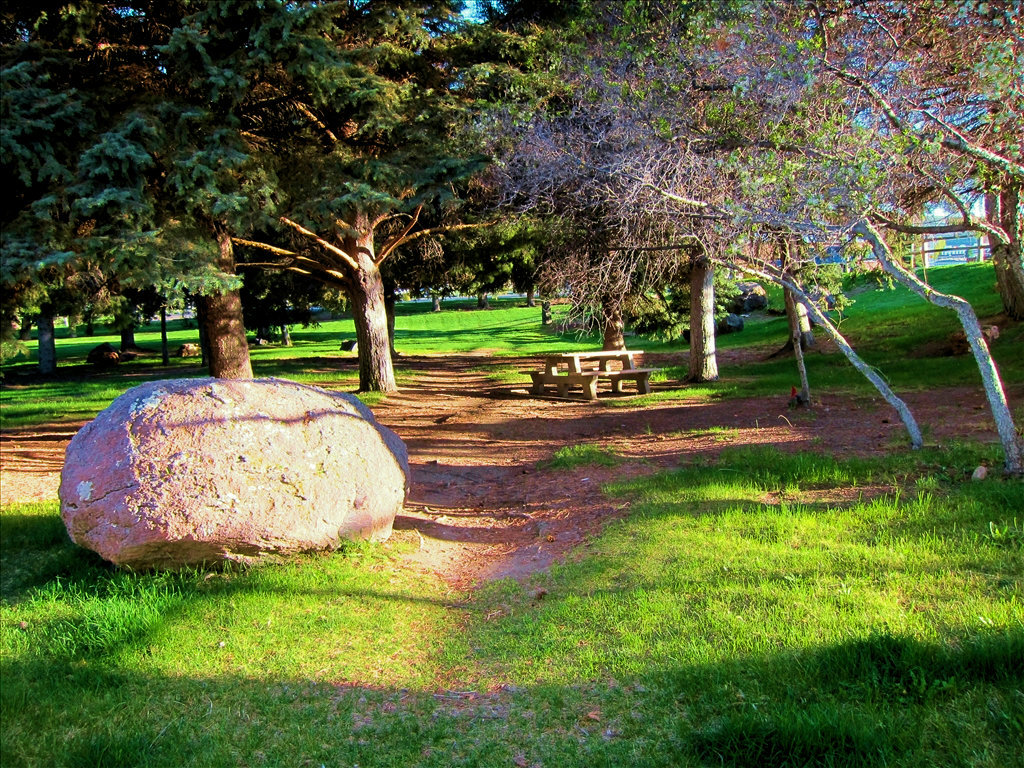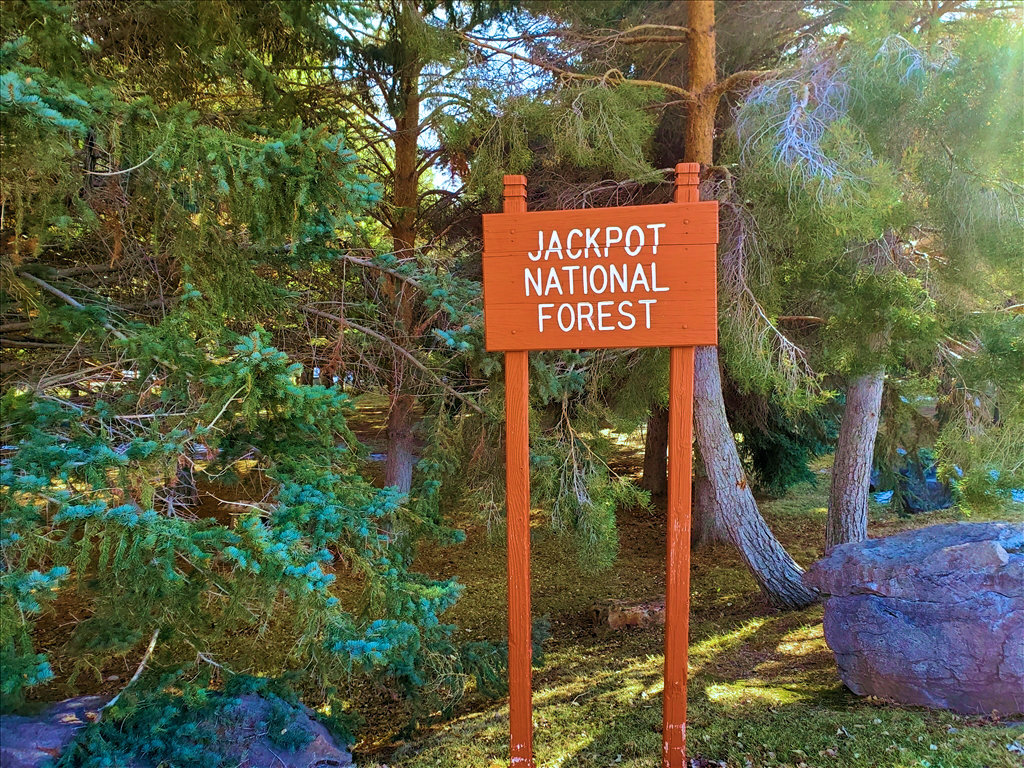 Jarbidge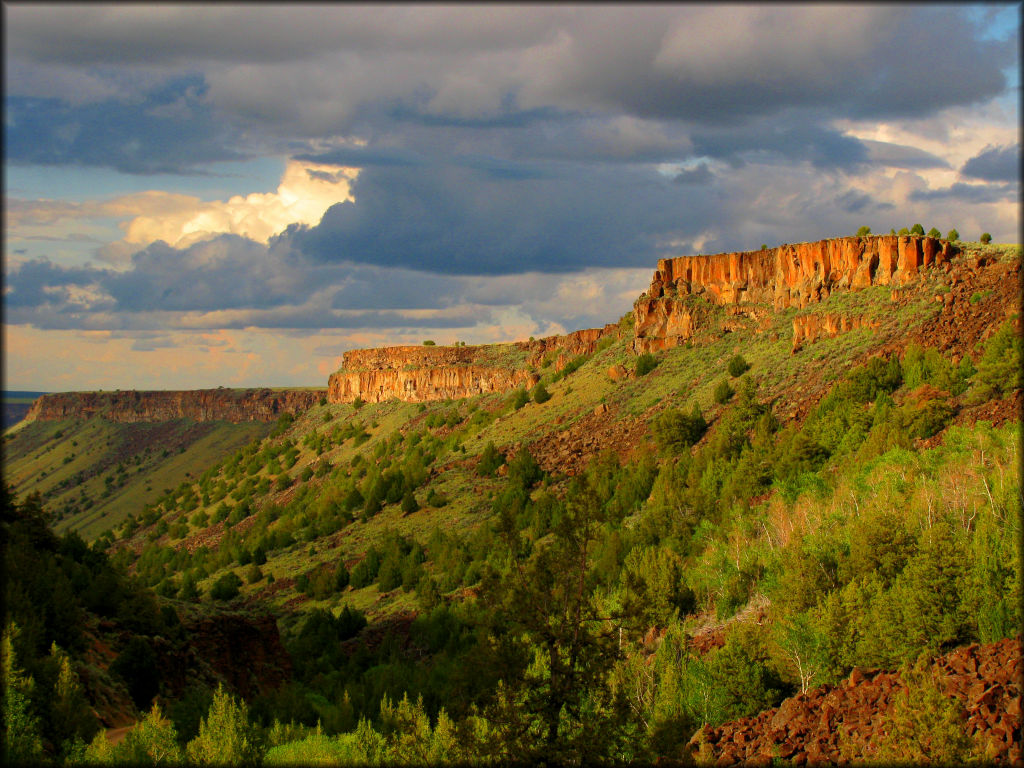 Jarbidge is actually located in Nevada but because it's so close to the Southern Idaho border, it makes the list. The trails are mostly old mining roads with loose chunk rock, but the area offers some of the best forest, river and canyon views around, plus the chance to step back in time and explore one of the few remaining old west towns in the country.
The best way to get there is to take the turnoff from Hwy 93 at Rogerson and head west about 65 miles. After the first seven miles you will see Lud Drexler Campground. This is the place to camp if you are towing a big rig and don't want to drive an extra hour for designated camping. The campground has 20 sites, each with a shade gazebo, picnic table, BBQ grill and fire ring, plus nice views of the reservoir. There is also a dump station, garbage dumpster and scattered water spigots.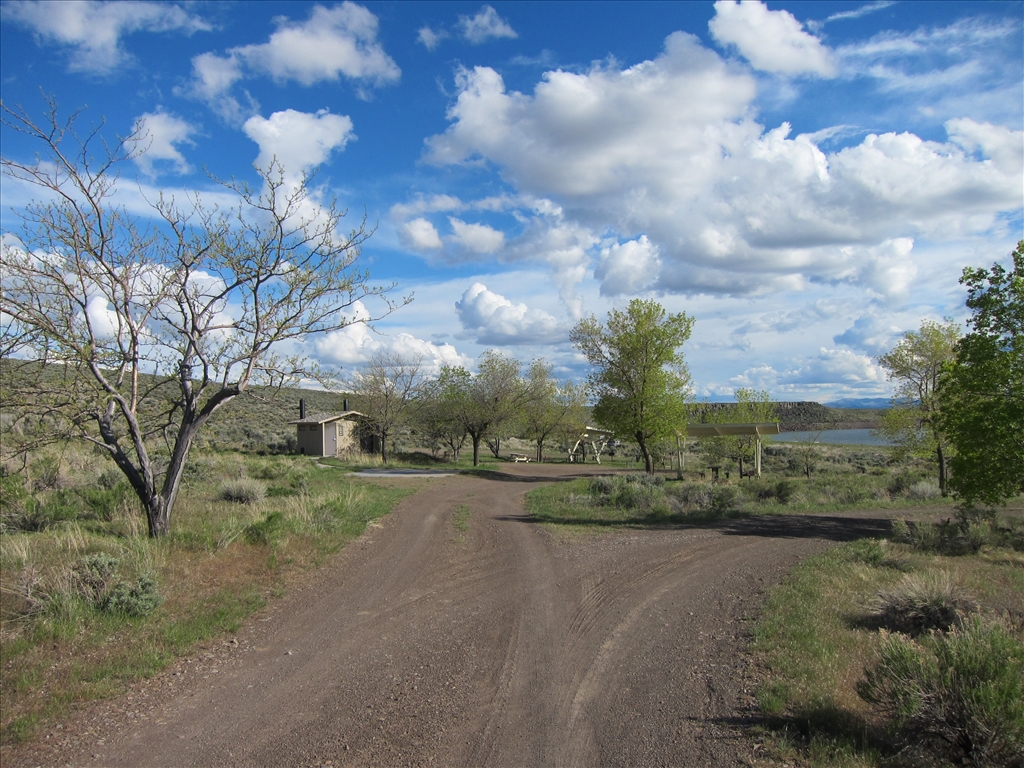 Lud Drexler Campground had some renovations done in 2016, so the sites and amenities are in good condition. Sites are first come, first serve, but the campground is open year-round and doesn't get much use, so finding a good spot with a view of the lake should be a breeze. A boat ramp is also available with additional parking. As of January 2022, the camp fee is $15/night or $5/day use. An annual pass is available for $50 which includes a discount on camping and the day use fee waived. For more information contact the Burley Field Office at (208) 677-6600.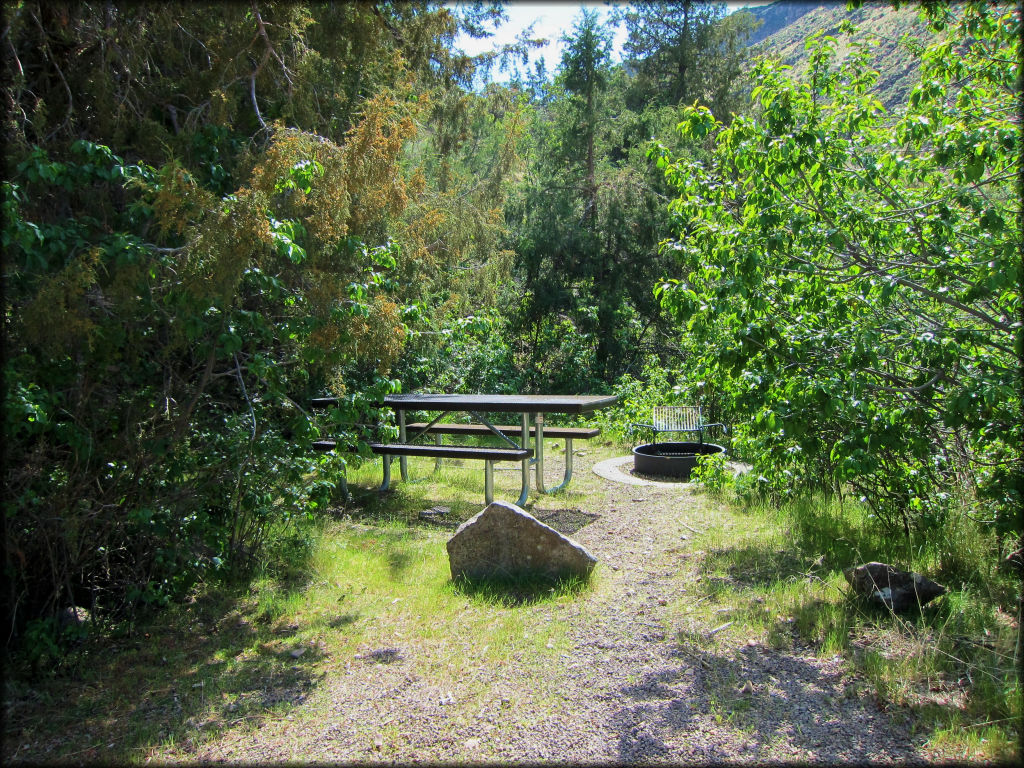 If you have a smaller trailer you can continue west another 35-40 miles toward one of the several designated BLM campgrounds. The sites at Big Cottonwood and Juniper Grove have enough room for a couple 20' trailers but The Forks Campground has two sites that are perfect for tents or a pop-up camper. There is no fee charged to camp here, but stays are limited to 14 days.
The road gets narrower once you pass The Forks Campground, plus there are some sharp switchbacks as you head up in elevation. There are no real turnaround spots on this stretch of road, so long trailers are not advised.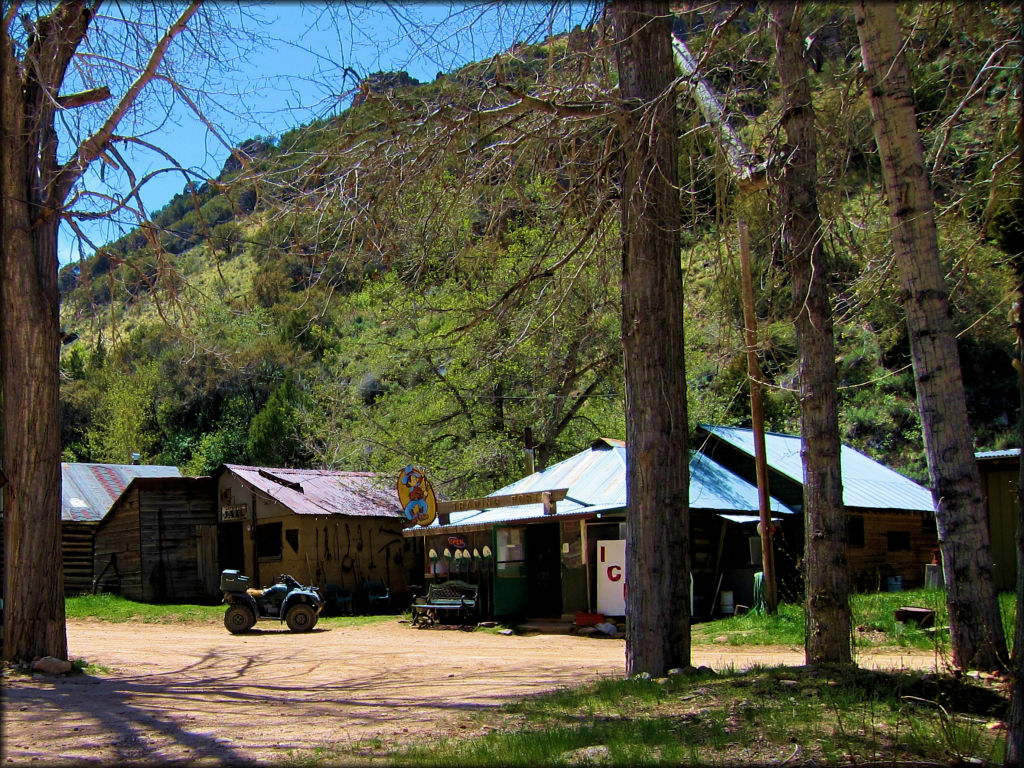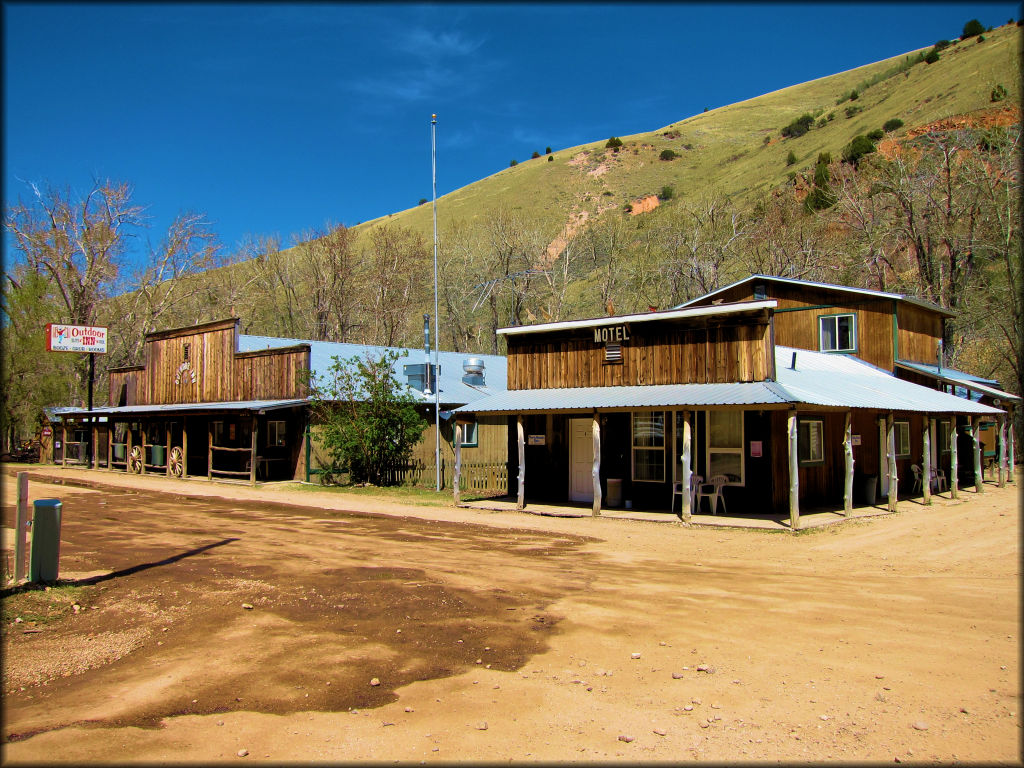 Jarbidge has a couple restaurants, saloons, motels and a general store that sells bagged ice, cold beverages and a small selection of dry goods. There is a gas station with two pumps but only regular gasoline is stocked and is a little pricey ($8-$9/gallon). Cash is not accepted at the pump, so bring your credit card.
Devil's Corral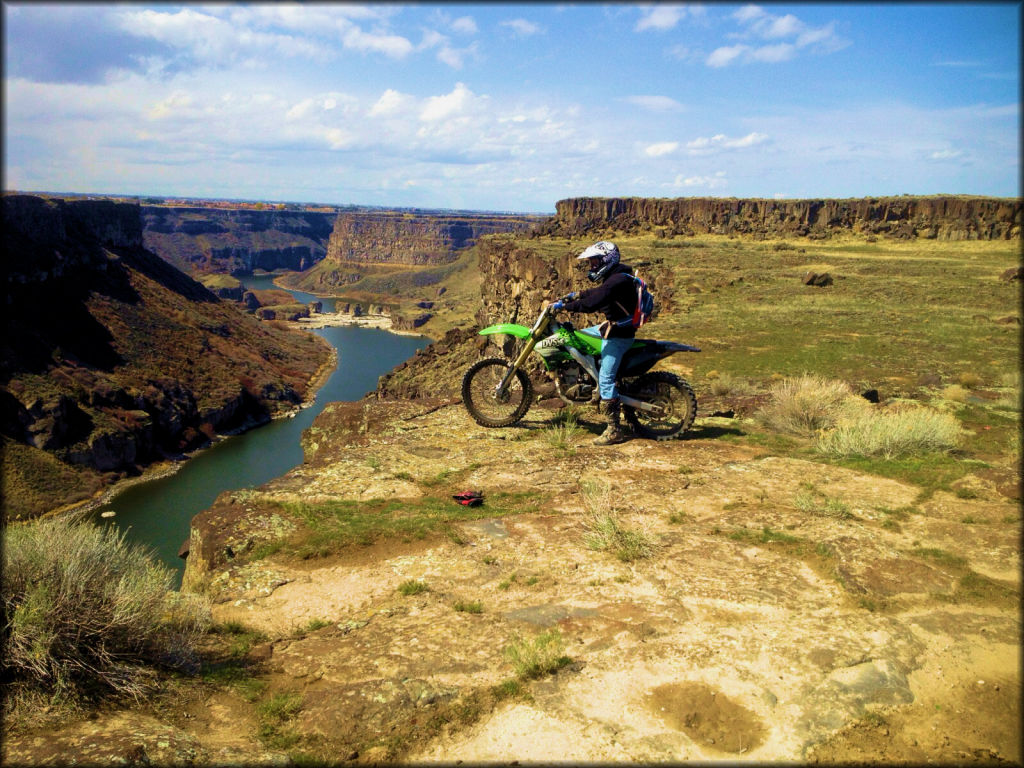 North of Twin Falls is the Devil's Corral, a designated BLM area with the typical high desert vegetation but the rugged canyon, river and waterfalls views are amazing. Just watch where you are riding and don't get too close to the cliffs - it's a long way down! From here you get a nice view of the Perrine Bridge (where sometimes BASE jumpers take the plunge) and the famous hill where Evel Knievel attempted to jump the Snake River.
Cottonwood Creek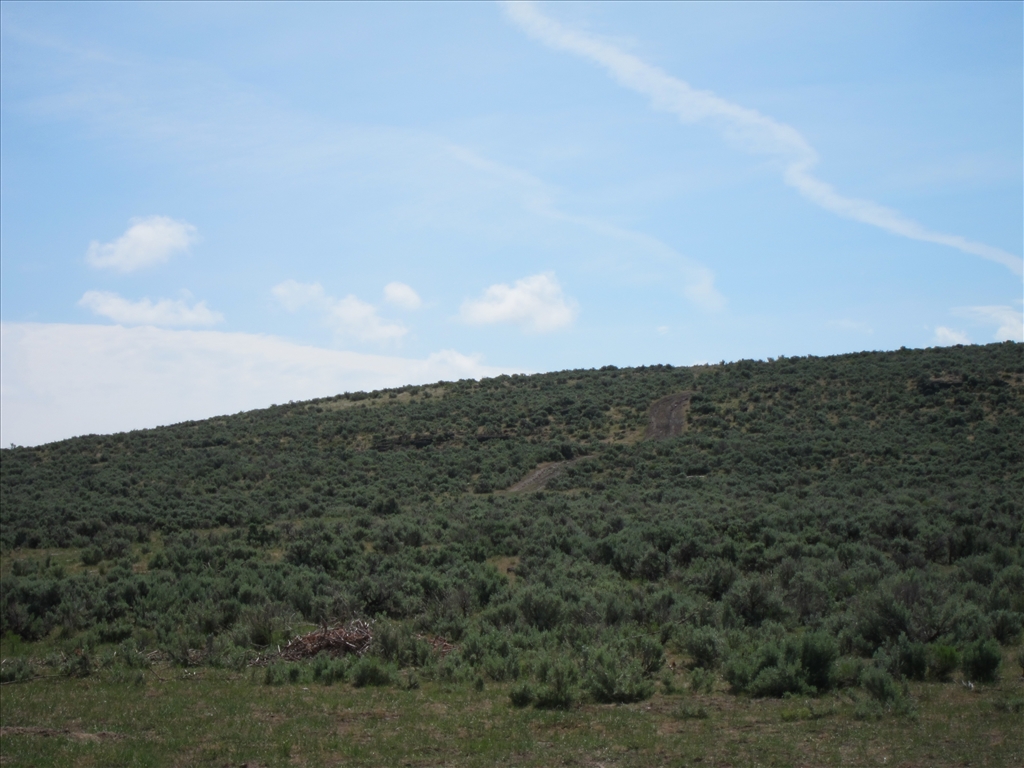 Cottonwood Creek is just a few miles south of Twin Falls and is located on BLM land. From here you can head south and eventually access the northern part of South Hills. There are two staging areas that have plenty of parking, but there is no shade or water so come prepared. The trails start out as 4x4 roads but eventually get narrower as you enter the Sawtooth National Forest.
Magic Valley MX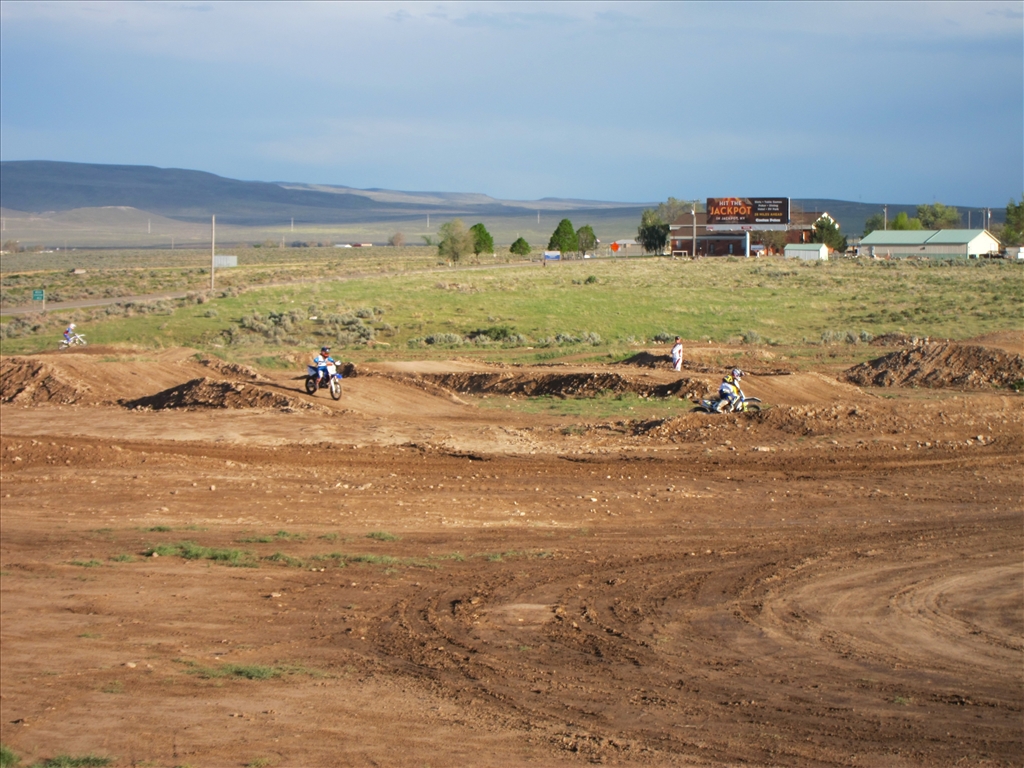 Magic Valley MX is a new motocross track that is owned and operated by a private club. The park has one track that is watered during practice sessions, and has plenty of room for parking, spectator bleachers and vault toilets. Membership is not required but contact the club for current practice schedule.
Other Things To Do!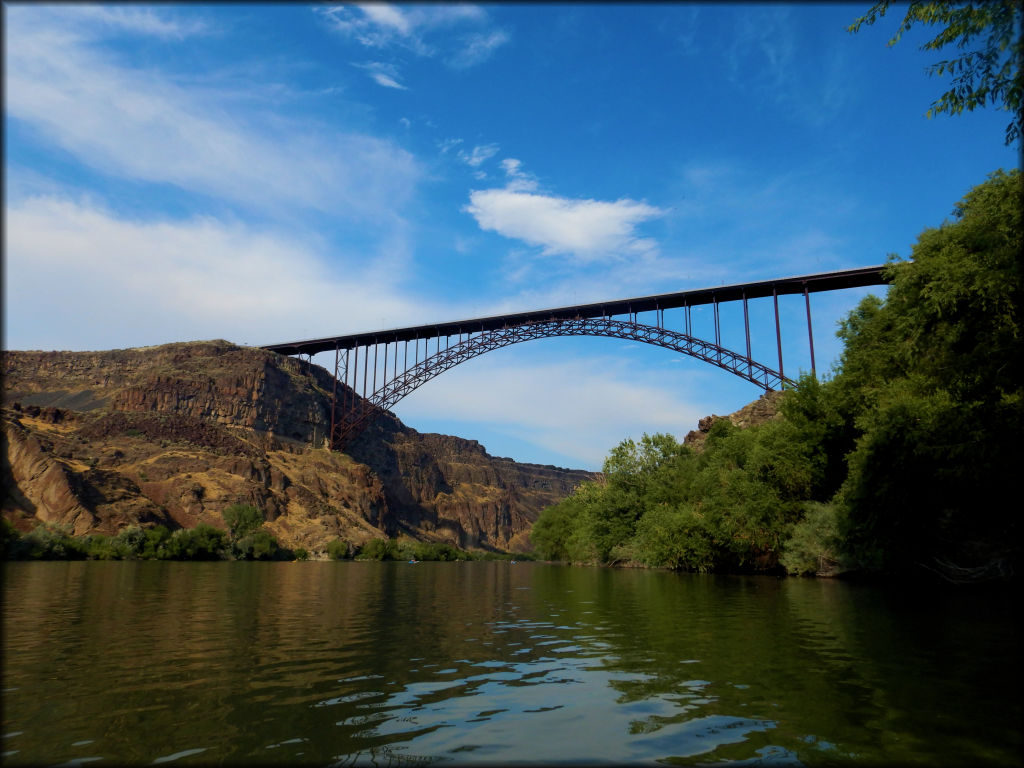 If you want to take a few days off from offroading and do some kayaking, hiking or bicycle riding, Southern Idaho is the perfect area. Just be aware if you are going to be doing any boating or kayaking, make sure you pick up the Idaho Invasive Species Fund Sticker for each vessel, which can be purchased online and at most local sporting goods stores throughout the state.
Centennial Waterfront Park
Twin Falls has the Centennial Waterfront Park, which is a day use area with paved parking, shade gazebos, BBQ grills, picnic tables, grassy fields plus a nice kayak launch. From here it's an easy paddle toward the Perrine Bridge, but bring snacks and water cause you will want to take a break alongside the shore and take in the rugged canyon and river views.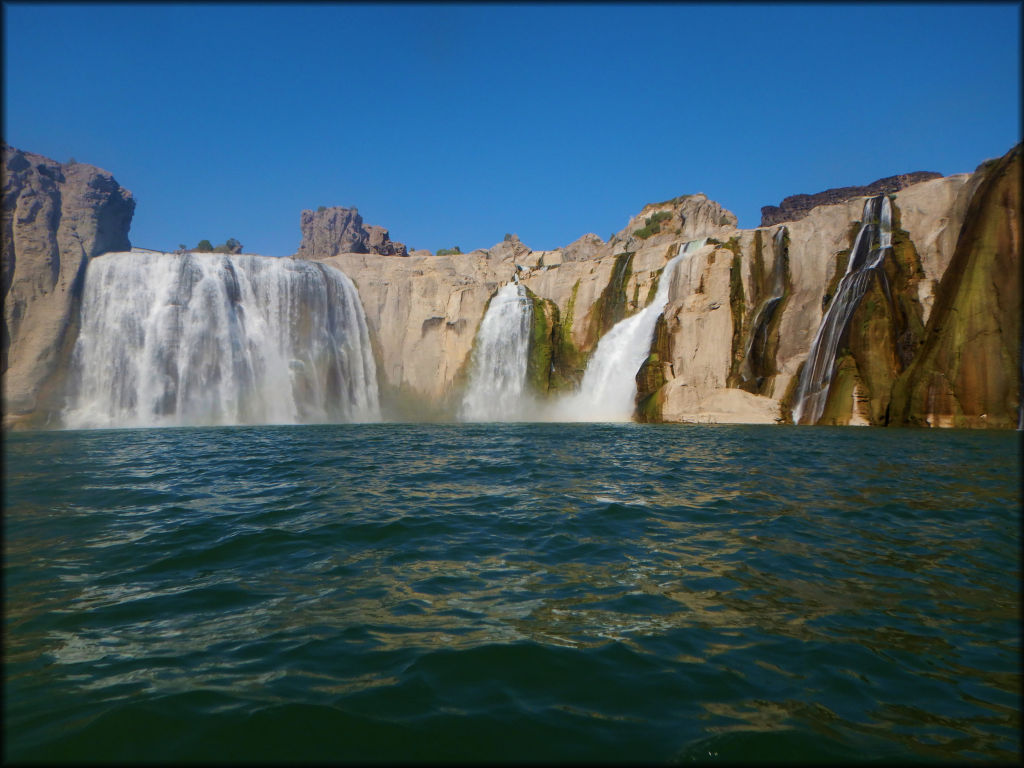 Other attractions include kayak and paddle board rentals plus a seasonal zip line tour that crosses the Snake River (reservations required).
The park also has a nicely maintained paved bicycle path that winds near some cool spectator overlooks of the Shoshone Falls. Another attraction is the short hiking trail that leads toward a smaller waterfall that you can get close too.
Salmon Falls Creek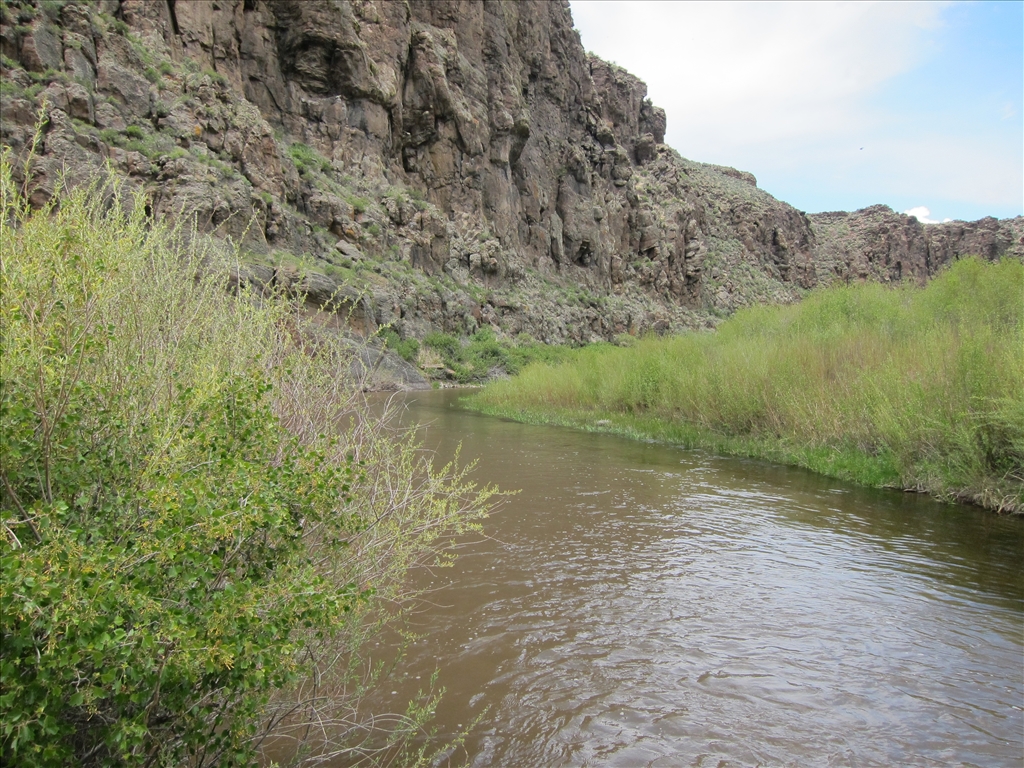 For the adventurous take a float down the Salmon Falls Creek. This is a locals secrete that really highlights the lesser traveled parts of Southern Idaho and Northern Nevada. Just note that this paddle can only be done around mid April through mid May when the water levels are high and safe enough, but the temps can be frigid, so bring extra snacks, water and dry clothing. Set aside at least 7-8 hours to complete the trip.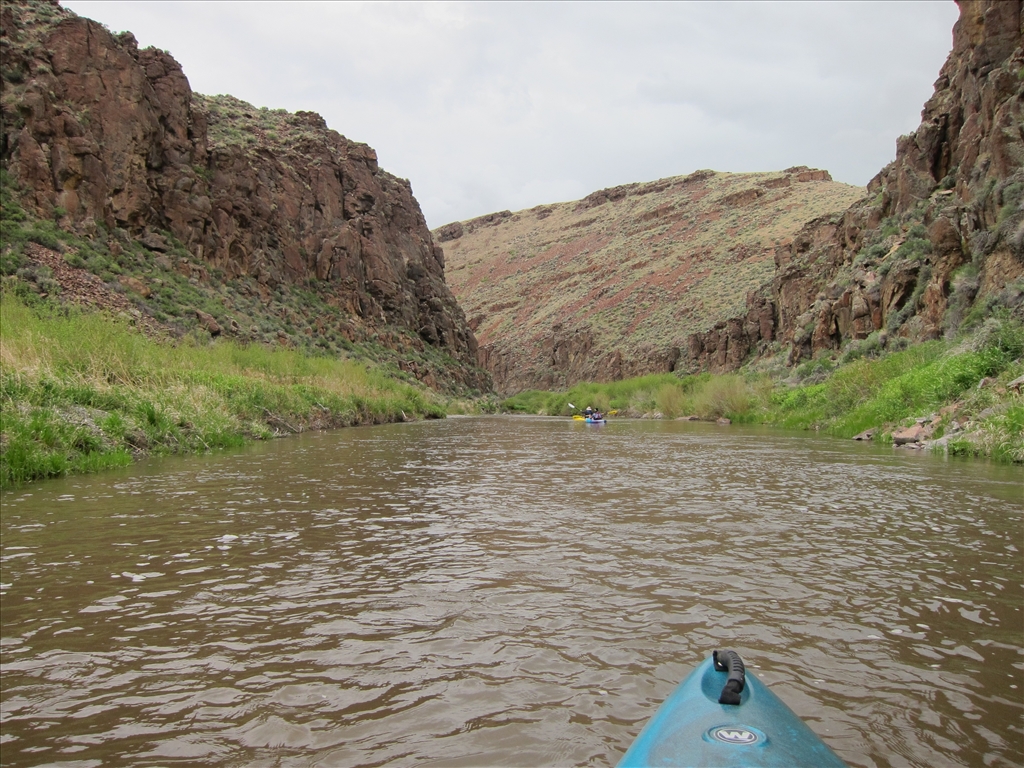 You will need two vehicles - first drive to the northern entrance at Greys Landing off Hwy 93 (you will see a sign for Salmon Falls Creek Reservoir on the west side of the highway). You can also drive 2.4 miles south past Greys Landing and turn right (west) onto an unmarked BLM road, then continue about 5 miles until you reach the edge of a marshy pond - park the first vehicle here. Now get back on Hwy 93 and head south and park at the rest stop just a few miles south of Jackpot. From here you can easily get the kayaks in near the bridge.
Once in you will experience a slow moving but amazing float through narrow rugged canyons and twisty sandbars with overgrown bushes that hug the shorelines. This area is remote and rugged, and it's likely you won't come across anything else except the local wildlife and occasional cattle grazing away.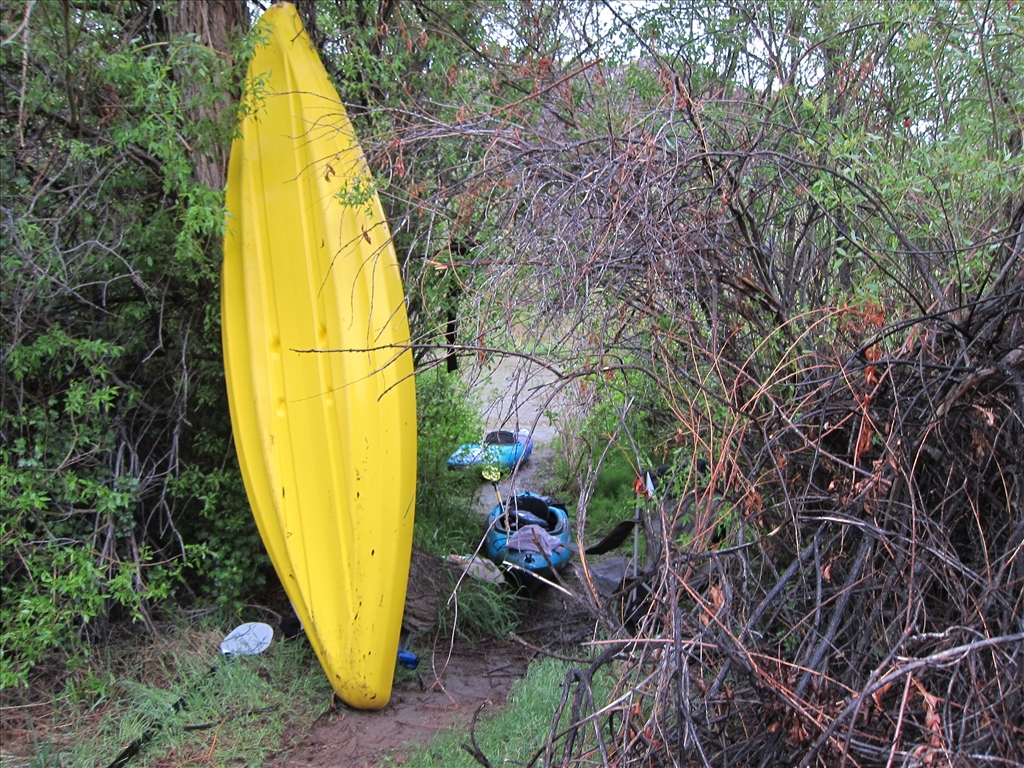 Roughly 3-4 hours in you will see a sign on the right side of the creek that says "Warning. Dam Ahead. 500 feet. Portage Right." Heed this warning or you will go over the Salmon Falls Dam. From here you will see a short hiking trail to bypass the dam. This is a good spot to take a break and check out the fish hatchery or the gravestone of "Salmon Falls Pete".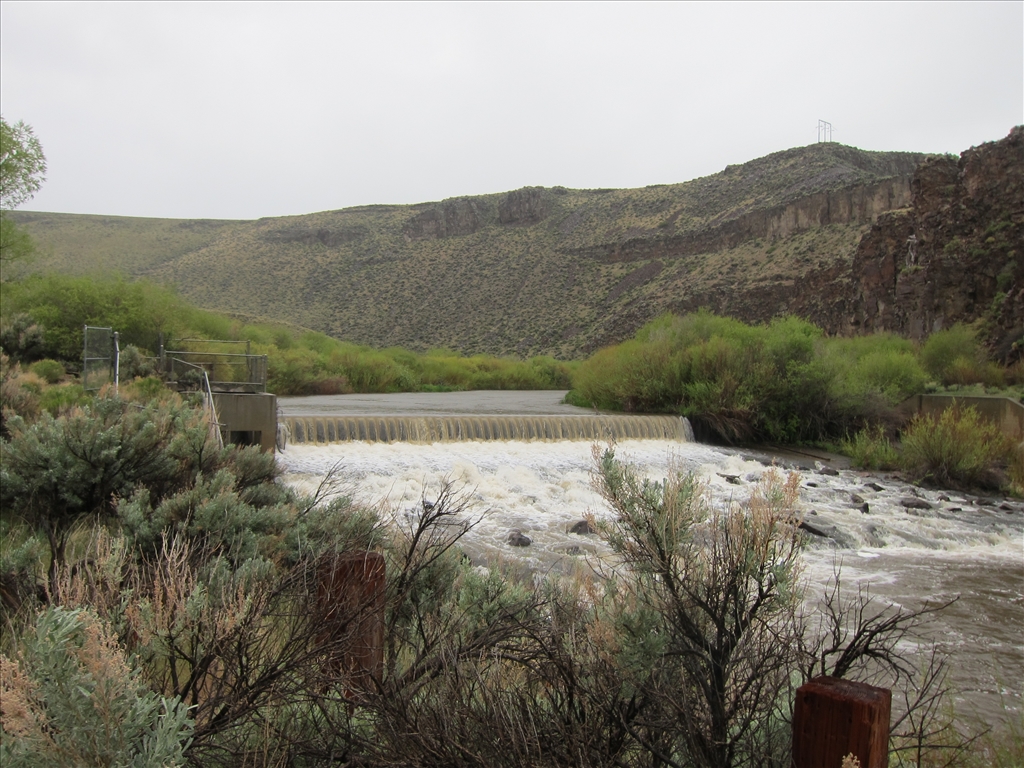 From the dam you are about at the halfway point, but even though the other half seems to take much longer, it's still a relaxing paddle as you navigate the twisty and narrow creek. As you paddle pass the dam, you will encounter more narrow and twisty streams. Eventually the creek will tie into the southern part of the Salmon Falls Creek Reservoir.