Lynx Creek Proves To Be Roughest Race of Season
Round 9 of the AZOP Championship Series Races in Prescott Valley, Arizona
Written and Photographed By Jonathan Barrett (August 2018)
Dateline: 2018 AZOP Series, Round 9, Lynx Creek Hare Scramble, August 18-19, 2018
The 2018 Lynx Creek Hare Scramble was a brutal one for all racers participating. Hosted in Prescott Valley and sponsored by Four Seasons Motorsports, the weather was a cool 75 degrees and cloudy for most of the weekend. A heavy monsoon season left the creek flowing steadily, giving many riders a chance to cool off as they crossed the water multiple times each lap. Split between the tight trails of Lynx Creek and the rarely used MX track, this year's track was something most have never seen before. With one day of racing for all competitors, the track was a foreboding obstacle that many had only one lap to learn before the green flag dropped.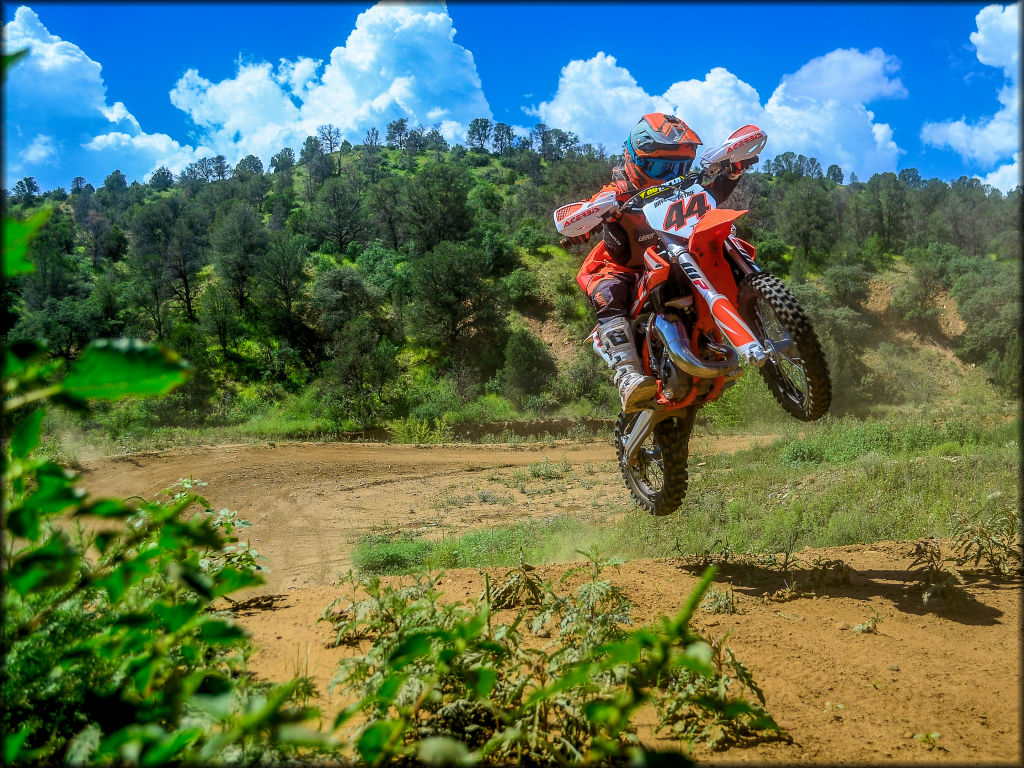 The Peewee Bikes were the first ones to try out the newly laid out MX track this year. In the 65cc C class, it was Colson Skersick out front all race with Bryce Petrie hot on his tail, followed by Ryker Jirsa. Through 18 laps of huge tabletops, a step-up and step-down, and plenty of parents cheering him on, it was Skersick with the win followed closely by Petrie and Jirsa. The 50cc 4-6 Years Old class had Brayden Almendarez, Liam Gillespie and Jax Bernal competing for the top spot, with all three finishing as listed, respectively. Almendarez was the clear winner, finishing one more lap than Gillespie. The 50cc 7-8 Years Old class had Cooper Skersick dominating the course, winning with one more lap than the second place finisher of Rhylan Benally and third of Wyatt Massey. Ryder Yates rounded out the class with a respectable time.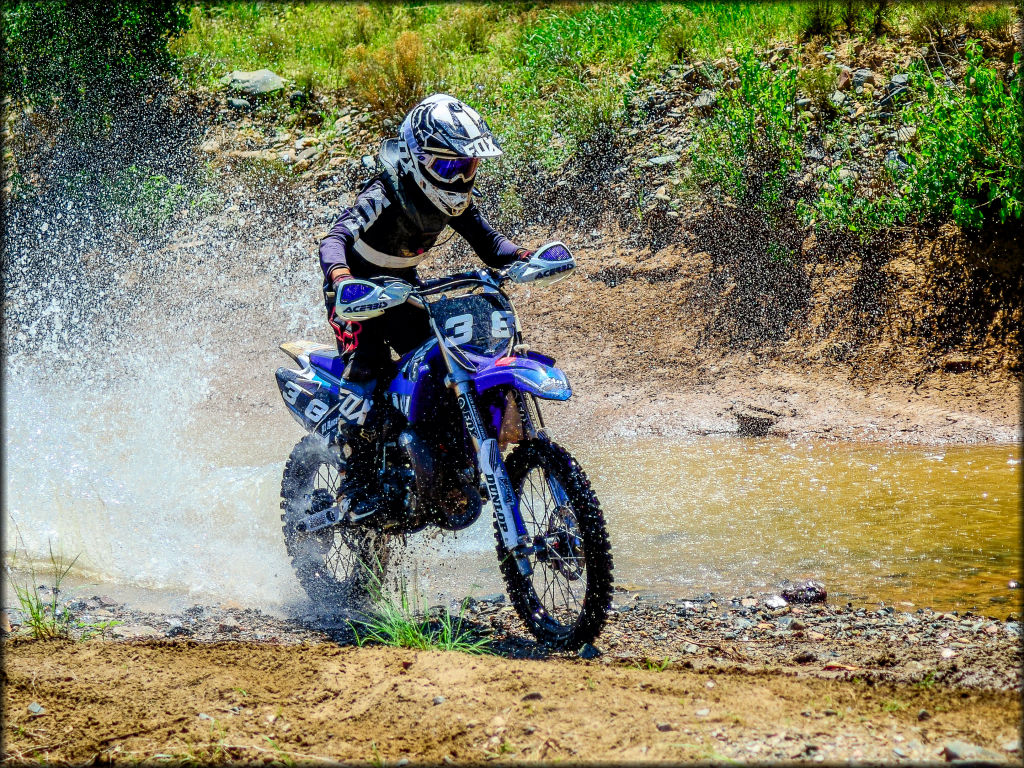 The Mini Bikes were next, who ran a shortened full course that looped back onto the MX track that the Peewees ran. The 65cc B class showed Marley Kuhn taking his KTM 65cc around the tight course and through the many water crossings. After two laps, he crossed the line with a strong first place finish, two and a half minutes ahead of second place Colton Calmes and third place Chase Boyd of Boyd Brothers Racing. Emilee Carter came to navigate the course representing the Women C class, but the rough course claimed a victim and she fell hard. With the help of the wonderful volunteer sweep riders, she made it back to the pits safely to rest and recover. Cody Reyes took the 80-150cc A class win as well as the overall win, followed by second place and second overall Keegan Hardy, pushing as hard as he could to catch Reyes. Porter May took his 80-150cc B class by storm, finishing 40 seconds ahead of second place Austin Marini and third place Travis Boyd, the second half of Boyd Brothers Racing. Nathan Fitzgerald put a good lead on Trevor Supalla, taking first by a margin of two minutes. Clay Stringer took the third step of the podium only one minute behind Supalla. Top 10 finishes for mini bikes are as follows: Cody Reyes, Keegan Hardy, Porter May, Nathan Fitzgerald, Austin Marini, Trevor Supalla, Clay Stringer, Travis Boyd, Garrett Ryner and Marley Kuhn.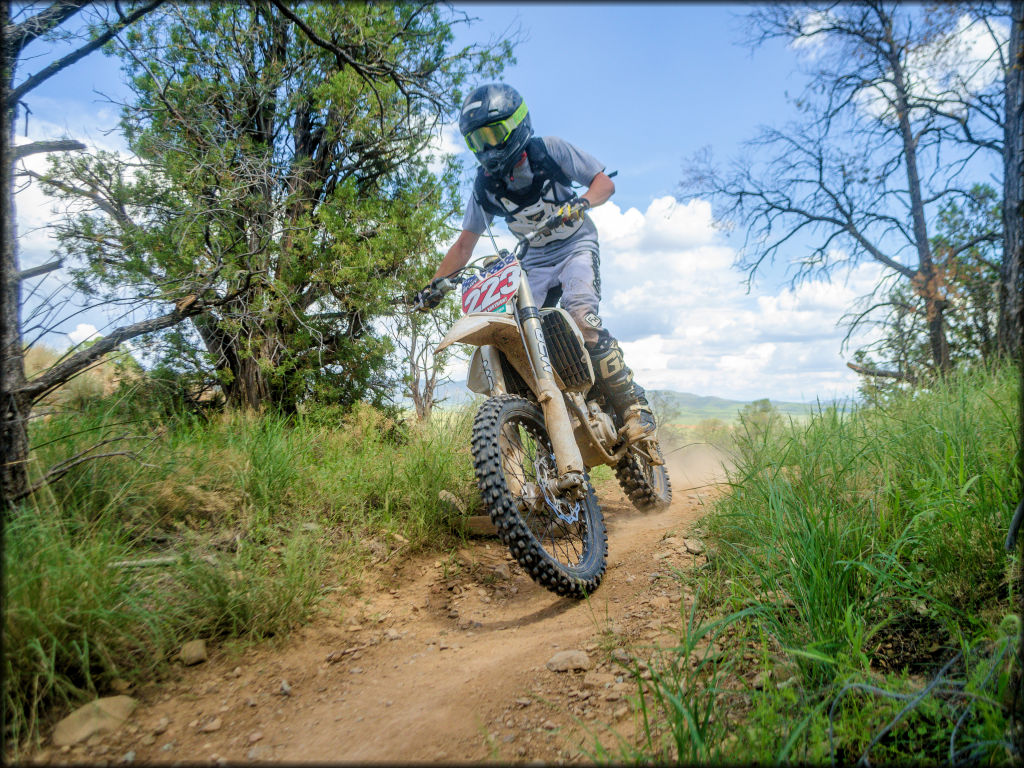 To round off day one, the Big Bikes came to conquer the single track beast that was the Lynx Creek course. Off the Pro line was Nick Gabbert with the holeshot, taking an early lead ahead of second place Luis Kortright and third place Wyatt Perry, sponsored by Blud Lubricants/ZR1 Suspension/RBP Racing. The Scootin' Newton Racing brothers of Jeremy and Deegan Newton got off to slow starts, but quickly regained position in the tight pack. Gabbert had a technical malfunction crossing the first creek, letting Kortright by and causing Perry to run into his rear wheel. Taking the first uphill section the running order was Deegan Newton, Kortright, Gabbert, and Perry, with Jeremy Newton right behind. At mile 6 Deegan fell behind Perry and Jeremy Newton, with Kortright still leading and Gabbert right behind him. With Perry in third, he found his way to the rear wheel of Gabbert and pushed for a pass, but ended up making a mistake and letting Newton past him. Newton and Perry soon found Gabbert, where some pressure from Newton resulted in a mistake from Gabbert, letting Newton and Perry past him. Coming into the pits from lap one, Perry stalled coming up to the scoring chute, letting Newton and Kortright pull a lead on him. After getting the bike started again and a quick pit stop, Perry put a charge on and was hot on Newton's tail. After finding his rhythm and putting a pass on Newton, it was full speed ahead onto the rear wheel of Kortright. Once he caught up to him, a little pressure from Perry pushed Kortright out of his hot lap and Perry made the pass. After making his lead pass, Perry kept on his rhythm and finished with a sizable lead on Kortright. Crossing the line was Perry, Kortright, then Newton, but after a penalty correction it was Newton that took the second place spot. Deegan Newton lost his kickstarter on lap two, and with no other choice hopped on a new bike and took a DNF because of it. Gabbert took a fourth place finish, six minutes behind Kortright.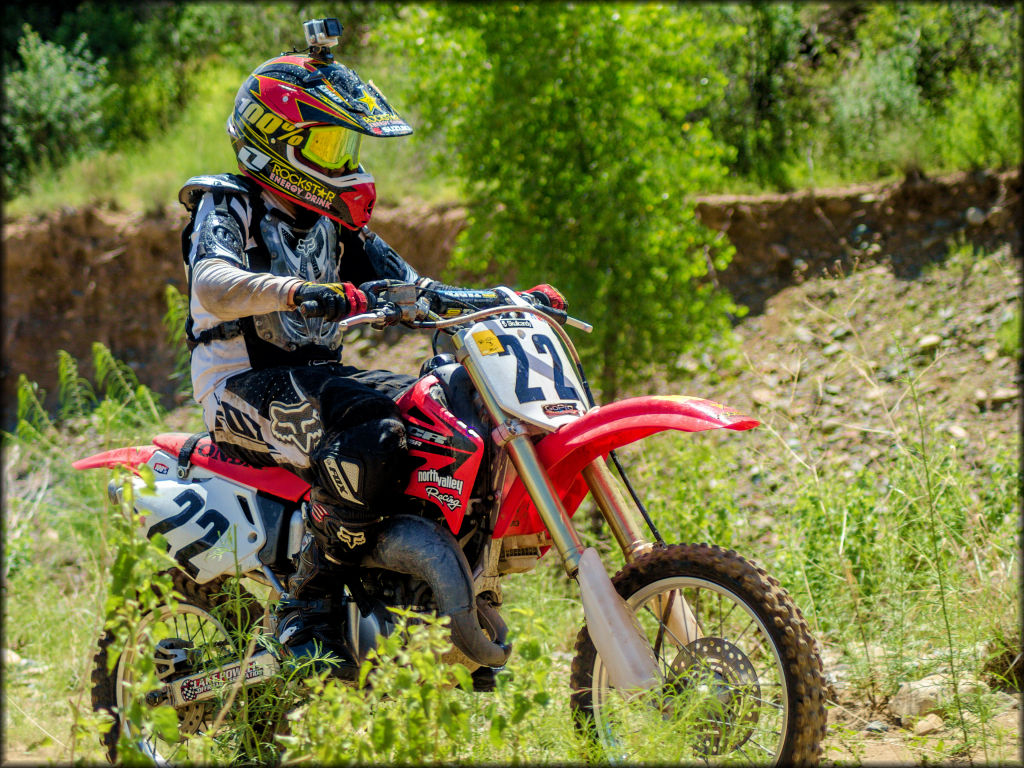 In the 125-250cc A class, it was all Austin Alexander representing GoRide Mountain, taking a solid win over Drake Hacker and taking a fourth overall. The 125-250cc B class was taken by Collier Martinez and the 125-250cc C class was taken by Kaden Bedlion. In the Master 50+ A class, Sean Gilbert Sr. took his Husqvarna to the top spot of the podium, followed by Doug Woody. In the Master 50+ B class, Mark Williams and Michelangelo Preston were right behind each other as Williams took the win by inches. Notable finish was Richard Heyer, who was in a top spot for most of the race but stopped to help a downed rider before finishing the race. Open A was won by Billy Dipley and Open B was won by Brett Gillespie, and Open C was taken by Blake Kuhn. Senior 40+ A had the trio of Leonard Baca, Joe Mcneil and William Bedlion finishing all a few seconds apart. Senior 40+ B had Mark Holden on the top spot, and Senior 40+ C had John Sanford take it all hom. Don Hesketh dominated the Super Senior 60+ class, putting in 4 laps. Vet 30+ A,B, and C were won by Brian Fox, Duane Hewitt and Colin Krabbe, respectively. Last but not least, Catalina Springstroh represented the Women class well, tackling two laps.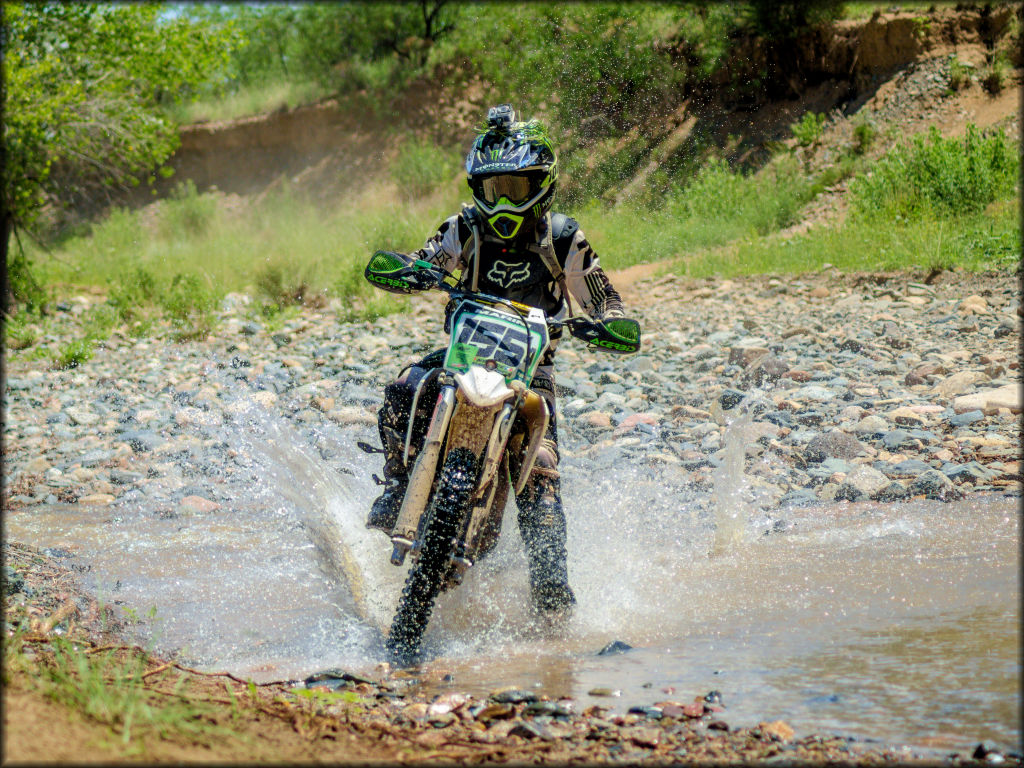 Overall Top 10 are as follows: Wyatt Perry, Jeremy Newton, Luis Kortright, Austin Alexander, Leonard Baca, Nick Gabbert, Collier Martinez, Brett Gillespie, Brian Fox and Sean Gilbert Sr.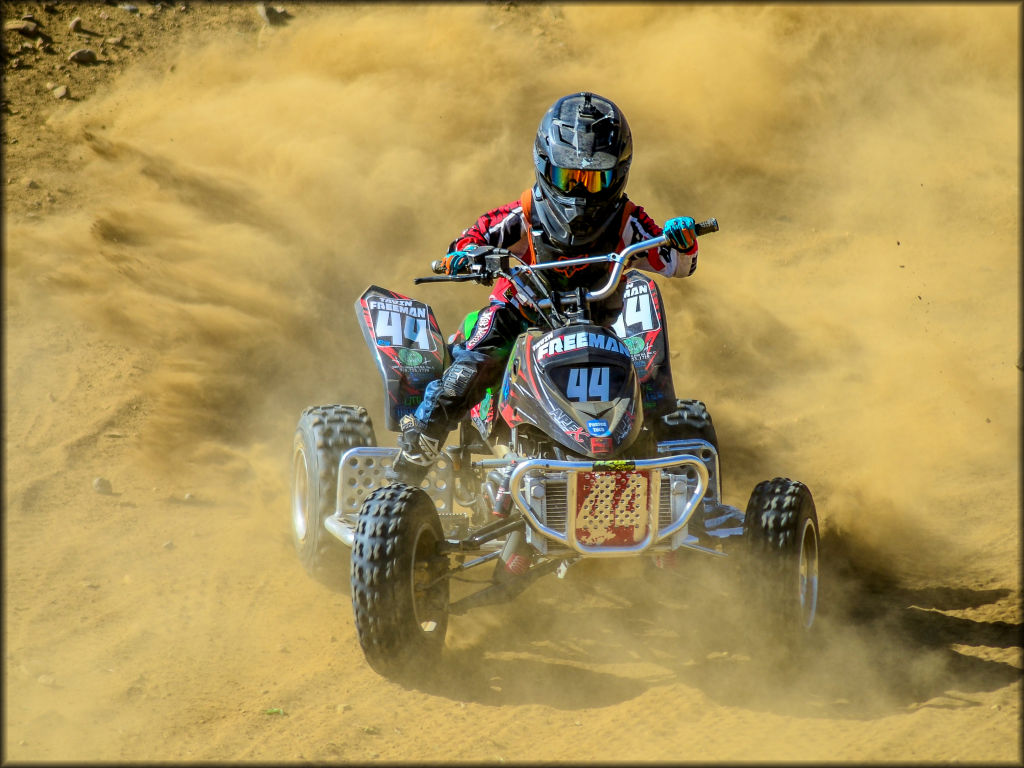 The Peewee Quads were the first to take to the track Sunday, with a cool morning setting the scene for their race. In the 50-79cc 4-6 Years Old class, Lane Johnson of Thin Air Offroad Park dominated, finishing 11 laps in 30 minutes. The 80+cc Beginner class was stacked as usual, with Brayden Earlewine taking the lead and putting in eight solid laps before hitting the inside lip of a turn and sending him into the ground. After getting checked out, he was all smiles as he was safely taken off track. With Earlewine out, it was Brendon Turner finishing the race in first, followed by Shay Anderson and Sarah Tsosie. In the 80+cc Advanced class, Landen Johnson put the hammer down and took the victory, with Points Racing's Gabriel Simmons right behind him. Tavin Freeman put on a good race, but fell a lap behind, taking third.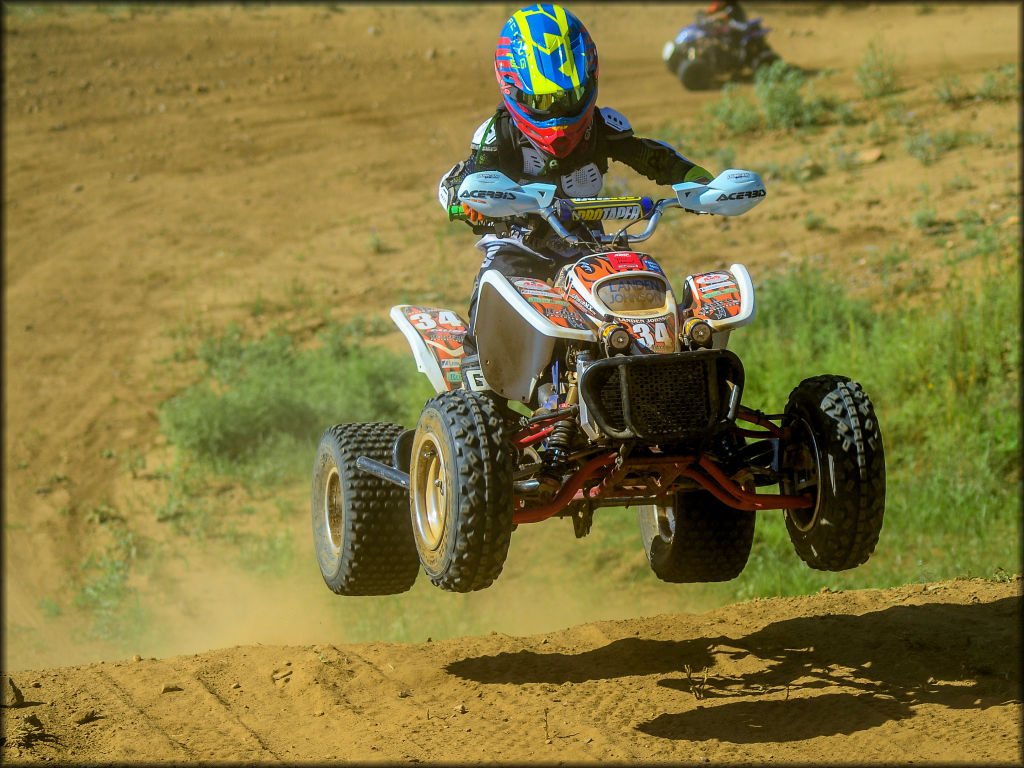 The Mini quads were the first to tackle the new ATV/UTV track, with Caliber Racing's Carly Senter taking the early lead and holding it all race in the 250-400cc class. Carly represents the youth ATV crowd as well as the Women ATV crowd, showing that the youth are the future of ATV racing, and that girls can be just as competitive. Tyler Tsosie took second, pushing hard to catch up to Senter the entire race. Dirt Halo Racing/CMPFoto rider Dakota Hibler struggled on the rough terrain, but still kept pace and finished third, still finishing three laps. Brian Jackson of Jackson Bros Racing and Wyatt Rock of Caliber racing battled all race in the 91-300cc 10-15 Year old class, with Jackson ultimately taking the top spot, followed by Rock and Tyler Savage. The Blud Lubricants/CMPFoto rider Kolbie Lang put in a solid first lap, but a break in the bike ended his day early. Overall finishes are as follows: Brian jackson, Carly Senter,Wyatt Rock, Tyler Savage, Mason Sabatina, Tyler Tsosie, Dakota Hibler, Kasey Snyder and Kolbie Lang.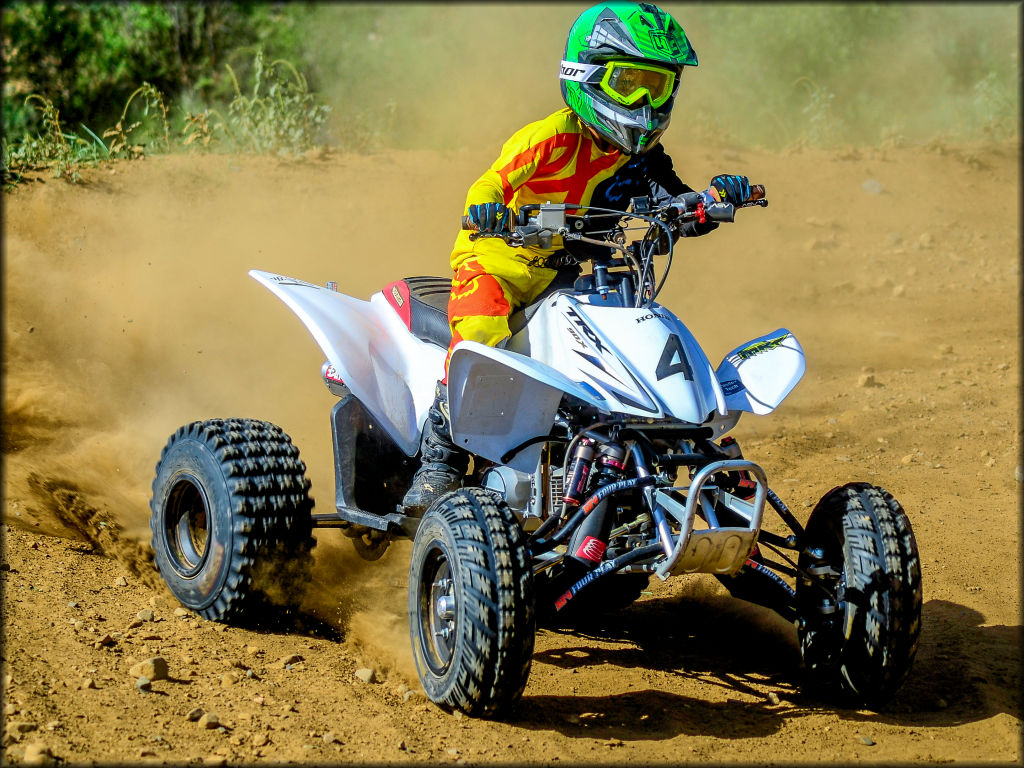 The Big Quads were up next, with the ever-dominant Andrew Simmons taking the lead in the Pro class and never letting off. Erin Simmons and Rick Ellsworth were hot in tow, pushing each lap to close the gap that Andrew had made. After eight laps, Andrew finished first with a four minute lead over his brother Erin, and Rick Ellworth seven minutes behind him. In the Expert class, Deshawn Tallsalt was an early contender for the win. Deshawn took the lead and led Todd Ellsworth for seven of the eight laps, but a battery malfunction killed the bike and left him watching Ellsworth take the win. After getting the bike going, Tallsalt took second place and Austin Snyder took third. In the Sportsman class, it was Francisco Lizarraga out front, followed by Michael Mack and Nick Helton. Lizarraga led most of lap one, but the water crossings added an extra challenge and he started to lose one of his grips. After falling back to fourth trying to fix it, he made a pit stop to remove his other grip and race without them. Lizarraga made his way back to second place when a nerf bar broke and sent him to another pit stop. After his final stop, he made his pass to second place and stayed there until the checkered flag flew. Mack was running well until he lost his fourth and fifth gears, and as his other gears started to slip he pulled off on lap four to save his bike. As the checkered flag came out, it was the steady pace of Nick Helton that led him to victory, followed by Lizarraga and Logan Heath. Top 10 finishes are as follows: Andrew Simmons, Erin Simmons, Rick Ellsworth, Todd Ellsworth, Nick Helton, Deshawn Tallsalt, Austin Snyder, Travis Tarno, Michael Tosie and Francisco Lizarraga.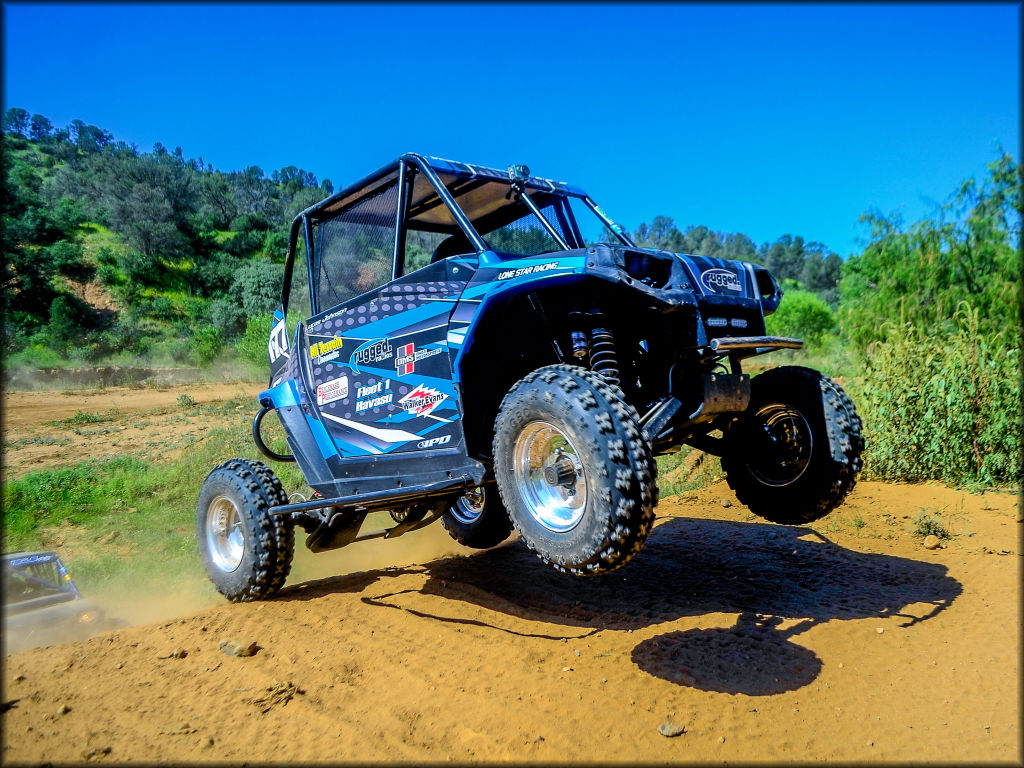 The UTV 170 class came out in full force, racing solely on the MX track. On lap one, it was Lucas Johnson and Ian Kowalski battling side by side over the step-down, where both cars kept on the gas and flipped end over end right next to each other, followed by third place Vincent Riccitelli doing the same exact thing. All three cars flipped onto their wheels with their forward momentum and kept going. With a bent cage, Kowalski held off the pack as well as he could, but was overtaken by Tj Siewers and Lucas Johnson. Siewers would put a bigger lead on Johnson lap after lap, eventually taking first place 18 seconds ahead of Johnson, who finished two seconds ahead of Kowalski.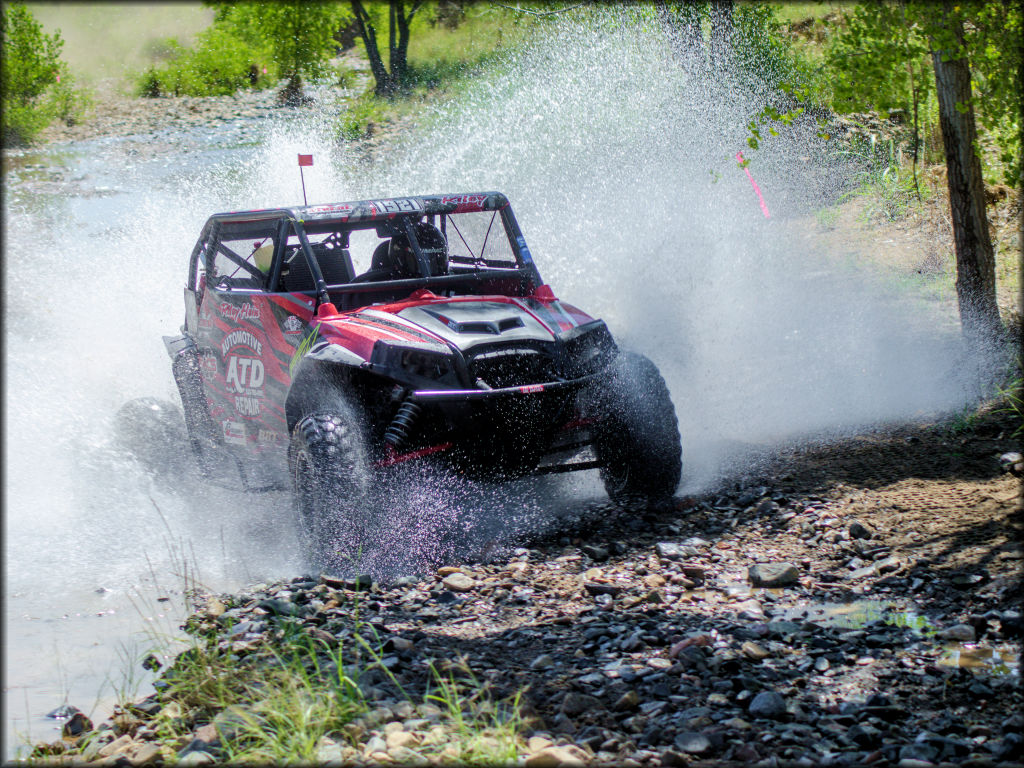 The UTV 570's followed, this time running the same track as the Mini Quads. The three girls of Ellie Koester, Grace Vinagro and Riley Hein finished top three respectively, making an all-girl podium sweep. Zach Anderson, Jessie Owens, Landen De Sousa Dias and Damien Rockhill rounded out the class, all putting in their two laps and finishing the challenging course.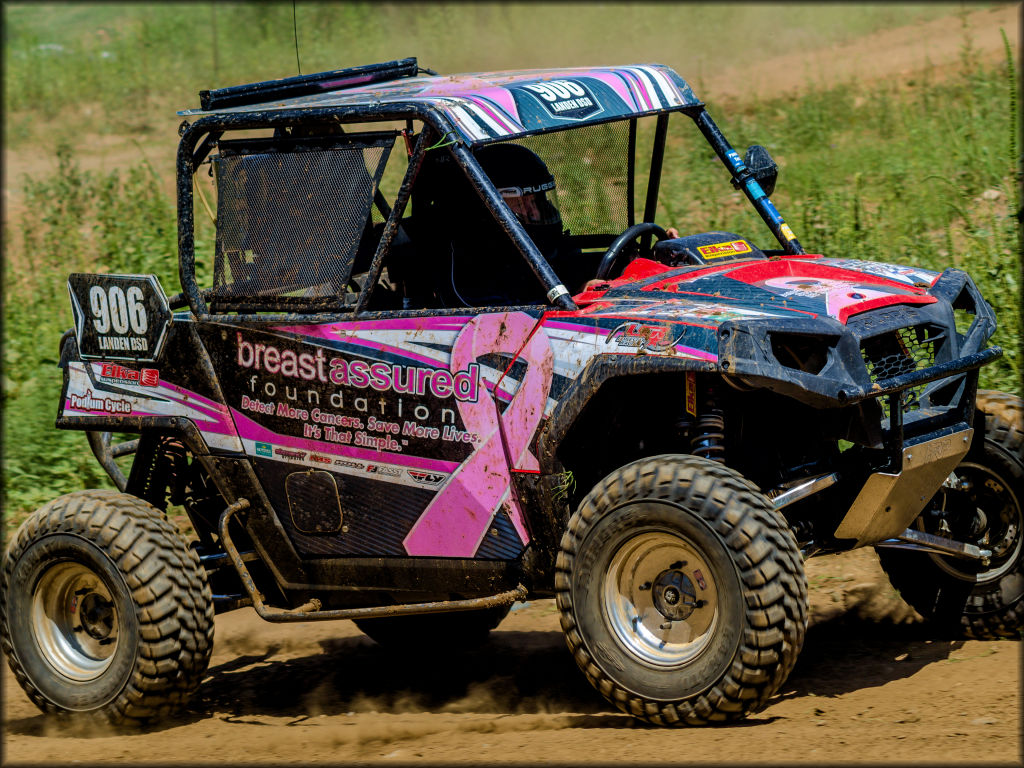 In the Pro UTV's, it was Tom Wilson with the early lead, followed by James Moore. After one lap, Wilson's ball joints broke, nearly shearing his tire off as he landed a jump. This left Moore to cruise another seven laps uncontested, keeping a steady pace for a first overall in his new Can-Am. Todd Waling put in a few laps in his 850cc Polaris before pulling off. Clay Winiecki, Chase De Sousa Dias and Evan Striplin were all doing well on lap one, until Striplin tried to let Moore pass him, and ended up in a water pit up to his neck. Chase was putting in good laps until i tie rod broke, ending his day on lap five. That left Winiecki to take the win in the 900cc class. In the 1000cc Non-Turbo class, it was all Kody Winiecki for four laps, with Barry Bennett and William Miller hot on his tail. On lap five, Kody had a mechanical issue that ended his day, leaving Bennett to take the lead, and Robert Olander to make the pass on Miller and take second, with Miller trailing in third. The trip would finish in those positions as John Nix and Hailey Hein would also be taken out of the race. Bruce Kennedy and Neil Carse were close together until lap four, where another mechanical break would end Carse's day, leaving Kennedy to take the win in 1000cc Turbo. Overall finishes are as follows: James Moore, Bruce Kennedy, Barry Bennett, Robert Olander, William Miller, Clay Winiecki, John Nix, Chase De Sousa Dias, Kody Winiecki and Hailey Hein.
Overall, the Lynx Creek Hare Scramble was an incredibly tough race, whether on four wheels or two. Next race is October 13-14 in Payson. More info at AZOPRacing.com