Brewsky UTV Fest June 11-13, 2021
Arizona Rim Country
Photos and article by LeeAnn Nix and Jim Smith of Drone:30 (July 2021)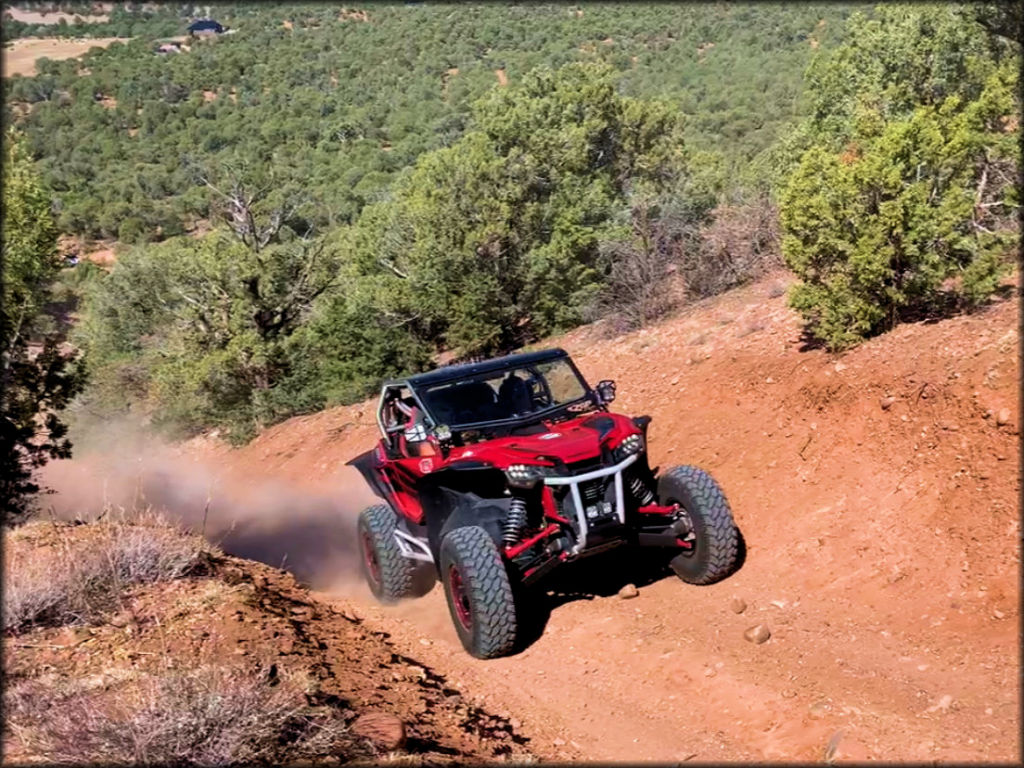 Along the Mogollon Rim, in Navajo County, lies the small town of Show Low, AZ.  Earning its name from a never ending card game called "Seven Up", Mr. Clark and Mr. Cooley battled over ranch rights. Even­tually Clark said, "if you can show low, you win". Cooley turned over the next card, a deuce of clubs and replied "Show Low it is". It is only fitting that the main street of Show Low is called Deuce of Clubs.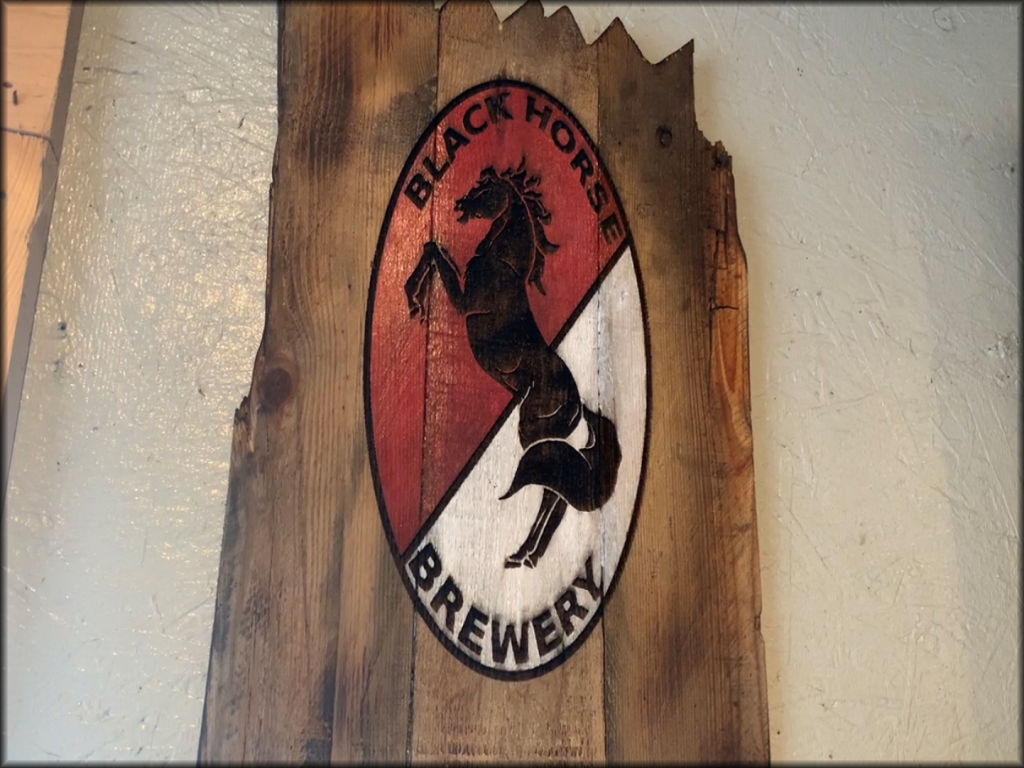 Surrounded by forest, flats, and rim views, Show Low is a popular outdoor escape. The weather this time of year is exceptionally warm, but you are in luck! Stop in at the Blackhorse Brewery for some homemade brew. Jake and his family own and run this fantastic hidden brew house. There is room for camping on site, room to play some cornhole in the yard, and cool down in the shade with some fabulous micro brews. Favorite flavors for this weekend included Ralph's Ale and the Peach Mango. This place is refreshing and if you are hosting a large event you should visit them at Blackhorsebrewery.org. You will not be disappointed! Did I mention they are Veteran owned and operated?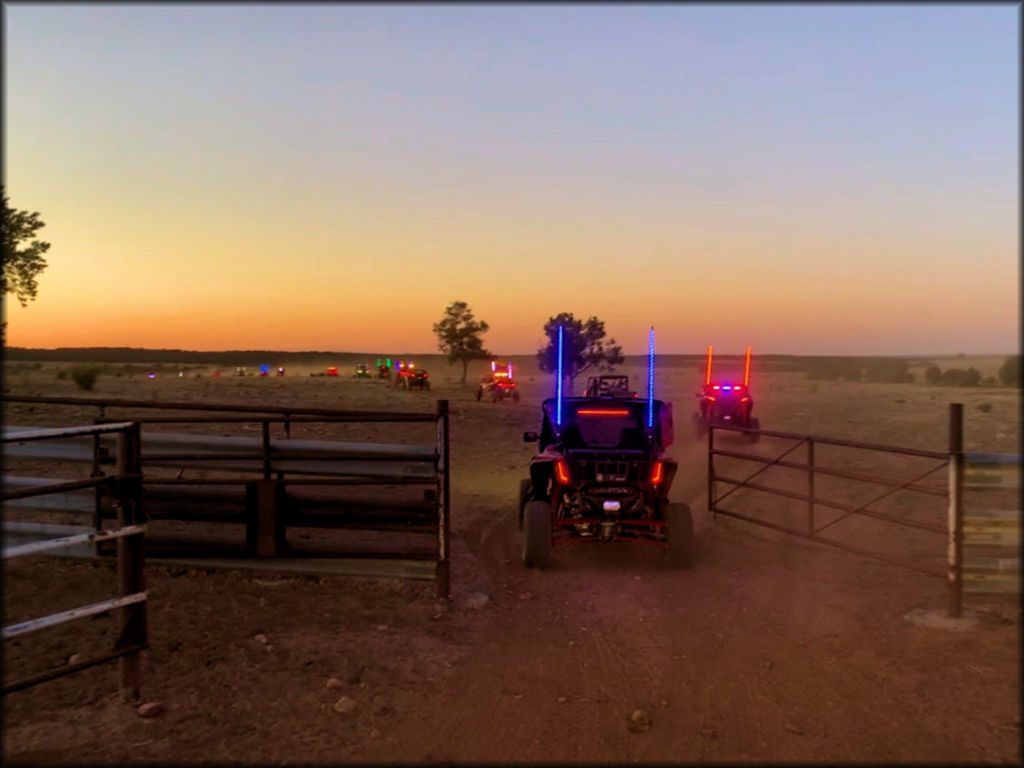 With Show Low being the gateway to the white mountains, you are encompassed by trails, lakes, streams and again, those rim views.  With a combination of location, perfect weather, family and friends, just add lights and BAM! You have the Ghost of the Coyote night ride underway. With UTV's lined up, lights flashing, and those amazing Arizona sunsets, you are ready to explore the backroads night style. You may see wild horses, bears, coyotes, or even a wolf while exploring at night. Enjoy those 30+ miles and get ready for the real fun!  Get lost in all this amazement, I know I do.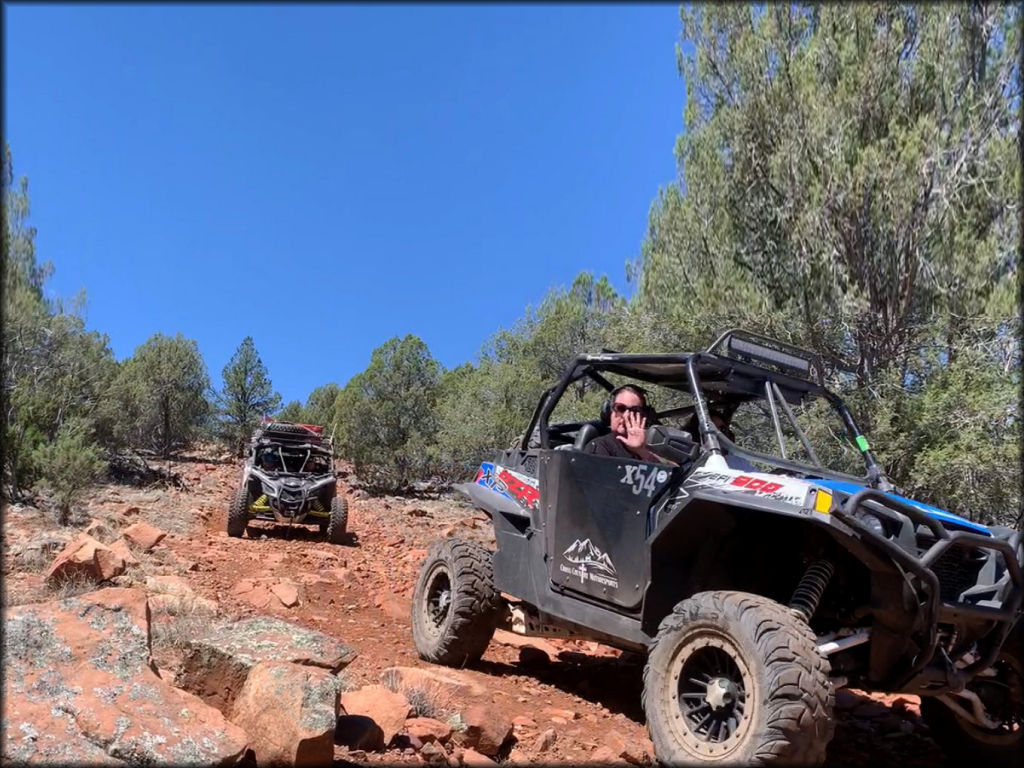 Fill your belly early with some breakfast by the Smokin Frenzy Gourmet Street Eats food truck and gear up for some day riding. This food truck is top notch, many thanks to them for providing all breakfast and dinners for this event. They are also Veteran owned and operated and according to their website, they are making Heber-Overgaard their new home. There is also talk of them opening their first brick and mortar restaurant in that area. Check them out at smokinfrenzy.com.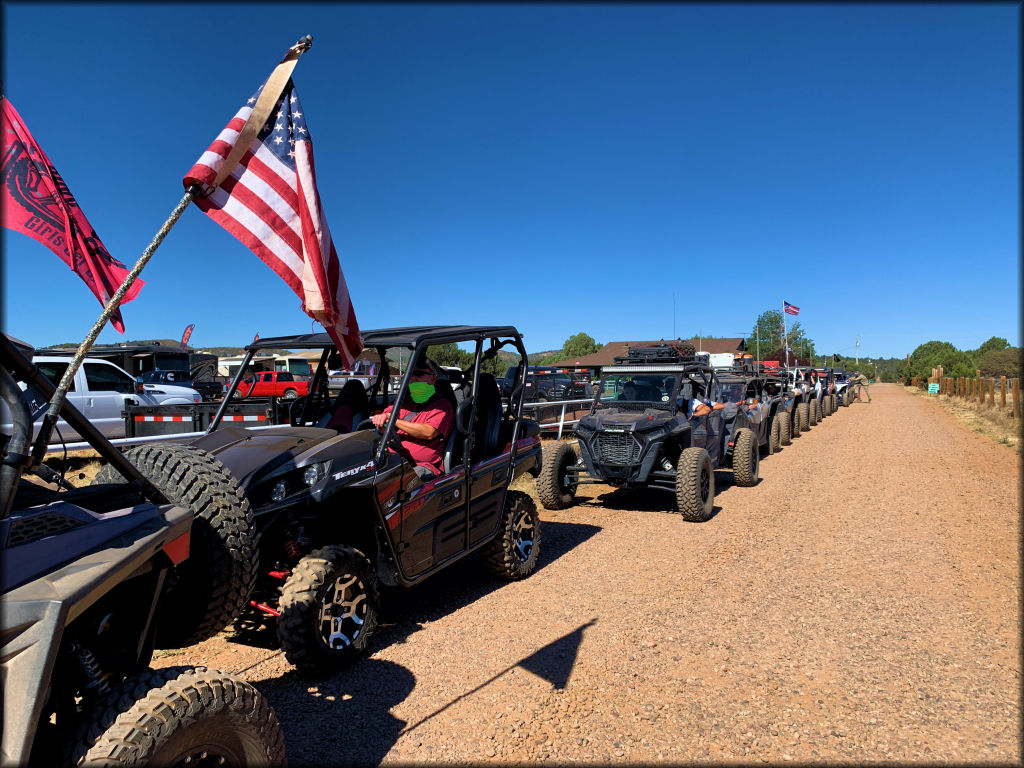 Do not forget to pack a lunch, some trail snacks, a cooler full of refreshments, and the family and head out on your choice of 2 rides for the weekend. Utilizing the talents of local trail leaders make every ride a true local adventure (they know all the cool spots!). Our leaders for the Cactus Flats Ride were Jamie and Dave Tomkins. These are their stomping grounds so you have no worries while on the trails with this power couple. This ride was incredible and we were fortunate enough to see deer and antelope along the trails. Some pit stops at local water tanks, corrals and even a hidden racetrack made for a remarkable Saturday 50+ mile adventure.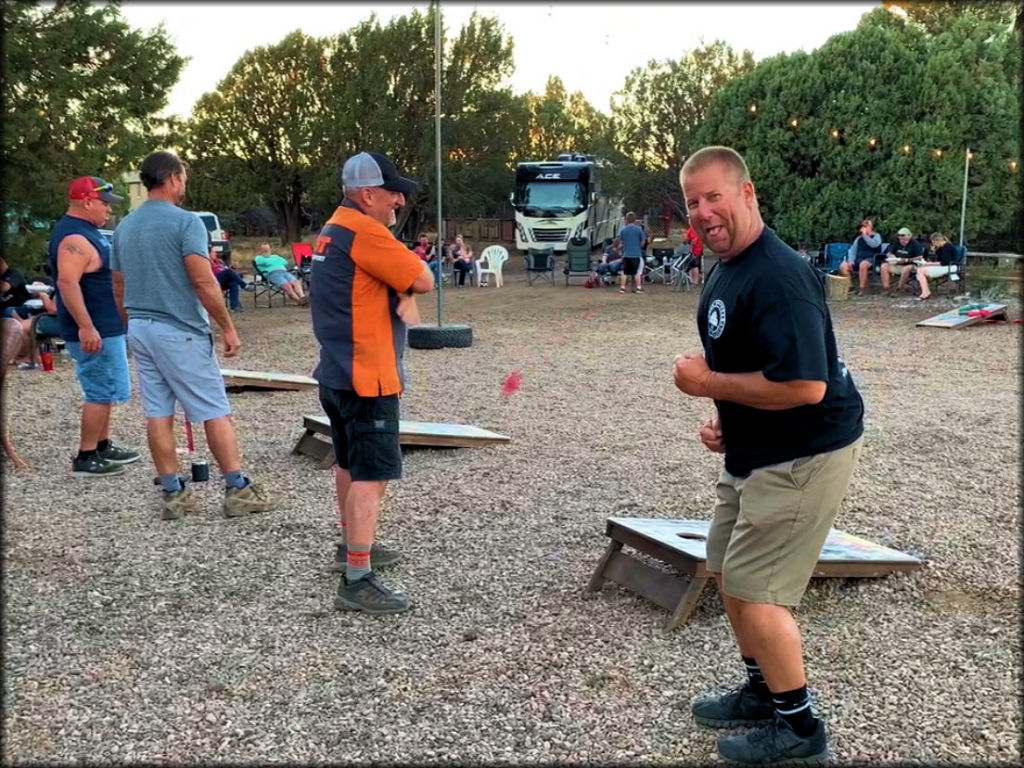 After your fantastic day ride and fun with friends, come back to quench your thirst with the amazing brew at Blackhorse Brewery. Have some dinner from Smokin Frenzy and get your team ready for the cornhole tournament and Saturday Night fun!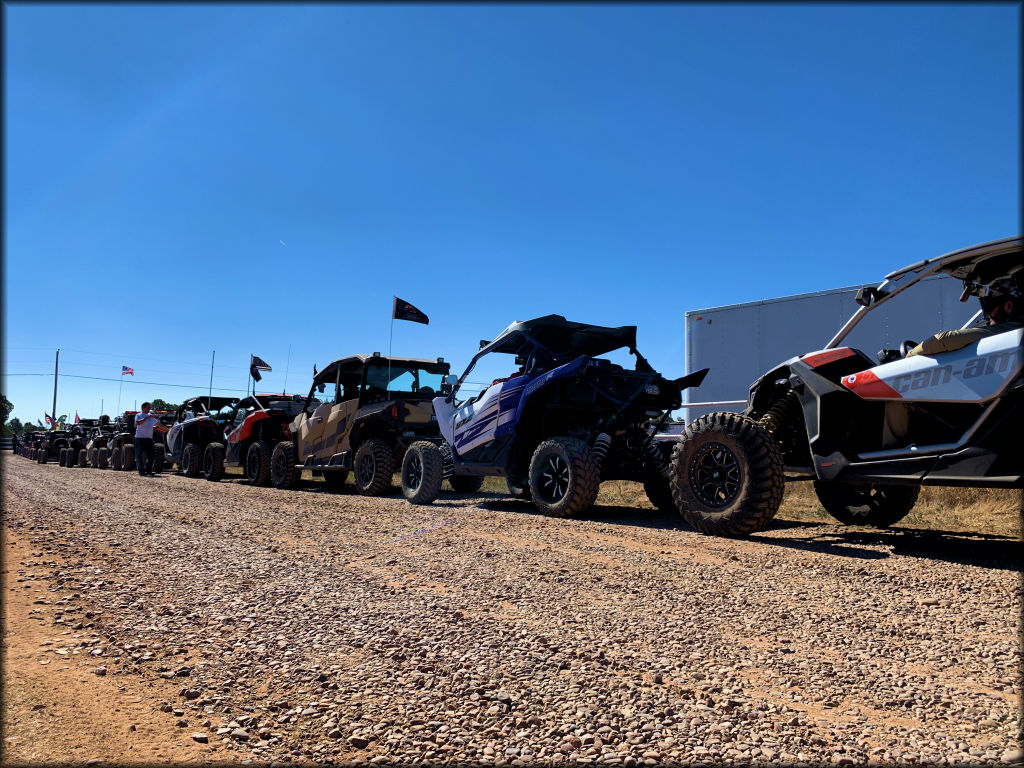 Saturday nights with UTV Offroad Adventures are off the hook! You cannot beat the Impressive amount of items given by so many outstanding sponsors for the most anticipated Saturday event, the RAFFLE! There is also a 50/50 raffle, Poker Run winners, a cornhole tournament and winner awards (somebody needs to step up and beat the Krause team, just sayin...) and certainly loads of fun with new and old friends. For this event money was raised in honor of our UTV family member, Stacey Armstrong. A truly courageous woman who recently had a freak UTV accident. We cannot wait to see you with us on the trails again in August! It was awesome to facetime her during the festivities for everyone to chat with her and let her know she is missed. Get well soon Stacey! 
To top off the weekend our Sunday ride, The Ridge Runner Loop, was led by Brian Carpenter and his son Evan. Also a local power duo, these two took us on some 60+ miles of meandering rim trails and enchanted forests. Enjoying a pit stop at a local spring (do not step in the bear scat, yes they do go in the woods), taking in the fresh mountain air, and a stop at a watering hole for the local livestock and wildlife made the weekend complete.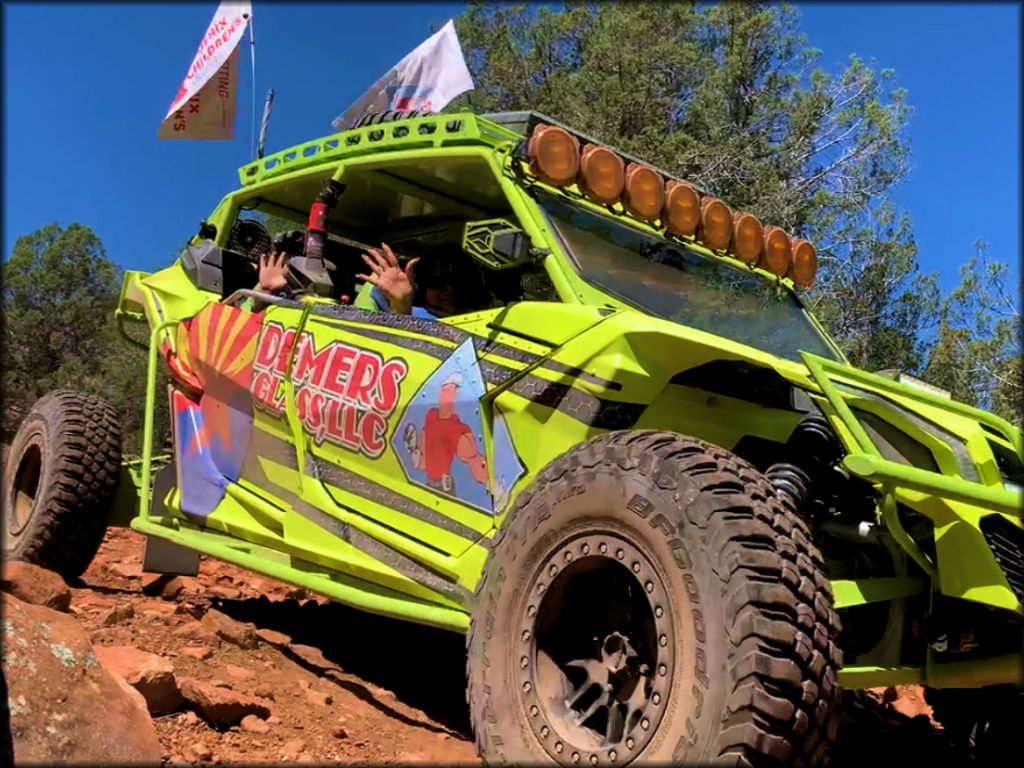 But wait, I forgot to mention how quickly this UTV group will get you back on the road when a breakdown occurs. We did have one but what a remarkable group, no man left behind. Last but not least a big thank you to Joel and Josh, the super patient tail gunners who made sure we all stayed together, on the trails and safely back to base camp.
These events would not be possible without the incredibly amazing people behind the scenes, the sponsors and all of you. Thank you!