Boondocking for $1 Per Day
Spend the Whole Winter in Sunny Arizona!
RP Staff (August 2019)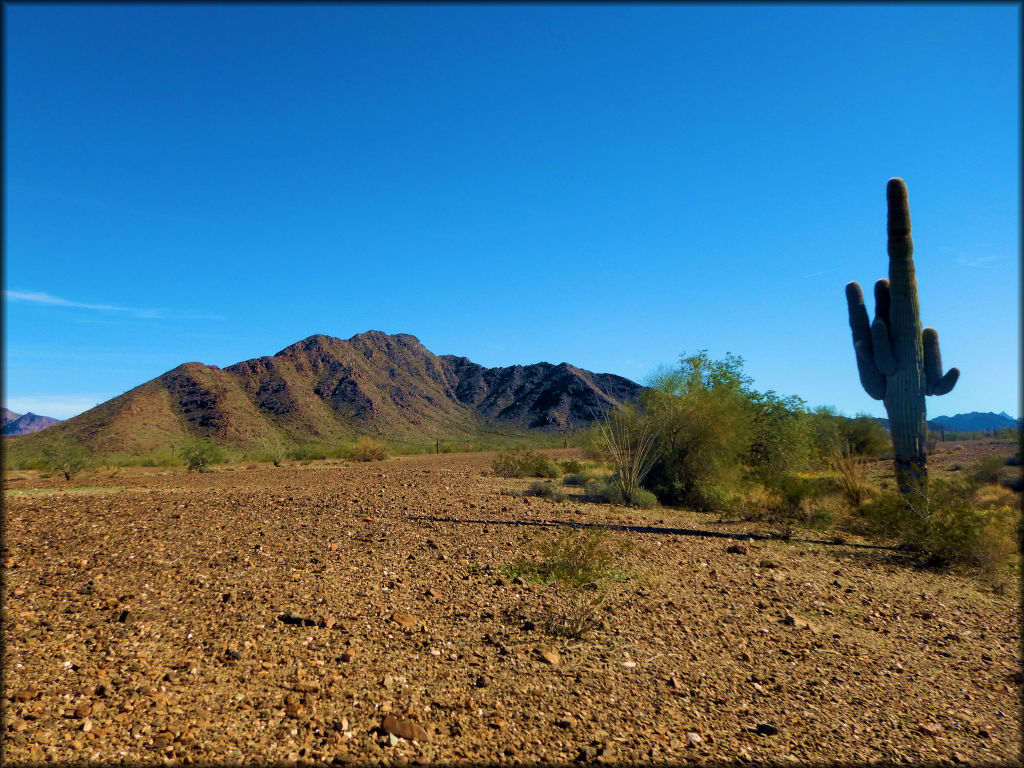 Every winter RVers, rubber tramps, van dwellers and everything else in between make the annual trek to a small town in Arizona called Quartzsite. Located about 20 miles east of the California border, Quartzsite is home to 3,600 full time residents but during the winter months the desert attracts almost two million visitors!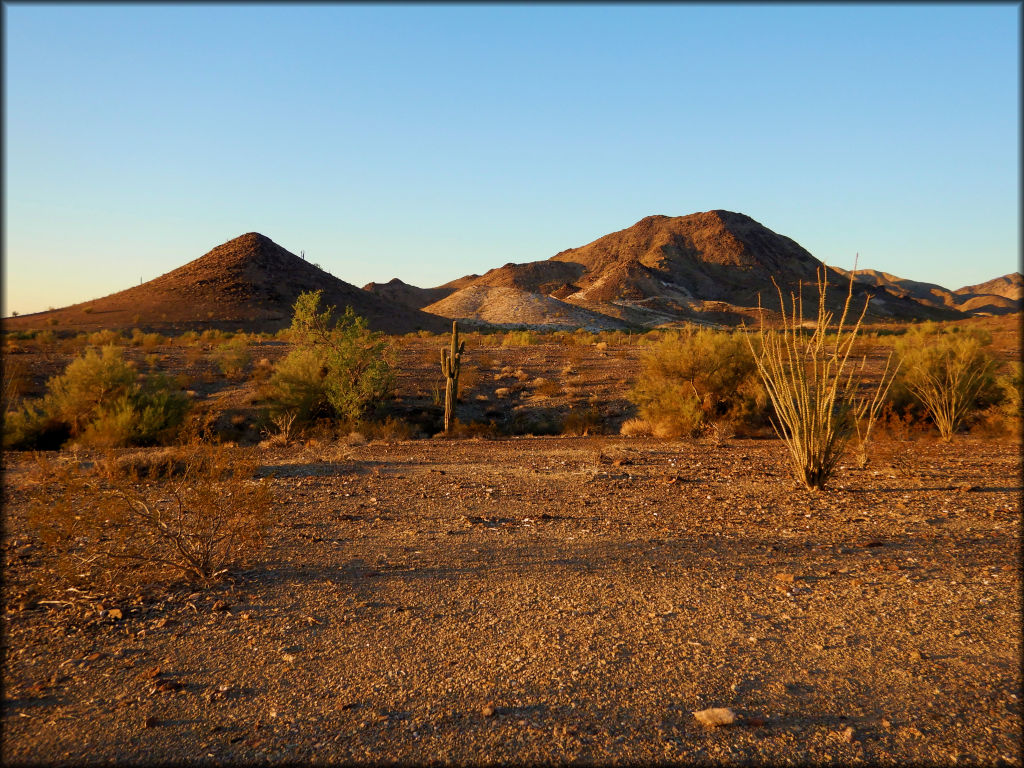 In addition to the warm weather, what makes this area a big draw during the chilly months? While Florida and California boast some amazing beaches and cool palm trees, both can be expensive and you need to book RV campsites months in advance. If you are on a budget but still want warm temps without the constant drain on your bank account, then Quartzsite is the better option.
What is this place?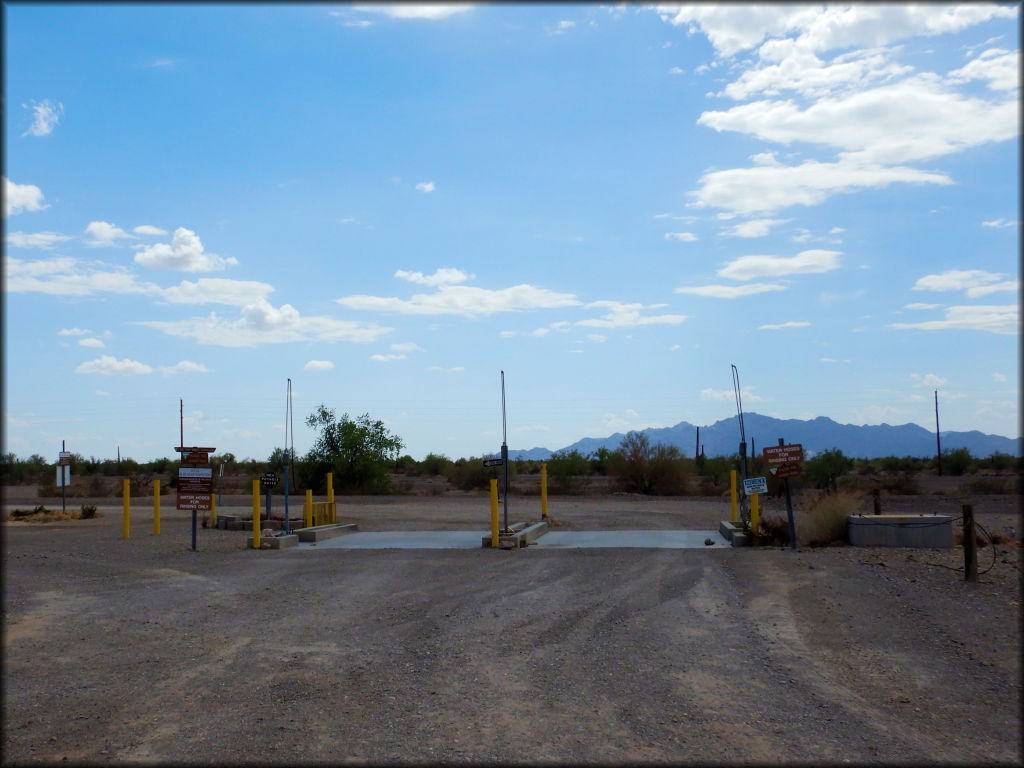 Back in 1983 the BLM set aside a large chunk of land specifically to accommodate campers during the winter months. This designated area is called an LTVA (Long Term Visitor Area) which offers 11,400 acres of public land to camp on. A permit is required to camp at the LTVA, and most people opt for the six month permit, which is just $180 and valid from September 15 through April 15. A short term permit is also available for $40 and is good for any 14 consecutive days. Both permits can be picked up at the La Posa South Ranger Station or online.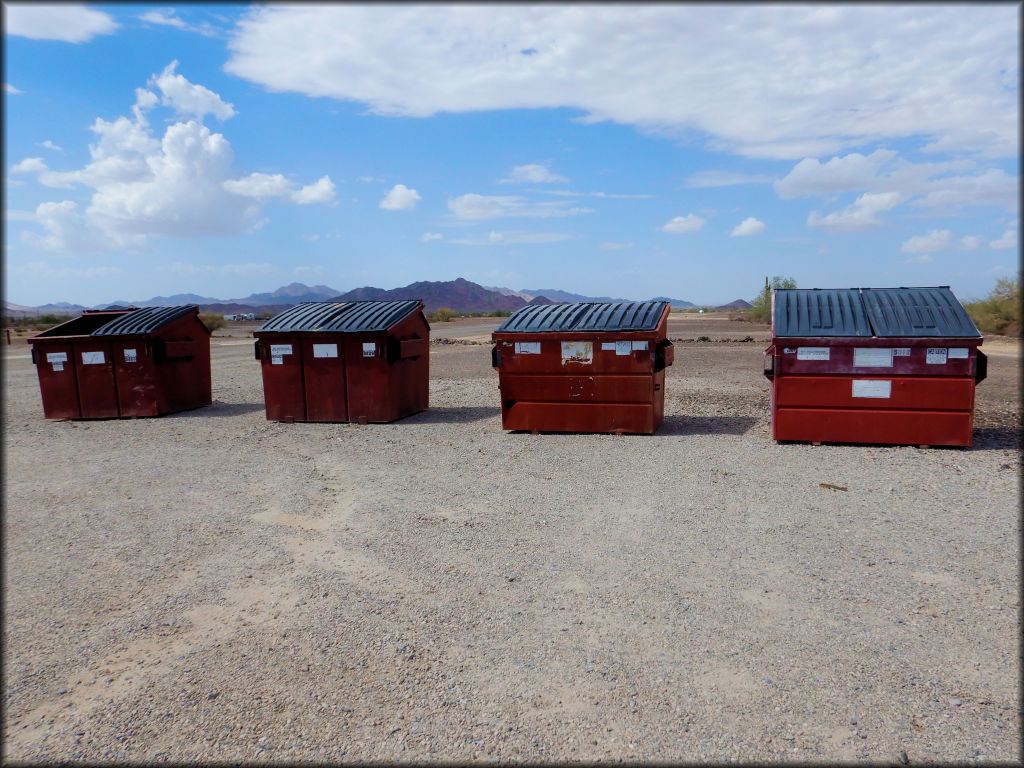 If you have the long term permit and follow some basic rules, you don't need to pack up and move your rig every 14 days. Besides having the option to pick a cool and secluded spot, the permit also allows unlimited access to the La Posa South RV dump stations, non-potable water and trash bins. As a bonus the permit is honored at all seven LTVA's (six in California and one in Arizona), but the other areas have varying services, so check the map or call before heading out.
If you are passing through and just need a place to squat for a few days check out Dome Rock (west of Quartzsite and south of I-10). This area is also managed by the BLM and is free to camp and no permit is needed, but stays are limited to 14 days. Just remember if you don't have the LTVA permit you will not be allowed to use the amenities at nearby La Posa South (rangers do check). If you need water or have to dump the tanks head into town and check out the RV Pit Stop - they have dump stations, drinking water plus a propane refill station.
Any Tips?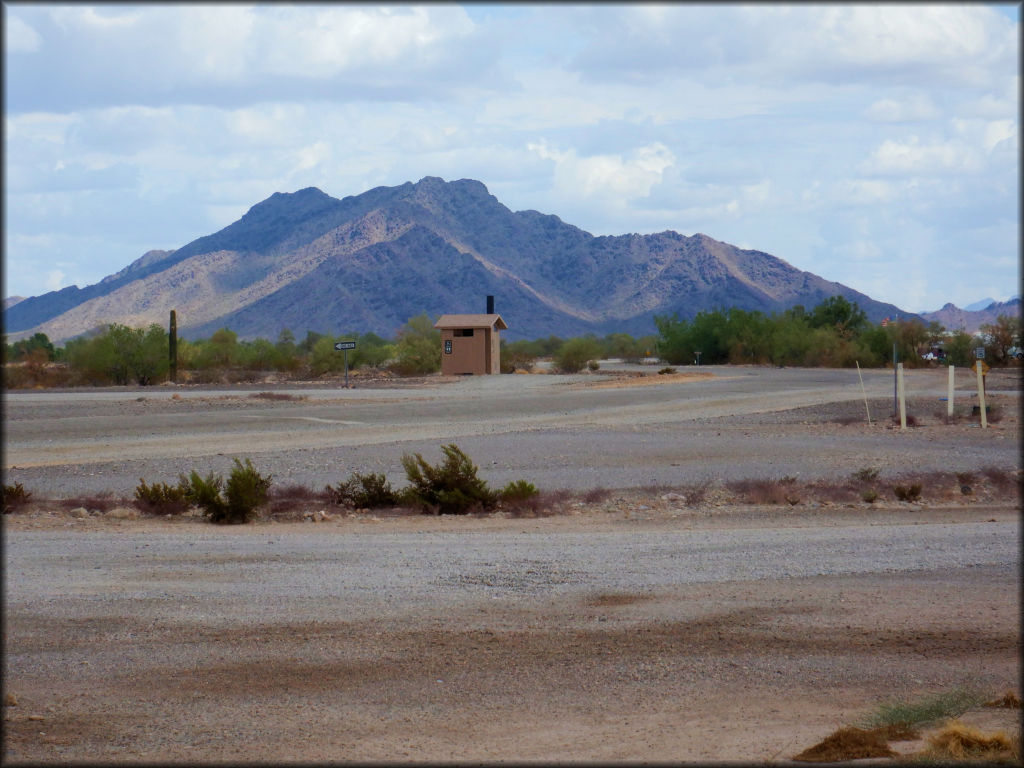 Keep in mind this place gets very busy during January. This is when the Quartzsite RV Show, aka "Big Tent" goes up, the Rubber Tramp Rendezvous (RTR) and various other events are going on. This means a lot of people are vlogging, blogging, using social media and streaming entertainment, which causes the Verizon LTE internet service to come to a bit of a crawl for about two weeks (Some say you'll have better luck with T-Mobile service during that stretch). If you need to get online during that period, try early in the morning (we had somewhat decent connectivity from 2am to 5am). Otherwise be thankful to get basic e-mails retrieved to your phone!
The grocery prices in town are not bad but around November through the end of April the cost of everything doubles and selections are limited. If you need to do a bigger grocery run, you're probably better off driving to Parker, (about 30 miles north) or to Blyth, about 20 miles west off I-10. You can still get propane for cheap at the RV Pit Stop, just note they close around 6 or 7pm. If you go to town at night you can still get propane exchanges at most gas stations, but expect to pay more. In 2019 the price was about $20/20lb tank for an exchange - if you get a refill at RV Pit Stop the cost could be as little $6-$7/20lb tank but prices fluctuate.
A large laundromat with clean showers and a small dog kennel is located just off Main Street. The laundromat is located next to a small restaurant, so you can get a shower in (they also supply shampoo, soap and fresh towels), do laundry and get a bite to eat all in one place. It's usually a quick task except during January - get their early or expect to wait a few hours since it becomes a real challenge to find a machine that isn't being used.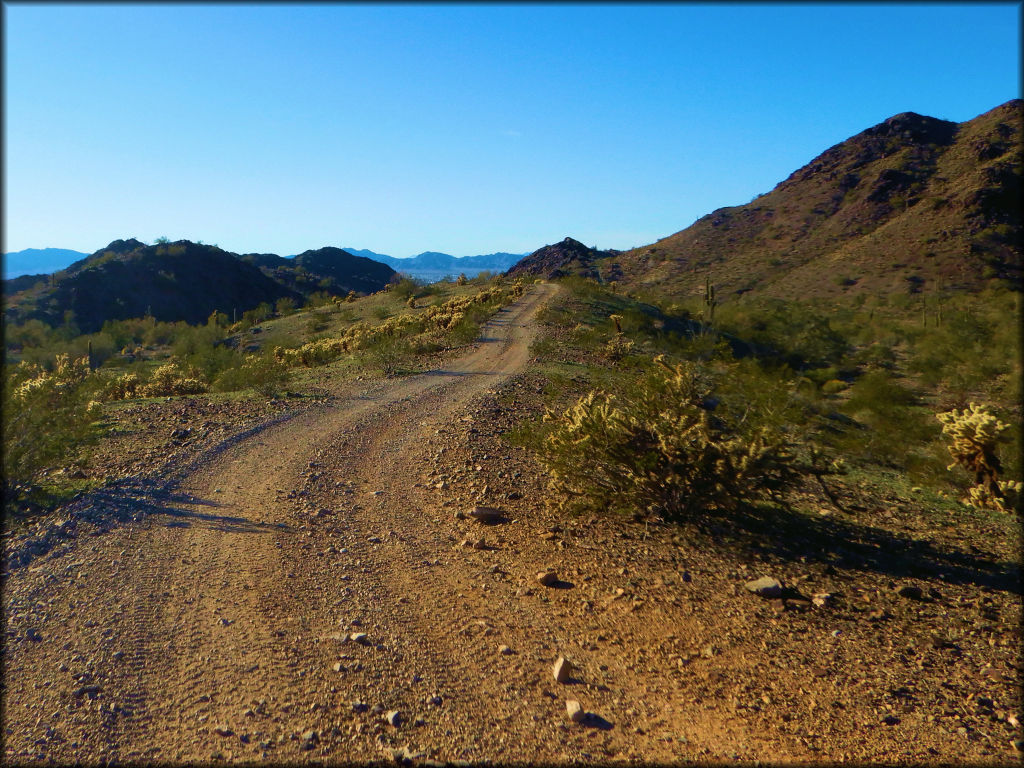 Some stores and vendors start setting up around October, but at that time many stores may still be close. The town gradually comes alive more and more as January approaches when you can get anything you would ever need for your RV or camping as well as one-of-a-kind gifts and clothing for a bargain (bring cash!). Firewood, bargain priced boxed food, a variety of tools and of course a never ending selection of rocks, gems and beads are just one of the many things that are being sold.
If you need to get mail there are a couple options. You can get general delivery at the local post office but just note that the lines are long and they are only open for a few hours per day. The gift shop Quiet Times is located in town and they will allow visitors to use their address for mail and packages but there is a fee charged. For details give them a call at (928) 927-8081.
Offroad Friendly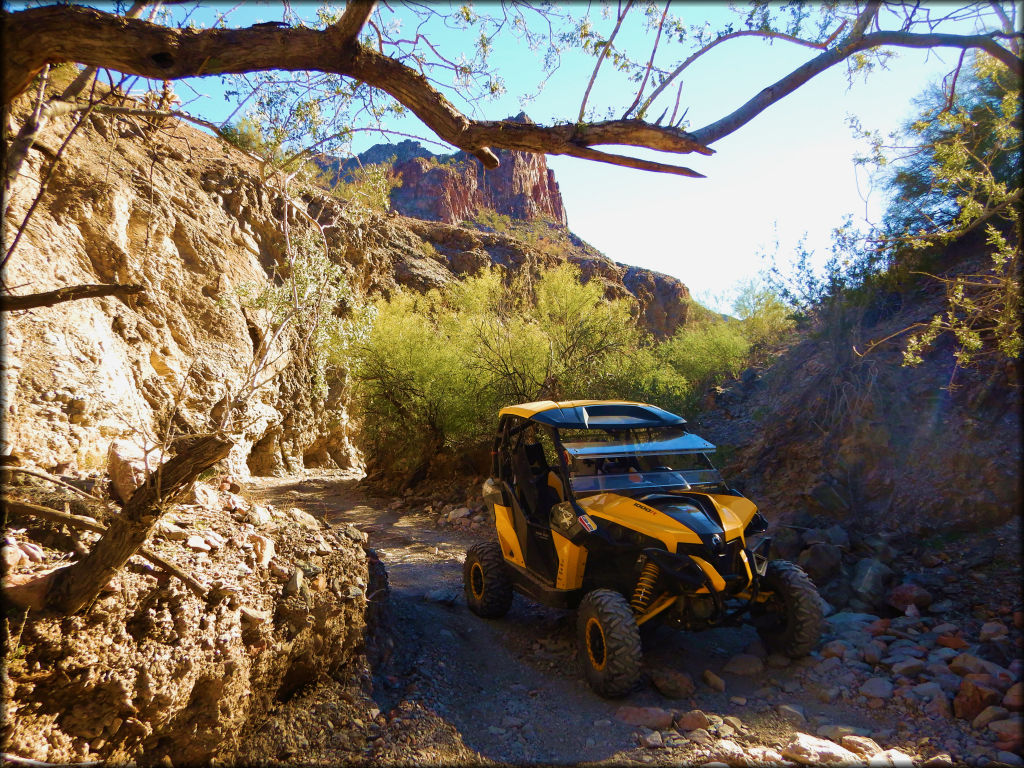 Quartzsite is very offroad friendly, so it's common to see ATVs and UTVs using one of the many side trails and side roads to get to and from town. People also enjoy taking the various trail loops to abandoned mines and other scenic trail points. Keep in mind that these are mostly wide touristy type 4x4 trails so you won't see many aggressive riders, and you'll be expected to keep the speeds down in the populated areas. Also note that as of September 1, 2019 nonresidents will need to pick up an Arizona OHV decal for each machine. During the winter months AZOP hosts various offroad races nearby by - check their website for details.