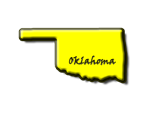 Cleveland, OK
From: Tulsa, OK

1) Take US-412 west about 20 miles

2) Once over the Keystone Lake take the first exit after crossing the bridge

3) Turn right off the exit ramp, continue .04 miles

4) Turn right to go across the overpass

5) Turn right at the T-intersection, continue .4 miles

6) Turn left on W. Bears Glen Road, continue about 1 mile toward the lake.

7) Look for a gated entrance, proceed thorough and immediately turn left onto a dirt road.

8) Follow dirt road to gravel staging area.