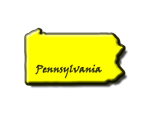 Rew, PA
From: Rew, PA

For Camping Area:

1) From Rew Intersection of 46 and 646 proceed .8 mile

2) Turn left onto Fitch Hill Road (dirt road). Look for sign that reads "Majestic Trails 1-mile Ahead".

3) Proceed up hill toward camping area.

For Trailhead/Day Use Area:

4) Continue south past camping entrance 1.2 miles

5) Look for dirt road on the left, enter here.

Note: Camping area is for campers only. Day use riders need to go directly to the trailhead/day use area.