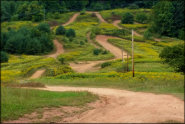 Hilltop Lodge MX Track And Trails

Status:
Open
Type:
Combo (Privately Owned / Commercial)
Location:
Emporium, PA
Difficulty:

Looking for a secluded getaway that includes two motocross tracks and miles of ATV trails but with all the amenities of home included? Then look no further - located in beautiful northern Pennsylvania, this 116 acre property is available for rent by the week, weekend or month and offers two tracks and 50 acres of woods trails. More...