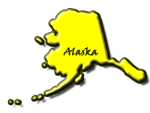 Sutton, AK
From: Anchorage, AK

1) AK-1/Glenn Highway north to mile post 66

2) Turn left (north) off the highway, follow signs for the trailhead.

For the Permanente Trailhead:

3) Continue east past the Kings River Bridge 5.7 miles to mile post 72

4) Trailhead is on the left (north).

**Note: The Permanente Trailhead is an unmarked pullout located on the north side of the highway and is easy to miss. Parking is limited and large trailers are not recommended.